21 Days Relaxing and Peaceful Yoga Retreat in Nepal
Join 21 Days Relaxing and Peaceful Yoga Retreat in Nepal
A yoga retreat in Nepal or particularly a 21 days relaxing and peaceful yoga retreat in Nepal will take you into mother nature and help you understand your purpose in this world.
Many things can be done in Nepal, and yoga is one of the most overlooked out of them all. Travelers are mostly caught up in other adventure activities that they do not witness the jewel that lies in their very hands. In this case, yoga is the jewel that they forget about. I mean you cannot blame them for being busy in other activities as the country is one of the most naturally and culturally blessed countries in the world.
It is a utopia for trek fanatics and nature enthusiasts. There are copious natural sites that include conservation areas and national parks. A journey inside such parks will transfer the mind and soul into transcendental happiness.
Trekking in the arms of mother nature never goes out of fashion but what's in fashion recently is practicing yoga in the eternal bliss of nature. "Yoga, and that too in the abode of nature?" You might be wondering that is it a sham? Well, this blog does not deal in fallacious practices and the subject matters dealt are very much accurate.
The progenitors of yoga resided in the ancient parts of India and Nepal. The exact details of their thought process are lost in time but the methodology that they left for us, (i.e. yoga) helps us to encapsulate what their motives were.
Research papers and historical records have aimed to provide readers the accurate picture behind yoga but to truly grab its concept, it is advised to practice it. And what better way to do it than by taking a 21 days relaxing and peaceful yoga retreat in Nepal.
Duration and Types of Yoga Retreat in Nepal
A yoga retreat can range from a mere one week to as much as 3 months. Some of them are even based on an hourly basis. The yoga retreat class aims to help individuals relax after a tiring journey. It is beneficial for those people too that wish to develop a career in yoga or elevate their hobby. There are numerous yoga retreats in Nepal and travelers are always uncertain as to which yoga retreat should I choose?
Trek Nepal is recommended and regarded by many to be the best tour provider. It not only deals in trekking and hiking, but it operates along with its sister entities Nepal Ayurveda Home and Nepal Yoga Home.
During this 21-day yoga retreat in Nepal, you have the option of residing in either one of these places. They are located in Thamel and Nagarjuna respectively. If you wish to immerse yourself completely in nature, then Nepal Yoga home will be best for you. It resides in the quaint Nagarjuna hill which has many histories associated with it.
Nepal Yoga home is equipped with the finest tutors and teachers whose main objective is to ensure that you get more than what you pay. The teachers act with the motive of clearing all sorts of doubt that you have not only about yoga but about life itself. There is more about life in a yoga retreat than meets the eye. The days can be a bit rigid and bland, but its beauty lies in its simplicity.
Let's take a look at the routine you'll follow during your time in this yoga retreat.
7:30 am- Yoga Asana
In the morning, you'll partake in a yoga asana session. This asana session is more important than other medial tasks. There are many scientific benefits associated with it which this blog shall not deal with. We shall leave the explaining to the teachers. Depending upon the size and experience level of students, the teacher shall determine the yoga asanas to be taught. Lasting an hour, this session can be taxing at first.
8:30 am- Breakfast
Once the asana phase is completed, breakfast is next. You must rejuvenate your body to move ahead. The breakfast comprises of healthy vegetarian ingredients. The food is cooked from organic components.
9:30 am – Meditation and Yogic Relaxation
After having a hearty breakfast, you will take part in meditation. Meditation is a technique that helps people to concentrate. It is not only helpful in yoga but useful in daily life as well. The teacher will teach you numerous methods to concentrate on. Although difficult at first, it develops exponentially once you get used to it. Yogic relaxation techniques will follow once the meditation is over.
2:00 pm – Lunch
A delicious lunch is what we all look forward too. In this yoga retreat, you will be treated to a healthy lunch. The diet is plant-based and will greatly increase your performance in yoga. You will get to taste a variety of Nepali delicacies as well.
4:00 pm – Yoga Asana
Yoga asana will be done again during the day. This session is a bit harder than the previous one. The teacher will teach you a variety of techniques that need to be mastered slowly. Once these asana techniques are practiced, you will feel much better.
5:00 pm – Breathing, Chanting and Yoga Philosophy
When all is said and done, there are still things that need your attention. It's necessary to master the basics of yoga which are the breathing techniques. Once done accurately, it can accentuate your performance. Along with it, you'll learn yogic chants and comprehend its meaning and application. Yogic philosophy will also be studied which will help you to further understand the past and future of yoga.
The 21 days peaceful yoga retreat in Nepal will exceed your expectations and is bound to provide you relief and uncountable memories. Contact 
Trek Nepal
 for experiencing yoga in Nepal from best yoga instructors.
Relaxing and Peaceful Yoga Retreat in Nepal
Trip Cost
 1000 USD in Shared room and 1200 USD in private room
Level:

Beginner/intermediate/ Advanced all level can Join

Group Size: Max. 30 People
Yoga Style: Hatha/Ashtanga yoga
4.6 Star Out of 5
"Best Trek of my life; out of the world experience."
Fill the form  for more details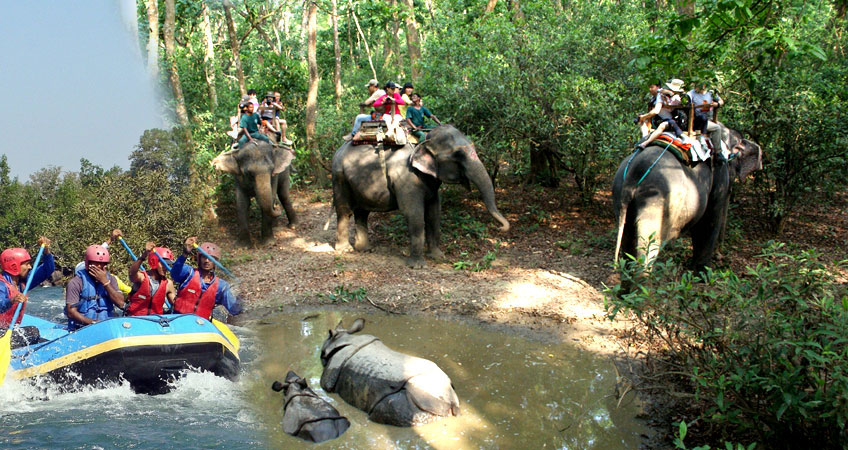 Chitwan Jungle safari in Nepal Chitwan is one of the 77 districts of Nepal and one of the top tourism destinations of the country. It is not wrong to say that Chitwan is the capital of the Jungle safari in Nepal. The country in the Himalayas is covered in forest in...