Two weeks Ayurveda and yoga retreat course
Two weeks Ayurveda and yoga retreat course
In this modern time, we are mostly engrossed in devising methods to make our life bearable. We are always on the run to earn some extra bucks that will later aid us in difficult times. We are too much enveloped in making a living that we forget to live. In recent years, people have accepted a tradition of exploring and traveling to escape from the daily hassle and to find purpose in their lives. Along with the advent of social media and through word of mouth, Nepal is voted by many to be one of the must-visit countries in the world. Nepal is very famous for trekking in Nepal, Ayurveda and yoga retreats and  Yoga Teacher Training, and different world heritage sites.
Nepal delicately resides between two Asian behemoths, India and China. Quite different from its neighbors, it has forged its own identity and slowly people from across the globe are consenting it. Whenever one speaks of Himalayas and trekking, Nepal is there. This nation houses numerous 8000 meters + mountains with Mount Everest taking the lead. Along with snow-clad mountains, the hilly terrain suits for trekking and the culture found in these parts are an unusual sight. The Trek Nepal is providing both trekking and Ayurveda and yoga retreats course in coordination with our sister yoga school and Ayurveda school.
What many people overlook during their stay in Nepal is that this country is home to some of the finest Ayurveda and Yoga retreats. These retreats are a great place to let off some steam and to dwell deep into the spiritual aspect of life. This blog shall summarize the basic elements of Ayurveda and Yoga and why you need to take it during your stay in Nepal.
Most of you are familiar with yoga. Many define it as a recreational activity that involves lots of stretching and heavy breathing. Well, there is more than that. Yoga originated in India and Nepal thousands of years ago. Many accounts state that Lord Shiva was the creator of yoga. The word 'yoga' is derived from Sanskrit and it means to unite. Yoga is a tool through which one can connect the physical manifestation with the spiritual being. Throughout history, yoga has branched into many forms but its core ideology remains the same.
While yoga deals with the link between mind and soul, Ayurveda takes a different approach. Ayurveda is greatly associated with medicine and herbal medicine. It is practiced as alternative medicine in various countries. In an Ayurvedic session, you will get your personalized health care. The therapy for Ayurveda depends according to individuals. Depending upon your health condition, you will be treated accordingly.
If you are in search of a perfect Ayurveda and yoga retreats then look no further than Trek Nepal. It is touted by many as the best service provider. It operates along with its sister organizations Nepal Yoga Home and Nepal Ayurveda Home. Depending on your preference, you can choose to practice yoga either in the city or in the quiet forest ambiance.
When you visit these places, the schedule you will follow looks something like this:
7:30 am- yoga asana
The morning initiates with a mandatory yoga asana class. In this class, you will learn about the quintessential yoga poses needed to master yoga. The instructor will help you with these poses and will clear your doubts if you have any. This session involves lots of stretching and breathing. It can be a bit difficult at first but once you get the hang of it, it becomes joyful.
8:30 am- breakfast
After an hour of stretching of this Ayurveda and yoga retreats, next is breakfast. The breakfast is 100% vegetarian and involves freshly grown ingredients. If you want something specific, then you can request the chef to prepare it for you. Interact with your fellow companions and discuss life and its course.
10:30 am- Ayurveda Doctor consultation
The Ayurveda doctor consultation is the third activity of the day and it involves interacting with the doctor. The doctor will ask you about your health status and whether you are facing any sort of problem. Depending on your answers, he will monitor the situation and might even take some tests.
12:30 am- Ayurveda Therapy
After the doctor has assessed you, the next step is Ayurveda therapy. In this activity, you won't have to do anything except lying down and relaxing. Let the doctor do his thing. You can even nap if you want.
2:00 pm- Lunch
Once the soothing therapy session is over, you will dine on the finest vegetarian ingredients. Be sure to eat healthy as you will need the energy for the coming activities.
5:00 pm- Yoga Class
The final activity of the day comprises of yoga as well. You will partake in various stretches plus you will learn about numerous yoga philosophies and how to apply it in daily life. Once it is over, the class finishes for the day.
The perks that this two-week Ayurveda and Yoga retreats course provides is immeasurable. It not only helps to strengthen your immune system but increases the body's longevity as well.
Ayurveda and yoga retreat course

Trip Cost
Level:

Beginner/intermediate/ Advanced all level can Join

Group Size: Max. 30 People
Yoga Style: Hatha/Ashtanga yoga
4.6 Star Out of 5
"Best Trek of my life; out of the world experience."
Fill the form  for more details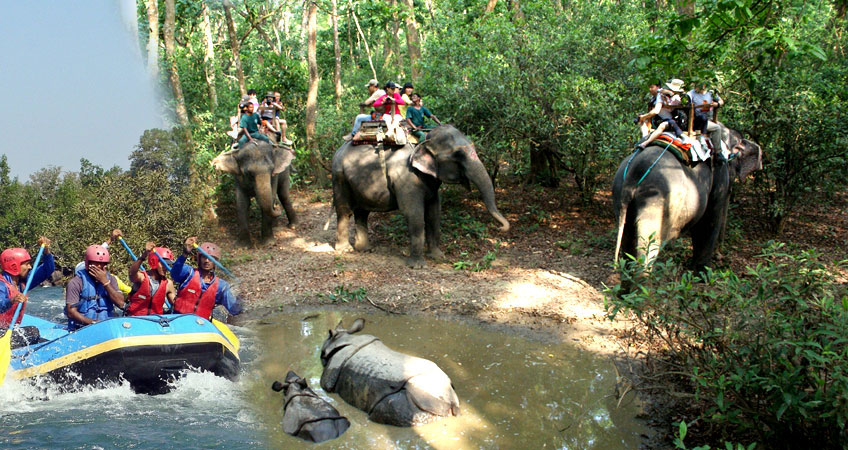 Chitwan Jungle safari in Nepal Chitwan is one of the 77 districts of Nepal and one of the top tourism destinations of the country. It is not wrong to say that Chitwan is the capital of the Jungle safari in Nepal. The country in the Himalayas is covered in forest in...