Yoga Meditation Trekking in Nepal
Why Yoga Meditation Trekking in Nepal?
Yoga is an inherited regulation which is native to India, in addition to complicated body postures, Yoga includes breathing and meditation techniques. Yoga meditation trekking in Nepal plays a fundamental role in the field of physical and mental health.
A lot of its methods are very useful in the prevention of arthritis, osteoarthritis, myocardium, low back pain, and anxiety, among others. We recommend that you try our yoga meditation trekking Nepal and tell us about your experience, no matter how old you are to practice it. Perform yoga and meditation in Nepal with our most trusted yoga teacher only at The Trek Nepal.
There are many benefits of Yoga Meditation Trekking in Nepal when it comes to physical, mental, and emotional levels. If we do have a habit of practicing yoga meditation trekking, then it can change our lives. It is enough to spend ten minutes a day on Yoga before going to bed to improve your sleep habits.
Also, when we practice yoga meditation for long, then we will reach a deep state of well-being, and then we can notice it's benefits.
With its diverse physical, spiritual, and meditative practices of yoga meditation trekking in Nepal, it will benefit our integral well-being. Yoga meditation trekking Nepal is a holistic system that works at all levels. Physically, among other things, Yoga also makes us more conscious about the natural and rhythmic needs of our body, increases the strength of the body, and slows down the aging process and many more.
Why Should you Go for Yoga Meditation Trekking in Nepal?
All over the world, people come to Nepal for a quick solution to spiritual illumination and the mountains. The government increased the Meditation trekking and center in Nepal for foreigners. Nepal's yoga retreat is a sanctuary hidden in the green hills of the Kathmandu Valley, surrounded by temples.
With the help of yoga meditation trekking in Nepal, you will find, simple and healthy organic food. Also, you can able to perform Sanatam Yoga, chanting of mantras, philosophy of Yoga explained, and guided meditation.
The Trek Nepal welcomes everyone who is looking for peace, tranquility, solitude, healthy food, yoga meditation, training and instruction, tranquility, and inner perspective. Preferably a place to calm the senses and to find their center.
We will do our best to meet all your requirements. But before that, we want one thing from our guest, come with an open mind, and release all your expectations. It is the only way in the world which you don't need to establish any standards and criteria, be free, be true, and be yourself. Yoga meditation trekking Nepal helps you to get all benefit of meditation.
On the mental plane, stress decreases, promotes concentration, the ability to reason and lifts our spirits.
You can achieve inner harmony through yoga and meditation trekking in Nepal. By gaining inner peace, a person can enjoy sound sleep and easily handle anger issues, overcome fears and sadness in various circumstances. All these can achieve by inducing positive thinking through Yoga and meditation.
Regularly practicing yoga meditation is the best way to relieve stress and tensions that accumulate and take their toll on the physical and mental levels.
Some Known Benefits of Yoga Meditation Trekking is Listed Below
1. Physical Benefits
---
Improves Breathing:

 

Yoga teaches breathing properly. The asanas, combined with proper breathing, improve blood circulation, which positively affects the brain, vital organs, and limbs. Breathing deeply and at a leisurely pace balances, the nervous system slows the heart rate and relaxes the muscles.
Strengthen Your Immune System:

 

This type of exercise helps to decrease the level of cortical, which is a hormone connected to stress.It will establish that high levels of cortical can cause mood swings, weight gain, high blood pressure, sleep, and digestive problems, among others.
Flexibility:

 

Clearly in the twists, but, with perseverance, these positions are the best allies to increase flexibility. It is also important to increase the time that the asanas keep. As flexibility increases, many of the muscle aches caused by stress and bad posture disappear.
Improve Balance:When practicing Yoga, it is vital to maintain the concentration in the sensations that each posture produces, be present at all times, and make the necessary corrections to improve. As the balance grows, so does our flexibility, as joints benefit from this type of exercise.
Strengthens Muscles and Bones:

 

Defined musculature not only improves physical appearance but also protects bones, injuries, and diseases such as arthritis; to make matters worse.
As for the bones, yoga meditation and trekking in Nepal help to strengthen them and stop the loss of bone mass. With our yoga meditation trekking, you can improve your posture; Also, it affects the health of the spine, by obtaining the discs that separate the vertebrae from the necessary nutrients.
2. Mental Benefits
---
Nervous System Balances:

 

Yoga stimulates relaxation, slows breathing, and helps in balancing the parasympathetic and nervous system. Yoga also activates the SNP, which favors relaxation, reduces heart rate and blood pressure, and facilitates recovery in stressful situations.
Weight Control:

 

Practicing Yoga will help to lose weight. With the techniques provided by this discipline, you can choose better in what to eat, as you become more aware of foods, which will help in losing the weight.
Increase your Energy:

 

Regular yoga meditation and trekking sessions will clear your mind, and your body will be full of energy, even after a long day of work. With only 10 minutes of meditation a day, you can feel renewed and revitalized after a tiring day.
List of Our Best Packages of Yoga Meditation Trekking in Nepal
A. 3 Days of A Yoga Retreat in The Himalayas

---

Prepare for your hike in the Himalayas with  2 night 3-day yoga meditation retreat in Nepal to allow yourself to acclimate to this new environment. We know that you have prepared for the walk. However, after that long narrow flight; you may want to stretch, refocus, and find your breath.

B. The Retreat of Restorative Yoga 4 Days After the Walk

---

Returning from a walk affects you physically and mentally. You have achieved your goal, and now you are heading to level terrain. Your body and mind are exhausted and need to recondition before embarking on that long and narrow flight home.

C. 5 Days of a Yoga Meditation Retreat in Nepal

---

If your mind and body yearn to escape the daily hustle and bustle, it is never too late to reserve your place with us. Located in the hills of the Kathmandu Valley, we offer serene views and isolation from city life where you can enjoy 5 days yoga retreat course.

D. 7 Days Yoga Meditation and Relaxing Retreat

---

Seven days to rejuvenate At Nepal Yoga Retreat one can enjoy an impeccable 7-day rejuvenation plan for you to experience again and feel liberated. We understand the busy lifestyle he leads and the hard work he does every day.

E. 9-Day Yoga Excursion

---

This 9-Day Yoga Excursion including two tailor-made yoga sessions per day. Not only will you improve your yoga practice, but you will also experience the experience of Nepal.

Final Thought,

With our best yoga meditation and trekking in the land of Himalayas, you can experience the beautiful scenery of Nepal. So are you curious about our Yoga Meditation Trekking package in Nepal? Then, request a callback and get in-depth learning on our different kinds of yoga meditation package and what benefits and discounts awaiting for you.
Fill the form  for more details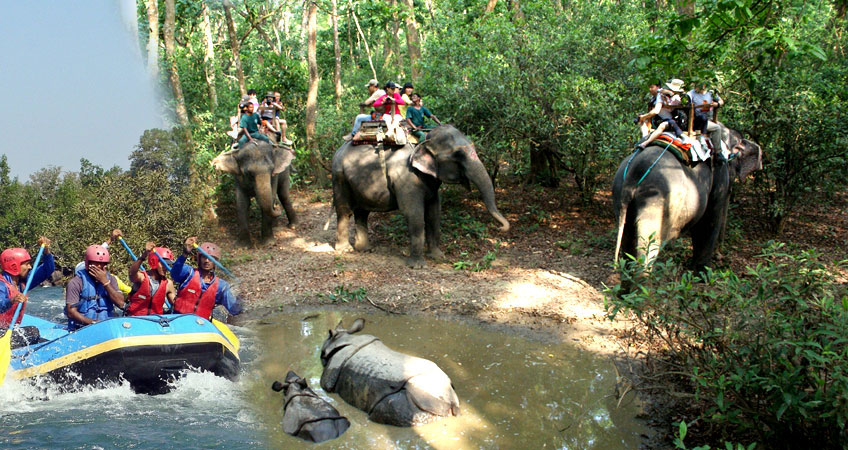 Chitwan Jungle safari in Nepal Chitwan is one of the 77 districts of Nepal and one of the top tourism destinations of the country. It is not wrong to say that Chitwan is the capital of the Jungle safari in Nepal. The country in the Himalayas is covered in forest in...