10 days Spiritual Tour in Nepal – spiritual tour in Nepal-bindabasini
The 10 days spiritual tour in Nepal is specifically built for those that are in a search of spiritual awakening and desire fulfillment in their lives. This tour shall take you through the revered Hindu and Buddhist pilgrimage all over Nepal. Also, you shall learn about the secrets to gaining spiritual peace and how to apply it in your daily life.
During this 10 days spiritual tour in Nepal, we shall make it a point to explore the revered pilgrim hubs situated in the Kathmandu valley. After visiting them, we shall head outside the valley to explore temples that are dedicated to Goddess Bhagwati and many more. You will not only learn about temples and monuments, but you will learn the ability to apply its teachings in your daily life.
Once you have completed this tour, you will be able to observe life from a different perspective. You will find that minor things do not bother you anymore and you have become an enhanced version of yourself. So, be sure to take this tour.
This 10 days spiritual tour in Nepal is the most amazing experience you will ever find. Good hotels and lodges will be arranged for you to stay during this tour. Due to this you will not suffer any kind of discomfort. This tour takes place in major cities of Nepal. Thus, you don't need to worry about quality accommodation. In terms of food you can make the complete choice yourself about eating at the hotel of your choice or at the many restaurants available in the city.
Climbing the lengthy stairs leading to Swoyambhunath and escaping monkeys
Visit of the monasteries in Lumbini
Visiting the World Peace Pagoda and meditation there
Enjoying the view from the Srinagar hill and visiting the temples there
Praying inside the premises of the Changunarayan temple and experiencing serenity
Ready-to-book adventures, personalized
Personal
Make your adventure more youMake your adventure more you - Self join
Group
Enjoy a tour with like minded people - Anyone can join
Private Group
Travel with your group - Only your circle join
Day 01: Arrival at the Tribhuvan International Airport
10 days spiritual tour in Nepal starts from the moment you step into Tribhuvan International Airport. You will meet our company representative at the airport. And they will take you to your hotel in Thamel. In the evening, you will meet company officials. And on this day you will enjoy a special welcome dinner. Next day tour information will be given. So, surely you will spend that night in Kathmandu with beautiful dreams.
Day 02: Visit to Swayambhunath, Boudhanath and Kapan Gumba
In 10 days spiritual tour in Nepal, you will see these 3 places.
• Swayambhunatha:-
Today after you finish your breakfast, we will leave for Swayambhunath. Swayambhunath is located on a hill in Kathmandu. and is an important center for Newar Buddhists. The morning atmosphere is filled with prayers, the smell of incense and naughty monkeys. There are other temples worth visiting near the alley.
• Baudhanath:-
As per our schedule we will leave for Boudhanath around 10 am. The drive can take around 1 hour (depending on traffic conditions). Boudhanath Stupa is huge and full of Tibetan monks. and is one of the UNESCO World Heritage Sites. You can attain peace by observing prayers and taking part in Pradakshina.
• Kapan Gumba:-
To the north of Boudha is Kapan Gumba. This Gumba sits on a hill and overlooks the Kathmandu valley. Gumba has some entry restrictions. It has thangka paintings, a library and monks also live there. They practice Buddhism. And if you ask, they can share some secrets with you. You will stay overnight in Kathmandu. 
Day 3 Go to Manakamana and proceed to Pokhara
Today we are going to Manakaman temple. This temple is located in Gorkha. To reach there, we have to travel through the earth's highway. This journey takes around 3-4 hours. Then we are moving to Kurintar. From there we ride in a cable car. The Manakaman temple is dedicated to Bhagwati, an incarnation of Parvati. This temple has a magical atmosphere. And it creates a happy mood.
After lunch we will proceed to Pokhara. It will take additional 3-4 hours. Arrangements are made for overnight stay in Pokhara itself.
Day 4: Visiting the Tal Barahi temple and Bindabasini temple
• Tal Barahi Temple:-
A 10-day spiritual tour in Nepal on the fourth day, we are going to Tal Barahi Temple. This temple is dedicated to Goddess Bhagwati. And Phewa is in the middle of the lake. It is accessible only by boat. Morning worship is held there. That time is worth a visit. The temple is two storeyed high. And this temple is built in pagoda style.
• Bindabasini Temple:-
Bindabasini Temple was seen by the King of Kaski in his dream. This temple is built in Shikara style. And it is coated with white paint. This temple is dedicated to Bhagwati. But there are other small temples on the premises as well. The temple provides a soothing experience for many. Gives peace of mind. Arrangements have been made for your overnight stay in Pokhara.
Day 05: Travel from Pokhara to Tansen
With the team of '10 days spiritual tour in Nepal', this is your 5th day. Today we get up early and head towards Tansen, Palpa. For this journey we will travel by private bus. And we use Siddhartha Highway. The journey takes around 3 hours (depending on traffic conditions and nature of the highway). After the journey we reach Bhagwati temple. And understand its history. The temple is built on pagoda theme. And this temple is very beautiful. Climb the Srinagar Hill and find yourself near the Siddhi Binayak Temple. Historians believe that the temple was built with the help of artisans from Kathmandu. At the end of this day we will visit Bhimasena temple. These wonderful places give tourists important knowledge about the prevailing culture and it soothes the soul. Arrangements are made for overnight stay at Tansen.
Day 06: Spiritual tour to Nepal: Travel from Tansen to Lumbini
Today we will take you to Lumbini by road. We also use Siddhartha Highway for this journey. Lumbini is located in the Terai region. Because of this it is hot and humid. Lumbini has several places around it that are worth visiting. For starters, we head towards the Maya Devi Temple and the Ashoka Pillar. Lord Buddha was born in this temple. The temple is thousands of years old. We will visit Vishwa Shanti Pagoda and Maths. This pagoda is similar to the one in Pokhara. Speaking in this enclosure is not recommended. Here you can also see people peacefully meditating with pindrop silence. After visiting the pagoda we will leave to visit the monasteries. There are Thai monasteries, Chinese monasteries and many others. You must visit our '10 days spiritual tour in Nepal' once in a lifetime to see such beautiful places. Overnight stay at Lumbini itself.
Day 07: Visit Tilaurakot
Tilaurakot is a small village near Lumbini. This village is very much associated with Lord Buddha. Archaeologists have found ruins of ancient forts and small temples here. After a short drive from the hotel we reach this Tilaurakot. Here you can understand the importance of archeology by interacting with the locals. You will spend this night in Lumbini.
Day 08: Return to Kathmandu by flight
On Day 8 of the Nepal Spiritual Tour we return to Kathmandu by plane. The flight takes about 35 minutes. And it offers spectacular views of the snowy mountains. After arrival in Kathmandu we will have lunch and leave to visit Patan Durbar Square.
Patan Durbar Square was built by the Malla kings. And it is one of the UNESCO World Heritage Sites in Kathmandu. On this day we will also visit Krishna Temple, Bhimasena Temple and Suvarna Mandir. After all these visits we will finally stay in Kathmandu that night.
Day 09: Visit the Bhaktapur Durbar Square and Changunarayan temple
10 days spiritual tour in Nepal On this 9th day we will visit the famous Bhaktapur Durbar Square and Changunarayan Temple. It takes approximately an hour drive or more to get there. Durbar Square is said to have been built by the ancient Malla kings. This Durbar square consists of a palace of 55 windows and a golden gate. If you want to experience peace, this is the place to visit. Changunarayan Temple is located a short distance from Bhaktapur Durbar Square. This temple is a temple of Lord Vishnu. This temple is considered as the oldest temple in Nepal. It is built in pagoda style. This big temple also includes other smaller temples. After the tour we will return to the hotel. There you will attend a farewell dinner. After dinner stay overnight in Kathmandu.
Day 10: Departure from Kathmandu
This is the last day you spend with our 10 days spiritual tour in Nepal team. On this day, you will end your spiritual tour of Nepal, which started from Kathmandu, in Kathmandu itself. Our representative will drop you at Tribhuvan International Airport. We hope you have a wonderful time with us. And because of the cooperation and pleasure that our team has given you, we hope that you will visit us again with your loved ones.
We provide you the bed and breakfast. Accommodation will be shared by two people. However, you can book for the single room with extra charge.
The overland transport will be held on tourist coach as per the itinerary and size of the group.
The applicable fee for the Trekking, National Park and Conservation center will be covered.
We offer you a welcome group dinner
The wages, meals, and transportation of our trekking staff (guide) will be arranged.
We also have included a comprehensive medical kit and service of guide.
Pick-up/Drop from/to the airport.
The visa fee you would have to pay for travel, medical insurance and airport tax.
The meals of your personal interest will not be offered in our expense.
We would also not provide personal sleeping bags and bags.
The charge applied in case of emergency evacuation by any means of transport would not be included.
The charge for accommodation in Kathamndu in you early arrival before the trip will not be included and also the late departure. Moreover, the early departure from trek will also not included in our expense.
We also don't include the cost of international flights.
The trip doesn't offer the travel and rescue insurance.
We also don't include the phone calls, laundry, bar bills, battery recharge, extra poter etc.
We also don't offer tips for guides and porters, you can give them yourself if you like to give.
1st Group: 1st of every month
2nd group: 15th of every month
10 days Spiritual Tour in Nepal
Trip Cost
Terrain type : Hills and Plains
LocationKathmandu, Gorkha, Pokhara, Tansen Lumbini
Difficulty level: Easy
Time Needed: 10 days
Max altitude: 1400 meters
Religions: Hinduism, Buddhism
Local residents: Brahmin, Newar, Tharu, Chhetri
Transportation:: Private bus
Fill the form  for more details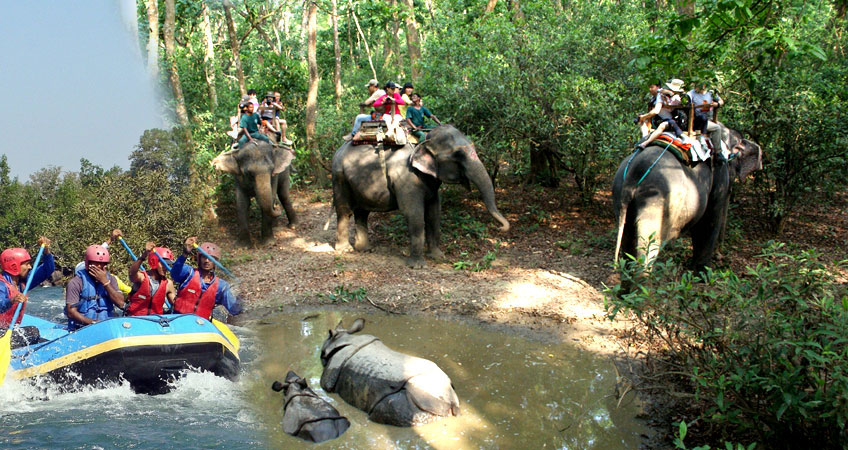 Chitwan Jungle safari in Nepal Chitwan is one of the 77 districts of Nepal and one of the top tourism destinations of the country. It is not wrong to say that Chitwan is the capital of the Jungle safari in Nepal. The country in the Himalayas is covered in forest in...