21 days Ayurveda retreat in Nepal
21 days Ayurveda retreat in Nepal
AyurvedaHolidays are adored all over the world. It is an opportunity to explore the unknown and breathe out of everyday life. There are two types of people. Some like to relax and read in their home. Others like to venture outdoors. If you belong to the second group then trekking, hiking and other adventure activities should be your forte. If not, you may belong to the first group. And need relaxation activities like Ayurveda Retreat, Yoga Retreat, Yoga teacher training etc in Nepal.
If you are tired of constantly searching for the perfect travel destination, come to Nepal without fail. This tiny Himalayan nation is home to some of the best trekking trails and cultural enigma. You will be simply mesmerized by what this country has to offer. One of them is 'Ayurveda retreat packages'.
Once you are done trekking most people just go home without knowing about these 'Ayurveda retreat packages'. They are missing out on a golden opportunity to avail Ayurveda retreat packages. In addition to the wonder of the Himalayas, the country has a strong reputation as a center of ancient medicines and practices. You can get many benefits by visiting an Ayurveda retreat in Nepal.
What is Included in Our 21 Days  Ayurveda Retreat Packages in Nepal
---
These Ayurveda retreat packages are well equipped with staff who have in-depth knowledge of Ayurveda. Ayurveda is associated as a source of alternative medicine in most developed countries. It is a personalized healthcare system based on the concept that no person is identical to another and treatment varies according to the individual.
Based on the history of Ayurveda, it dates back to prehistoric times. The exact time frame on that is unclear. It is said that the gods created Ayurveda and passed it on to sages through word of mouth. As time progressed, sages passed it on to other individuals and from then on only handwritten records began. All historical topics are included in our Ayurveda retreat packages in Nepal.
In practice, the Ayurvedic doctors take a closer look at the mental existence, physical well-being, and even the human personality. They act according to the belief that one aspect can greatly affect the other one. Nepal is following Ayurveda since ancient time and you will be benefited with our traditional Ayurvedic therapies during this Ayurveda Retreat in Nepal.
In practice, Ayurvedic practitioners look closely at the mental existence, physical well-being and personality of the human being. They act on the belief that one factor has a greater effect on another. Nepal has been following Ayurveda since ancient times. And you will benefit with our traditional Ayurvedic treatments during this Ayurveda retreat packages in Nepal.
Those were the discussions of history. Now, let's move on to the Ayurvedic retreat. If you are wondering where to practice this 21-day Ayurvedic retreat after arriving in Nepal, we suggest you visit Trek Nepal. It works along with its sister institutions 'Nepal Yoga Home' and 'Nepal Ayurveda Home'. These firms have an excellent record of customer satisfaction and quality. Nepal Yoga Home is located in Nagarjuna. And home of Nepal Ayurveda is in Thamel. You have the freedom to choose your location.
If you decide to practice Ayurveda here, you should follow an itinerary that looks like this:
7:30 am- yoga asana
As part of this Ayurvedic retreat in Nepal, we also offer yoga sessions. It is an alternative medicine technique. This is the highlight of the morning. In our Ayurvedic session, it starts with a full yoga session. The instructor guides you through the necessary postures. And he observe that you do them right. These postures form the building blocks for any type of yoga asana. This session will help stretch your body and prepare you for the other treatments that lie ahead.
8:30 am- breakfast
After the yoga asana class, you will have breakfast. This is the most important meal of the day and you will be eating the best vegetarian ingredients. These foods are cooked by our chefs. And if you have any preferences, you can ask them. During breakfast, interact with your colleagues and strengthen your friendship.
10:30 am- Ayurveda Doctor consultation
In our Ayurveda retreat program you will have an appointment with an Ayurvedic doctor after the breakfast. They will examine you thoroughly and inquire about any complications and any medical conditions you may be facing. The consultation session may take some time, so be patient.
12:30 am- Ayurveda Therapy
After an Ayurvedic retreat program session in Nepal, you will indulge in an Ayurvedic treatment. During this time you need to do nothing but relax and enjoy the session.
2:00 pm- Lunch
After a relaxing treatment session, lunch awaits you. You will dine on vegetarian ingredients and enjoy a typical Nepali staple, Dal Bhat Tarkari. Also, we try our best to provide yoga and Ayurveda friendly food as much as possible. After the meal you can take a short nap and relax.
5:00 pm- Yoga Class
At the end of the day you will attend another yoga class. In this class you will practice yoga postures. And understand the principles and theory of yoga. After this session ends the day ends.
If you want an out of this world experience, then be sure to take part in an Ayurveda retreat packages in Nepal.
Ayurveda Retreat Start Dates
Ayurveda retreat in Nepal

Trip Cost
Fill the form  for more details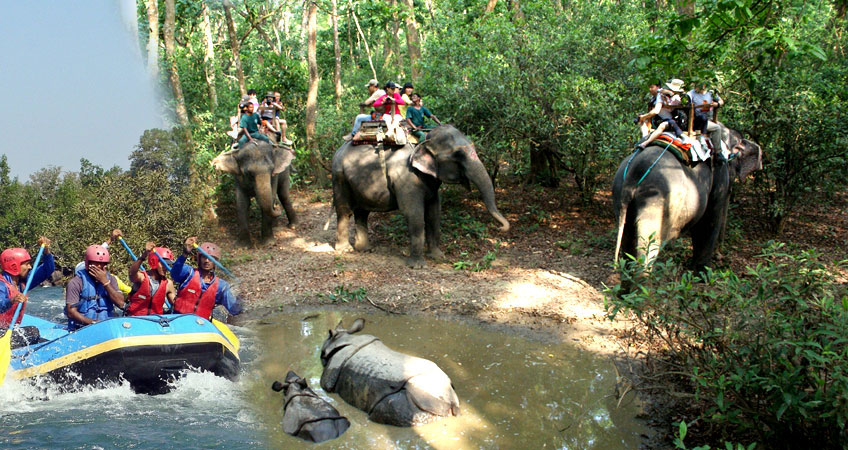 Chitwan Jungle safari in Nepal Chitwan is one of the 77 districts of Nepal and one of the top tourism destinations of the country. It is not wrong to say that Chitwan is the capital of the Jungle safari in Nepal. The country in the Himalayas is covered in forest in...