One-week Ayurveda Retreat in Kathmandu
One-week Ayurveda Retreat in Kathmandu
Nepal is a renowned travel destination throughout the world. Nepal mostly garners attention from western media for its lucrative mountains and unique culture and religion. You might have seen banners and travel advertisements that highlight the beauty of Nepal through the display of Mount Everest, Kanchenjunga, and Lumbini. In addition, It is also the motherland for yoga and Ayurveda. You can join our One week Ayurveda retreat in Kathmandu either before or after the trekking in Himalayan region of Nepal.
Travelers are so engrossed in exploring the snowy mountains and sublime culture that they brush aside an integral aspect of Nepalese tourism, 'Ayurveda'. The concept of Ayurveda retreat is relatively new in the Nepalese tourism industry but the profound perks of Ayurveda are not. Ayurveda dates back to thousands of years and is greatly associated with renowned yogic gurus and saints. In this blog, we shall aim to provide you a brief insight into Ayurveda, and why you should be a part of an Ayurveda retreat in Kathmandu.
Ayurveda is labeled by numerous scholars as an aspect of healing science. The term 'Ayurveda' is derived from Sanskrit which iterates to 'The Science of Life'. Its origin dates back to roughly 5000 years ago and is believed to have originated from the Vedic culture. The originators of Ayurveda taught it to their disciples orally and from there, it transcended to the current generation.
Ayurveda therapy revolves around the concept that for each person, the method of therapy is different. The therapy depends upon the nature of a person and his qualities. Ayurveda has classified energy into three types. They are vata, pitta, and Kapha. These are closely associated with the fundamental biology of the human body. In the Ayurveda retreat in Kathmandu, you will experience a euphoric experience that is bound to make you appreciate the ancient way of life and healing.
Like any other program, this Ayurveda retreat also follows a certain protocol. This itinerary is designed to make the best of the limited time and enable the maximum usage of time.
Everyday Schedule for the one week Ayurveda retreat in Kathmandu:
7:30 am- yoga asana
The morning in this Ayurveda retreat initiates with a yoga session. In the early phase of the retreat, you will interact with the instructor and fellow companions. The morning includes an hour of going through the mandatory yoga poses or asanas. The instructor will guide you through them and if you have any doubts, he will clear them. Morning classes will prioritize the basics and will help to develop your base.
8:30 am- breakfast
Once the lengthy stretching is done, it is time for breakfast. The breakfast in these yoga retreats are 100% vegetarian and are freshly grown. Interact with your classmates while having breakfast and get to know them properly. The friendship you develop today may last a lifetime.
10:30 am- Ayurveda Doctor consultation
After breakfast, it is now time for the Ayurveda Doctor consultation in this one week Ayurveda retreat in kathmandu. The doctor will have a session with you and then he will enquire about your health status and what is the problems that you face. The doctor may ask queries regarding your past medication and present problems you are facing. Depending on your condition, he shall act accordingly. 
12:30 am- Ayurveda Therapy
Once the consultation is set, the next step is therapy. The doctor will use various techniques depending on your condition. You will just have to relax and let the doctor do his magic. So, just relax.
2:00 pm- Lunch
After the soothing Ayurveda therapy, you shall take part in a delicious lunch. Like breakfast, lunch is also a vegetarian. During lunch, you can discuss life and travel with your compatriots. 
5:00 pm- Yoga Class
After a relaxing lunch session, you will once again take part in a yoga session. The instructor will take you through the necessary poses and along with it, you shall receive conceptual knowledge regarding the origins and application of yoga. This is the final activity of the day and after completing it, you can rest.
There are numerous Ayurveda facilities in Nepal and finding the best one is a troublesome task. Lucky for you, Trek Nepal along with its sister organizations host amazing Ayurveda therapy classes and one week Ayurveda retreat in Kathmandu is a part of such servies. We have an excellent track record in terms of customer satisfaction. Whether you want to practice Ayurveda in the city or the laps of nature, Nepal Yoga Home (natural space)  and Nepal Ayurveda Home (City)  has got you covered.
Relaxing and Peaceful Yoga Retreat in Nepal
Trip Cost
Level:

Beginner/intermediate/ Advanced all level can Join

Group Size: Max. 30 People
Yoga Style: Hatha/Ashtanga yoga
4.6 Star Out of 5
"Best Trek of my life; out of the world experience."
Fill the form  for more details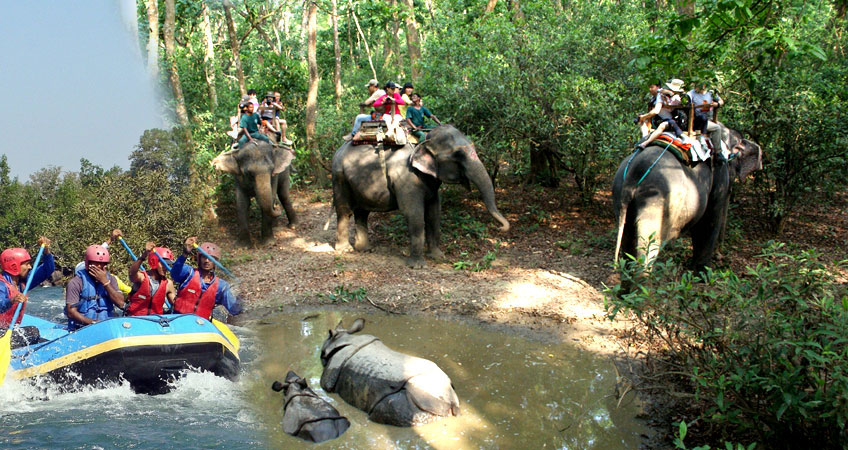 Chitwan Jungle safari in Nepal Chitwan is one of the 77 districts of Nepal and one of the top tourism destinations of the country. It is not wrong to say that Chitwan is the capital of the Jungle safari in Nepal. The country in the Himalayas is covered in forest in...