One month Ayurveda retreat in Nepal combined with yoga class
One month Ayurveda retreat in Nepal combined with yoga class
If you ask people about their favorite thing to do in the holidays, they will mostly answer with one simple word, 'Travel'. What is so intriguing about traveling that people spend their hard-earned money to visit someplace that they have never been before? Well, that is the catch! People are driven by the idea that life is worth exploring and nothing is vital than building memories. This revolution has caused people to leave the comfort of their homes and traverse the unknown. The Trek Nepal is glad to share you different trekking option, yoga trek, Ayurveda Retreat and different yoga retreats programs.
Along with the advent of social media, people are in a rush to explore great deals. The promising deals provided by tour operators make it even more tantalizing. If you are one of those people who want to head out and make an everlasting memory, then it is highly recommended that you visit Nepal. Speaking of Nepal, this nation houses some of the magnificent Himalayas and trekking terrain that leaves anyone amazed. The country houses famed treks like the Annapurna Circuit Trek and the Everest Base Camp trek thus making it a trekker's utopia.
Those were the talks of the trek. If you fancy solace and wish to spend your holidays relaxing and becoming a better version of oneself, then there are various Ayurveda and yoga classes here that you can take. Ayurveda and yoga are mostly looked over by travelers but it is slowly making a name for itself. If you have sufficient time, then you should take the one month Ayurveda retreat in Nepal combined with yoga class.
This one month class shall be the most delightful and meaningful experience of your life. It shall not only give you an insight into the spiritual aspect of life, but it will provide you guidelines and procedures to make your life enjoyable and relaxed. This class is perfect for both the novice ones and the other ones that wish to develop a career in yoga and Ayurveda Retreat themselves.
The major problem that arises while taking such class is deciding where to take this class. Travelers are recommended that they choose Trek Nepal as it possesses the highest customer satisfaction rate. It operates along with its sister organizations Nepal Yoga Home and Nepal Ayurveda Home. They are located in Nagarjuna and Thamel respectively and are run and managed by experienced professionals. This is the place to be if you want a quality experience.
7:30 am – Yoga Asana
The first thing that should be done in the morning is yoga. The instructor shall take you through the mandatory poses and help to clear your doubts in relation to yoga. Be sure to learn everything taught by the instructor.
8:30 am – Breakfast
After a refreshing yoga session, you will have breakfast. The diet is vegetarian but the food is delicious. Feel free to explore the surroundings and do interact with the staff and your companions.
10:30 am- Ayurveda Doctor Consultation
Before the therapy session begins, the doctor will have a consultation session with you. He will ask you about your current health status and if you have any sort of difficulties. This session can last a while so be patient.
12:30 am- Ayurveda Therapy
Once the doctor is done consulting with you in this Ayurveda retreat, the next step involves Ayurveda therapy. There is nothing much for you to do except relax. Let the therapist do his work and just relax.
2:00 pm- Lunch
The lunch in these facilities is made by our chefs who have years of experience cooking. The food prepared here is 100% vegetarian. During lunch, you can interact with your fellow companions and build friendships that will last a lifetime. 
5:00 pm- Yoga Class
The day ends with another yoga class. This class also consists of basic stretching and some advanced poses as well. The instructor shall guide you through the poses. In addition, you will also learn about yogic mantras, philosophy, and other theoretical aspects of yoga.
The One month Ayurveda retreat in Nepal combined with a yoga class is a great getaway from the daily hustle which is bound to be an eye-opener for you. 
Ayurveda Retreat in Nepal

Trip Cost
Fill the form  for more details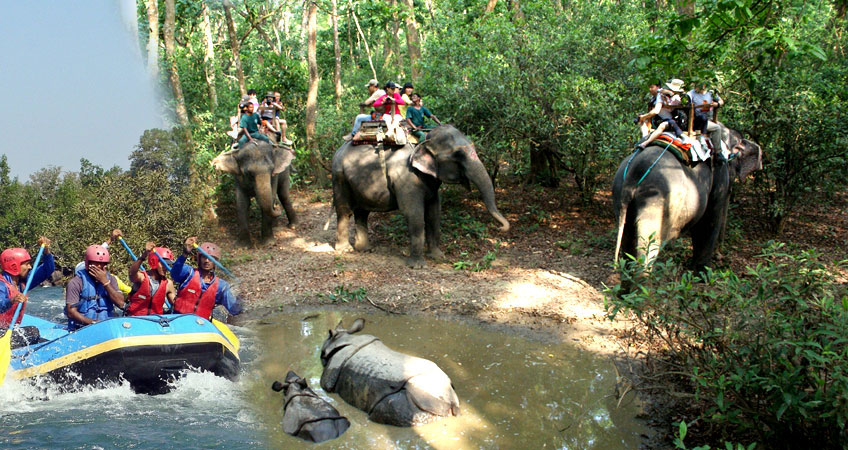 Chitwan Jungle safari in Nepal Chitwan is one of the 77 districts of Nepal and one of the top tourism destinations of the country. It is not wrong to say that Chitwan is the capital of the Jungle safari in Nepal. The country in the Himalayas is covered in forest in...