Api Nampa trekking is a newly discovered trekking trail which was founded in 2015 AD. Camping for a couple of days is required, packages offer food and tents. Trekking days will be 9 to 10 days, 2 long days driving, 3 days short driving and domestic flight to/from Dhangadi (starting and ending point is Kathmandu).
Api Base Camp Trek is located in far-western Nepal. The region is protected by Api Nampa Conservation. The tallest mountains are Api (7132m), Nampa (6929m) and Bobaye (6808m) and other various snow-capped mountains yet to be named surround the valley. Api Nampa Trekking offers spectacular views of sky touching peaks along with a few glacial lakes.
It is a fairly new trekking trail which started back in 2015 AD. It is the best trip for people interested in discovering the mountains in a more intimate setting. It receives fewer tourists since the trail is still new and has yet to gain popularity like the other trails. The first thing you'll need to do is fly to Dhangadhi from Kathmandu. The flight is only an hour and 15 minutes long, so you will have plenty of time to explore the city.
Local buses, taxicabs are available if you wish to go around town. Api Nampa trekking consists of a 4-day drive in total, 2 days on the way to and 2 days on the way back. The first car drive would be an 8-hour drive from Dhangadi to Nepalgunj then another 2-hour car trip from Nepalgunj to Chisapani, where the trek starts. This particular trail is in one the most remote region, remains untouched by the modern-day.
Ready-to-book adventures, personalized
Personal
Make your adventure more youMake your adventure more you - Self join
Group
Enjoy a tour with like minded people - Anyone can join
Private Group
Travel with your group - Only your circle join
Day 01:
Namaste Kathmandu!
The Api Nampa trekking starts with the arrival in the busy streets of Kathmandu.
Day 02:
Continue your journey to the tourist bus station in Balaju to get to Mahendranagar, for an 18-hour bus ride far west of the capital bordering the neighbouring country India.
Day 03:
Next day early morning we will take a bus ride to Gokuleshwor(850m). It is a 15-hour bus ride to Gokuleshwor.
Day 04:
 Another thrilling jeep ride from Gokulehwor. Our next destination would be Karkale (900m). the jeep ride is of is 2 hours
Day 05:
The refreshing breakfast of Karkale and a quick rush to the bus station would make you more furious.7 hours bus ride from Karkale will take you to the next stop Chiureni(1100m) on the route to Api Nampa Trekking.
Day 06:
The next stop is Makarighat (1800m), a 7-hour bus ride from Chiureni.
Day 07:
Another 7-hour bus ride away is the next destination Seti.
Day 08:
It takes about 4 hours to get to Lawathi, the next stop after Seti.
Day 09:
Now onto the next destination, Simar, a 6-hour bus ride from Lawathi.
Day 10:
Dhawaliwadar is the next stop which is a 5-hour bus ride from Simar (3800m).
Day 11:
The Api Himal Base Camp (4000m) is the next stop which is a 2-hour bus ride from Dhawaliwadar.
Day 12:
 On the way back from Api Nampa Trekking to Kathmandu, take a bus ride to Saheb Bagar which is a 6-hour ride.
Day 13:
Head to the next destination Makarighat, a 7-hour bus ride away from Saheb Bagar.
Day 14:
The next destination is Bitule which is a 5-hour bus ride from Makarighat.
Day 15:
Head to Gokuleshwor, a 6-hour bus ride from Bitule.
Day 16:
The next stop is Mahendranagar, a 15-hour bus ride from Gokuleshwor.
We provide you the bed and breakfast. Accommodation will be shared by two people. However, you can book for the single room with extra charge.
The overland transport will be held on tourist coach as per the itinerary and size of the group.
The applicable fee for the Trekking, National Park and Conservation center will be covered.
We offer you a welcome group dinner
The wages, meals, and transportation of our trekking staff (guide) will be arranged.
We also have included a comprehensive medical kit and service of guide.
Pick-up/Drop from/to the airport.
The visa fee you would have to pay for travel, medical insurance and airport tax.
The meals of your personal interest will not be offered in our expense.
We would also not provide personal sleeping bags and bags.
The charge applied in case of emergency evacuation by any means of transport would not be included.
The charge for accommodation in Kathamndu in you early arrival before the trip will not be included and also the late departure. Moreover, the early departure from trek will also not included in our expense.
We also don't include the cost of international flights.
The trip doesn't offer the travel and rescue insurance.
We also don't include the phone calls, laundry, bar bills, battery recharge, extra poter etc.
We also don't offer tips for guides and porters, you can give them yourself if you like to give.
1st Group: 1st of every month
2nd group: 15th of every month
Fill the form  for more details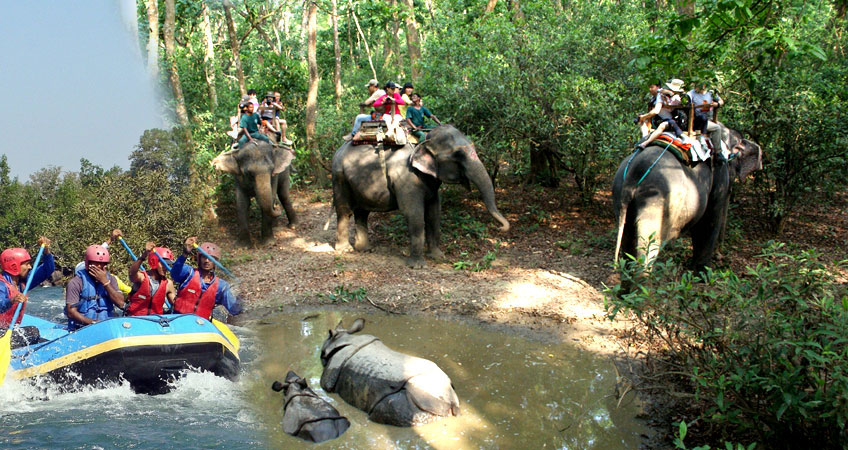 Chitwan Jungle safari in Nepal Chitwan is one of the 77 districts of Nepal and one of the top tourism destinations of the country. It is not wrong to say that Chitwan is the capital of the Jungle safari in Nepal. The country in the Himalayas is covered in forest in...