Yoga Retreat Nepal |
Visit Us for Life-Changing Yoga Retreat in Nepal
3. Have you ever wanted to practice yoga in an open and sacred place? So come to a yoga retreat in Nepal and fulfill all your desires at The Trek Nepal. We offer yoga retreat packages in coordination with Nepal Yoga Home and Nepal Ayurveda Home, the best yoga schools in Nepal.
You have always cherished the attractions of Nepal and loved those mystical mountains and greenery. Some of you may have called this place home and treasured the wonderful moments spent here. But do you know about the account where Nepal has planned a yoga retreat for you? Yes, Nepal has designed programs for yoga retreat packages in its various attractive areas and has all possible amenities for yoga lovers. Give yourself a break and join a spiritual vacation and yoga retreat.
Nepal is known for its forests, mountains like Everest, high peaks, waterfalls, holy places, beautiful sunsets, and much more. Nepal is home to hiking and trekking adventures. People visit Nepal for a number of reasons; some are tempted by the call of the mystical mountains and are interested in hiking and trekking in the Himalayas. Others are attracted by Nepal's culture and recreational activities, and still others are in search of true spirituality through the practice of yoga.
Understanding The Core Aspect of yoga
Traditionally, the ancient art of yoga has been practiced by the natives of India to achieve spirituality. But nowadays, yoga practice is popular all over the world. Everyone knows about the benefits of yoga retreats in Nepal. Thus, it is included in their daily lifestyle. They made it their regular physical exercise. It not only gives flexibility to your body but also cleanses your mind. Yoga is a practice of mind and body. It provides various benefits for your mental health and physical fitness. Some exercise yoga retreats in Nepal to gain a spiritual aspect, while others are interested in increasing fitness and flexibility levels, while others absorb it to cure illness and health disorders. So practicing a yoga retreat in Nepal is considered an all-round development of your body and mind. So we started Yoga retreat program here in Nepal. There are many different forms and types of yoga retreats in Nepal. Practicing one of each or all types of yoga retreats will be fruitful for you. So, if you are interested in yoga, set a goal and then come to us. We guide you on which category of yoga retreat exercises will be most helpful for you. Yoga retreat packages in Nepal have many physical postures and positions that relate to your mind as well. At first, you will face some difficulties while practicing the actual pose. But over time, your position will start to correct itself.
What is The Power of Yoga Retreat in Your Body?
Some benefits of yoga retreat to your body and mind is listed Below:
Yoga Retreat provides strength to your body and mind.
Provide amazing power to add flexibility to your body.
It provides the spiritual effect of peace to your mind.
It has various breathing postures which help you to breathe clearly.
People with a mental health condition and physical stamina can be evaluated while holding different postures.
It increases strength to your arm and shoulder.
The condition of your spine will be better than before as the different back muscles will begin to support it effectively.
Building core muscles must aid in refining your abdominal and oblique.
The muscles behind the hips will be stretched and boost energy.
Other muscles, such as quads, glutes, calves, and hamstrings, are also strengthened.
Either you have body problems or mental stress, or you want to increase your fitness level. Yoga retreat packages in Nepal has the power to cure all your ailments and thereby refresh you. Practicing yoga will help you live more energetically every day of your life.
Get Best Yoga Retreat in Kathmandu
We have designed yoga retreat packages in Nepal for yoga lovers. If you want to practice yoga, you should join our Nepal Yoga Retreat program. You can get a professional and pure form of yoga from our qualified yoga instructors. This tour guides you on 'how to practice yoga properly'. And also provides meditation practices. Here, you will learn about the true meaning of yoga retreat Nepal, its origin, its various categories and other related knowledge. You also get the spirituality of doing yoga at such a holy place in Nepal. A yoga retreat Nepal tour allows you to witness the various fascinating and extraordinary regions of Nepal. Coming here, you can also enjoy adventurous activities like hiking, trekking and rafting. You will have the opportunity to hike and trek the mystical mountains of Nepal and do a yoga retreat in the peaks of Nepal. During the visit you can witness the misty hill stations, numerous flora and fauna, picture the sharp peaks of Annapurna and Fishtail. The incredibly constructed roads will lift you up and you will be overwhelmed by the snow covered forests and trails. A stunning sunset will take you to the next level. Trek Nepal offers a variety of camping trips including hiking/trekking and practicing yoga and meditation.
Things You Should Bring During Course
Trekkers or hikers are recommended to carry essential items for this trip. Please remember to bring hiking boots, socks, water bottle, sturdy sleeping material so that it protects you from strong winds and a first aid kit. Avoid bringing unnecessary items to avoid hassles.
List Of Best 3 Yoga Retreat course
Trek Nepal offers 3 different types of Yoga Retreat in Nepal that you may be interested in. Here is the list below:
1. One Week Yoga and Wellness Retret in Nepal
2. 8 Days Holiday Yoga Retreat in Nepal
3. Two Weeks Natural Cleansing and Detox Yoga Retreat
Now go in detail with the wide variety of yoga retreats offered by The Trek Nepal.
1. One Week Yoga and Wellness Program
A one-week yoga retreat course takes place at Nepal Yoga Home. It is a leading yoga school in Nepal with international recognition. This repetition will truly transform your life towards peace, bliss and happiness. You will enjoy a retreat in a natural setting and receive classes on various dimensions of yoga. In this one week yoga course you will have daily yoga retreat sessions, meditation classes and regular meals with snacks. The skill level is for beginners and intermediate ones where you can practice different types of yoga styles such as Hatha, Shakti and Ashtanga.
2. 8 Days Holiday Yoga Retreat Nepal / Yoga with sightseeing and hiking oppertunity
This 8 days 7 nights yoga retreat yoga retreat includes accommodation with yoga class and tour to Kathmandu Valley. By practicing meditation you can enjoy beautiful places. You will also enjoy yoga retreats and trekking opportunities in Nepal around the Kathmandu Valley. Here are the styles of yoga, including Hatha yoga and includes breathing, meditation and various other parts of yoga. Daily vegetarian food is served here and non-vegetarian food is not allowed. The skill level used here is for beginner, intermediate, advanced practitioners. In addition to trekking and hiking, you will be able to regularly attend Nepal yoga retreats and practice meditation.
3. Two Weeks Natural Cleansing and Detox Yoga Retreat
The retreat is located in Kathmandu, the capital of Nepal, consisting of a two-week yoga journey. Yoga styles include Hatha and Ashtanga yoga. We provide vegetarian and organic food during yoga retreats in Nepal. Skill level from beginner to intermediate. You will practice 4 classes daily on yoga, meditation, breathing, yoga philosophy etc. Yoga retreats programs focus on cleansing and healing the stomach, large intestine and small intestine. Our yoga experts use common language English and Nepali. You will also find free time to spend quality time at the place. Pursue your ambition to practice a yoga retreat in the beautiful land of the Himalayas!
Fill the form  for more details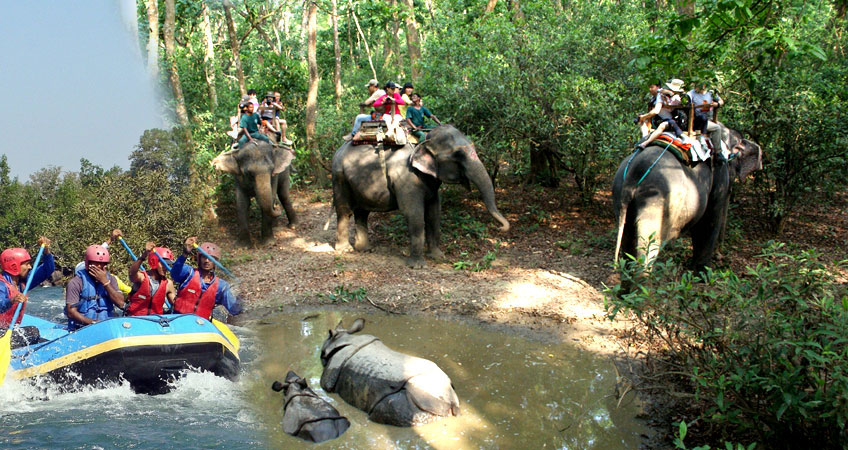 Chitwan Jungle safari in Nepal Chitwan is one of the 77 districts of Nepal and one of the top tourism destinations of the country. It is not wrong to say that Chitwan is the capital of the Jungle safari in Nepal. The country in the Himalayas is covered in forest in...