One Week Yoga Meditation Tour Around Kathmandu Valley
Do you want to make your holiday special?  Our 
one week yoga meditation tour
 around 
Kathmandu valley
 might be one of the best options for you. Every detail will be taken care of to ensure your retreat is truly unforgettable with life changing experiences of yoga meditation class, tour to different heritage sites and hiking around Kathmandu. It is truly unique and transformative program in Yoga's birthplace Nepal.
You will see different UNESCO World Heritage sites. In addition, with the help of highly experienced yoga instructor will allow you to completely immerse yourself into the deep-rooted traditions of yoga and meditation. We try to make you free from body and mind and you will get a chance to rejuvenate your body with yoga and mindfulness experience.
In this one week yoga meditation tour around Kathmandu valley we provide morning and evening yoga meditation class and in the day time you will go for the sightseeing. Our target is to make your holiday so special with both inner journey and external journey.
We provide you yoga asana, meditation, relaxation techniques, some important breathing techniques and you can consult with our yoga instructors if you have some problem ( a therapeutic approach of Yoga) on the other hand you can explore Nepalese culture, visit some historical places, old palaces and our old civilized city.
During this one week yoga meditation tour, you will visit following places: Baudhanath – biggest Buddhist shrines in the world, Pashupatinath- famous hindu temple, Kathmandu Durbar square, swambhunath (Monkey temple), Patan, Bhaktapur, Budanilkhanta- lying bushnu temple and Sanga- tallest statue of shiva's.
In Addition if you like to do yoga trek you can contact us, we are running different yoga trekking in Nepal. You can drop your inquiry by simply clicking here
Every Day Yoga and meditation classes
Highly experienced yoga instructor
Kathmandu Valley sightseeing
Hiking activities ( one day)
Entrance fee included
Breakfast, lunch, and dinner during
7 nights' accommodation
Experience guide
Yoga with high skilled yoga instructor
Air-conditioned rooms
Free parking
Luggage room / storage
Laundry
Multilingual staff
Free Wi-Fi
Wireless internet
Nice yoga hall
Environmental friendly
Free counseling for tour and trek
Currency exchange if necessary
Hot and cold shower
7:30-8:30 – Morning Yoga Sesseion
8:30-9:15- Breakfast
9:15-10:00- rest
10:00- 3:00 pm- Sightseeing/hiking
3:00-4:30- rest
5:00-6:00 pm- Breathing and meditation
7:00- dinner
8:00- bed
Beginner
Intermediate
Advanced
All three levels can join the program.
We provide you the bed and breakfast. Accommodation will be shared by two people. However, you can book for the single room with extra charge.
The overland transport will be held on tourist coach as per the itinerary and size of the group.
The applicable fee for the Trekking, National Park and Conservation center will be covered.
We offer you a welcome group dinner
The wages, meals, and transportation of our trekking staff (guide) will be arranged.
We also have included a comprehensive medical kit and service of guide.
Pick-up/Drop from/to the airport.
The visa fee you would have to pay for travel, medical insurance and airport tax.
The meals of your personal interest will not be offered in our expense.
We would also not provide personal sleeping bags and bags.
The charge applied in case of emergency evacuation by any means of transport would not be included.
The charge for accommodation in Kathamndu in you early arrival before the trip will not be included and also the late departure. Moreover, the early departure from trek will also not included in our expense.
We also don't include the cost of international flights.
The trip doesn't offer the travel and rescue insurance.
We also don't include the phone calls, laundry, bar bills, battery recharge, extra poter etc.
We also don't offer tips for guides and porters, you can give them yourself if you like to give.
Yoga Meditation Tour Around Kathmandu Valley
Trip Cost
Cost: 900, 1000,1100,1200 USD Depending on Room Type
Fill the form  for more details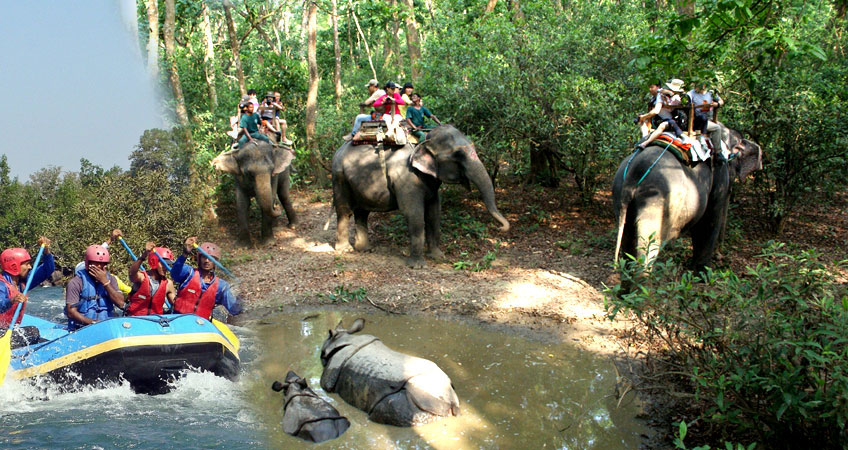 Chitwan Jungle safari in Nepal Chitwan is one of the 77 districts of Nepal and one of the top tourism destinations of the country. It is not wrong to say that Chitwan is the capital of the Jungle safari in Nepal. The country in the Himalayas is covered in forest in...