No wonder, the world has accepted this Art of living with open arms. And being a neighboring state of India, how can Nepal lag behind. Yoga in Nepal has become so much famous that people from different parts of the world come for a Yoga Holiday in Nepal. History of Yoga is a 5000-year-old, breathing, exercise, and meditation technique that evolved.
The practice of yoga not only helps in wellbeing of your body but also enriches your spiritual goodness. it has proven record of protecting us from a various physical illness like arthritis, back pains etc. along with uplifting our mental wellbeing like it soothes our mind from things like anxiety, depression and much more.
The concept:
The concept of Yoga holiday in Nepal is a unique one where the visitors not only get to explore the mighty Himalayas and the intake the scenic beauty but also gets a chance to know about the   Mantra of staying fit, that is, Yoga.
Yoga Vacation 
Nepal is a small country which is surrounded by the beautiful and mighty Himalayan trails. The beauty of the mountains leaves an amazing yet mysterious impact on all the visitors here. People come here for trekking, bird watching, various adventurous activities like skydiving, bungee jumping and many more.
The unique essence of this country lies in the fact that it can blend the joy of exploring the beautiful and mysterious Himalayan trail along with connecting the body to a world of happiness, peace, and health. Yoga purifies the mind, soul and the body which is the key to happiness and peace. And when it is done in this beautiful landscape, the effect becomes even more prominent.
Reasons For Going Yoga  Holiday in Nepal?
Being among one of the few countries in the world, Nepal offers 1, 2 & 3 months visa on arrival. This will help the people from another part of the globe to live without stress and learn about this art of living in a more detailed manner. The natural environment along with the low pollution rate also helps in adding a bit more health factor to the people who have traveled a lot to come and learn Yoga in Nepal.
Yoga holiday in Nepal is a perfect getaway from the daily life to enjoy a new travel destination yet adding goodness of health to each of your days. The moderate temperature of Nepal also makes it an ideal tourist destination for Yoga retreat throughout the year.
Features Of The Yoga Holidays in Nepal:
The mystic land of Nepal has the perfect ambiance for that the visitor can achieve peace of mind and body through the cleansing process called Yoga. Here we are going to list some reason why Nepal can be a yogi's dream destination, if you want a life-changing experience, you should definitely try the Yoga holiday in Nepal. Along with the scenic beauty, there are various other reasons to come to Nepal:
A diversified culture with more than 35 ethnic communities that differs in their music, language, custom, and food is definitely a picture to witness.
The trekking routes of Nepal along the Himalayan Trail are famous all over the world.
Nepal is one of the cheapest in the world, so you can enjoy this breathtaking beauty along with improving your health without digging a hole in your pocket.
The food of this country is a mixture of Southeast Asian, Indian and Chinese flavors which makes the delicacies mouthwatering and full of flavors.
Top Places For Yoga Holidays in Nepal:
There are various options available for Yoga Holidays in Nepal, however, we bring you the top 3 programs among them:
1. Everest Base Camp Trekking (15 Days)
This is the best program for someone who loves trekking and yoga. Some of the highlights of this program include,
Hanumandhoka Durbar Square
Bhaktapur Durbar Square
Patan Durbar Square
Temples and monasteries of Kathmandu valley
Lumbini
Chitwan National Park
Yoga sessions would be held daily.
Sightseeing with guide tours in Kathmandu.
Visiting many UNESCO world heritage sites.
getting an aerial view of the majestic valley.
Healthy as well as delicious food.
Accommodation for 14 nights.
2. Yoga Rafting On Sun Kosi River
Sun Kosi river in Nepal is among the top 10 rivers in the world for river rafting, and this, when combined with Yoga, would definitely give you an experience of a lifetime.
This is a 9-day trip where you will wake up in the tents at morning and practice yoga.
Trained professionals would guide you on river rafting making this sports much safer.
The experience of staying in the tents, beside a river with high currents surrounded by Himalayan mountain ranges is definitely an experience that you would not forget in your lifetime.
Along with river rafting, you can also enjoy various other sports activities under the supervision of professionals.
If you want to learn more yoga, then this camp also holds evening yoga sessions where you can participate.
3. Wellness Weekend At Summit River Lodge
Wellness retreat option is the best associates of yoga holiday in Nepal, that you were waiting for. This beautiful 17 room property includes:
The property has a infinity swimming pool and vegetable gardens for you to enjoy. You will love the greenery around the property.
The place offers you the best healthy diet cooked from the vegetables from their own garden and hence they are definitely very fresh. The famous and well-trained chefs here would give you the tastiest yet healthiest culinary experience of your life.
This lodge will provide you with a great base for adventure sports like river rafting, hiking, bungee jumping and many more things.
To complete this, lessons of yoga and meditation would not only cleanse your body and mind but also your soul and you will experience the joy of inner wellness.
4. Yoga Holiday At Begnas Lake
This is another yoga retreat which is quite famous for its location and its immense focus on yoga activities, more than any other Yoga Holidays in Nepal could offers. The daily schedule of the place looks somewhat like this:
The morning starts with a 2-hour meditation and yoga sessions.
This is followed by a healthy and delicious breakfast.
Afternoons can be enjoying hiking, boating or swimming at all the beautiful and peaceful nearby places available.
The early evenings will commence with learning beautiful yoga postures.
All the above retreats can be redesigned as per your choice because your preference is what that matters. After a long trekking trip in the Himalayas if you want the comfort of a resort then you can definitely go for the River Summit lodge that will give you the most comfortable experience among nature. Or, if you want to really close to nature, learning yoga and practicing the art, then you can opt for the property in Begnas Lake.
If you like mountains, adventure sports, yoga, meditation, hill station, peace and that too within an affordable budget then you must opt for Yoga Holidays in Nepal at least once in your lifetime and we are sure that you will come back again.
Fill the form  for more details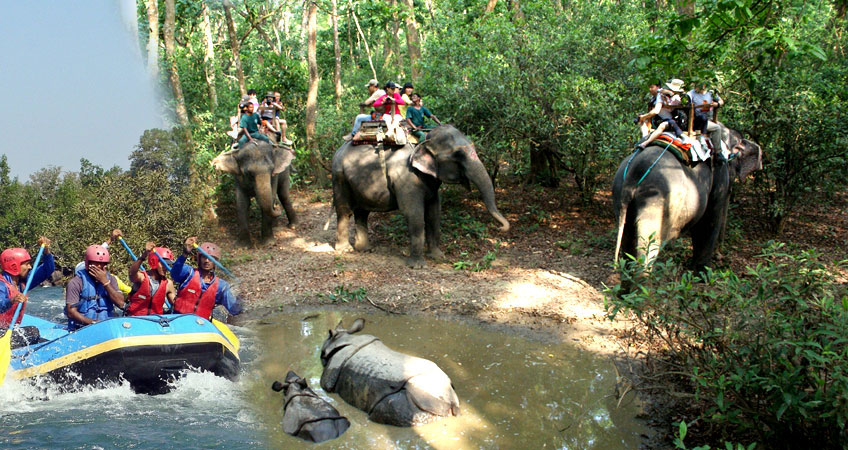 Chitwan Jungle safari in Nepal Chitwan is one of the 77 districts of Nepal and one of the top tourism destinations of the country. It is not wrong to say that Chitwan is the capital of the Jungle safari in Nepal. The country in the Himalayas is covered in forest in...