8 Days Ghorepani Poon Hill Yoga Trek
The Best Part of the Ghorepani Poonhill Yoga Trekking
See the sights of the exquisite Annapurna region and remarkable sights of many magnificent massifs enjoying with meditation, yoga, and exercise.
Mountain range view of Machhapuchhre Annapurna South (7219m\23684 ft.), Annapurna I (8091m\26545 ft.), Gangapurna (7454m\24455 ft.). Moreover, picturesque Dhaulagiri (8167m\26794 ft.), and Himchuli (6441m\21131ft.) Adore along with stunning morning sights from Poonhill.
Ghorepani Poon Hill yoga trek is one of the easiest treks to do in Nepal, which offers some of the exquisite views of the mountains and hills along with the sceneries with some opportunity to educate and practice ancient yoga techniques. The package offered by The Trek Nepal allows you to practice yoga during morning and evening throughout the stay in Nepal. Especially, morning yoga asana class and evening meditation class each day after starting the trekking are the peculiarity of the trek. A well-educated and trained yoga teacher will be accompanying you to the Hotel and the Himalayas.
The prevalent trek takes you to the most popular viewpoint Poonhill through one of the yet another popular and culturally rich Ghandruk village. The destination of the trek is Poonhill which can be reached through culturally rich and indigenous ethnicity of Nepal—Gurung, and Magar village. The trek itself is a cupcake that you do not need prior experience to ace the Ghorepani Poon Hill yoga trek. The maximum altitude that is reached is Poon Hill, which is situated at 3210m above sea level. The trek advents from nearly 41 km drive from Pokhara, which reaches to Nayapul. From Poonhill sunrise is seen along with the exquisite Himalayas view, nearly 30 mountains are seen with three mountains above 8000m.
Among many seasons to trek to Ghorepani Poon Hill, the autumn season is considered the best season because the weather is clear and mesmerizing mountains are vividly visible from the trekking routes.
Observing the surreal view of the Makalu mountain
Interacting with the Sherpa people living in the Makalu Barun National Park
Crossing the dangerous Shipton La Pass and Keke La Pass
Sightseeing of Pashupatinath and Swoyambhunath in the Kathmandu valley
Arriving at the periphery of the Makalu base camp
Observing the delightful picture of mountains like Peak 6 and Peak 7
Ready-to-book adventures, personalized
Personal
Make your adventure more youMake your adventure more you - Self join
Group
Enjoy a tour with like minded people - Anyone can join
Private Group
Travel with your group - Only your circle join
Day 01: Arrival day in Kathmandu
Welcome to Kathmandu (1,300m/4,264ft) and Evening Meditation class
Day 02: Kathmandu Sightseeing and Trek Preparation day
Yoga and asana class in the morning followed by sightseeing of Kathmandu, Trek preparation and Evening Meditation class (1,300m/4,264ft)
Day 03:Fly from Kathmadu to Pokhara
Yoga and asana class in the morning, Start preparation to move from Kathmandu to Pokhara and Evening Meditation Class (820m/2,690ft)
Day 04: Trek Nayapul To Tikhedhung
Yoga and asana class in the morning, take a jeep to Nayapul, Start to Walk to Tikhedhunga and Evening Meditation class (1,540m/5,052ft)
Day 05: Trek from Tikhedhung To Ghorepani
Yoga and asana class in the morning, Trek from Tikhedhunga to Ghorepani and Evening Meditation class (3,194m/10479ft)
Day 06: Hike to Poonhill and Trek to Tadapani
Yoga and asana class in the morning, Hike to Poonhill, Trek to Tadapani and Evening Meditation Class(2,590m/8497ft)
Day 07: Trek to Ghandruk
Yoga and asana class in the morning, Trek to Ghandruk and Evening Meditation class (1,940m/6,364ft)
Day 08 : Trek to Nayapul, Drive to Pokhara and Return Kathmandu
Yoga and asana class in the morning, trek to Nayapul, drive to Pokhara and finally to Kathmandu.
We provide you the bed and breakfast. Accommodation will be shared by two people. However, you can book for the single room with extra charge.
The overland transport will be held on tourist coach as per the itinerary and size of the group.
The applicable fee for the Trekking, National Park and Conservation center will be covered.
We offer you a welcome group dinner
The wages, meals, and transportation of our trekking staff (guide) will be arranged.
We also have included a comprehensive medical kit and service of guide.
Pick-up/Drop from/to the airport.
The visa fee you would have to pay for travel, medical insurance and airport tax.
The meals of your personal interest will not be offered in our expense.
We would also not provide personal sleeping bags and bags.
The charge applied in case of emergency evacuation by any means of transport would not be included.
The charge for accommodation in Kathamndu in you early arrival before the trip will not be included and also the late departure. Moreover, the early departure from trek will also not included in our expense.
We also don't include the cost of international flights.
The trip doesn't offer the travel and rescue insurance.
We also don't include the phone calls, laundry, bar bills, battery recharge, extra poter etc.
We also don't offer tips for guides and porters, you can give them yourself if you like to give.
1st Group: 1st of every month
2nd group: 15th of every month
Importance of Yoga while trekking
Yoga is the medium of entering the self and it helps us to find out the meaning of life. We trek for refreshment and to entertain. In surface, it seems that both can satisfy us for our desire to be happy. But in higher level, yoga has its own purpose to purify our body, mind and spirit. Trekking can be one part of yoga but it is not complete medium to get purified. If we combine both in one place then the purpose of yoga may be met in some aspect.
It is not only the process to connect our body with our mind but it can connect us with the higher self. meditation and yoga can make us physically, mentally, spiritually and socially healthy. In addition, yoga increase the memory power of the person who does it regularly. also, it helps us to get free from all types of stress and tension. continuous practice of yoga increases the personal power in every field of human life and build up the self-awareness of the person. Further, it can remove the negative toxins from our body which is the cause of every disease.
Yoga has a connection with our Mind and Immune System
Perfect harmony in our mind and exact decision power cab be developed through yoga. Meditation is the medium to increase the inner peace in our mind. Develops the power to create a better relationship with the people. Plus, yoga meditation abolishes all the negativity, which reside in our mind from many years.
When we add yoga with our walking, it can help us to remove all the pains that we have during trekking. If we add Pranayama and meditation with walking, that helps us to be free from all the aches on our body. Yoga trekking is the combination of yoga with trekking, and it can play very important role in our life. Trekking can be the beauty in yoga and yoga can complete the purpose of our desire to trek. Both give us full of relax and refreshment in our life.
8 Days Ghorepani Poon Hill Yoga Trek
Trip Cost
Destination: Ghorepani Poon Hill Yoga Trek
Min-pax: 1-15
Accommodation: 2 or 3 star level
Duration: 8 days
Max altitude: 3210m
4.6 Star Out of 5
"Best Trek of my life; out of the world experience."
Fill the form  for more details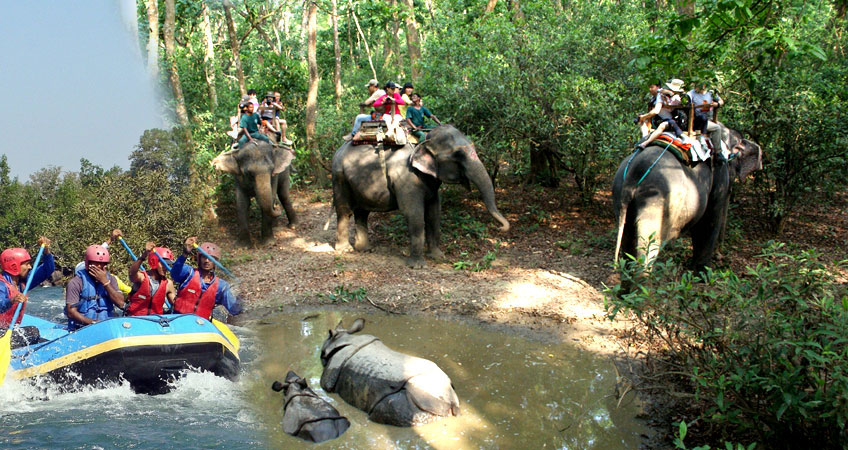 Chitwan Jungle safari in Nepal Chitwan is one of the 77 districts of Nepal and one of the top tourism destinations of the country. It is not wrong to say that Chitwan is the capital of the Jungle safari in Nepal. The country in the Himalayas is covered in forest in...