11 Days Mardi Himal Yoga Trek
Mardi Himal Yoga trek is one of the relatively new trekking hubs that opened in the
Annapurna region
. Despite its young age, it has seen a meteoric rise to stardom. Trekkers from across the globe flock this mountain with hopes to welcome adventure into their lives. This trek is an ideal option for those that wish to be undisturbed and explore the wilderness.
This 11-day trek takes you along the quieter parts of the famous Annapurna conservation area. Travelers will be blessed with the opportunity to witness unprecedented and unparalleled beauty that nature has to offer. Observe the delightful panorama of mountains like Mardi Himal, Annapurna, Dhaulagiri, Manasalu, and Hiuchuli mountain at their full glory. The trails along the way are dotted with small settlements that the Gurung and Chhetri people call home. Learn the meanings behind their culture, way of life, and the delicate balance that exists between man and nature.
Infuse morning and evening yoga and meditation sessions to truly witness the grandeur of the trek and your refinement.
During this trek, you will be residing in the lodges or teahouses. This option is feasible in those areas where there is a human settlement. In places like the high camp, you will have to stay in a self-built tent. If you are traveling with a tour operator, then he will arrange the accommodation. Food during the trek will be normal like dal bhat tarkari. Fancy food is not available in the high hills. You can carry chocolates and other items if you like.
Fantastic view of frosty peaks like Mardi Himal, Annapurna, and Dhaulagiri
Cultural awakening in the UNESCO World Heritage Sites of Kathmandu valley
Traversing across the forested trails that later transcend into frosty paths
Observing the amazing wildlife that thrives in the Annapurna region
Boating in the majestic Fewa Lake
Exploring the many mysteries of the Pokhara Valley
Ready-to-book adventures, personalized
Personal
Make your adventure more you
Personal
Make your adventure more you
Private
Enjoy a tour focused solely on your travel group
Protected
Travel within your own bubble
Day 01: Arrival at the Tribhuvan International Airport, Kathmandu (1300m)
Today marks your arrival in Nepal. At the airport, our company representative will pick you and transfer you to your hotel. Along the way, he will explain the contents of the trip and other crucial matters. Take a much-deserved rest in the hotel and preserve energy for the long road ahead. Overnight in Kathmandu.
Day 02: Sightseeing tour and trek preparation(1300m)
Before we venture out to the Himalayas, we shall arrange all the mandatory documents and accessories. Only after proper preparation, the trek can become successful.
After fulfilling these formalities, we shall take quick sightseeing of the major UNESCO world heritage landmarks of Kathmandu. These sites are rich in culture and history. Sites like Swoyambhunath and Kathmandu Durbar Square will be our priority. Overnight in Kathmandu.
Meditation in the evening.
Day 03: Head to Pokhara (flight or drive) (827m)
The morning sees us catch a flight or a bus that leads to Pokhara. This city lies 200 km away from Kathmandu. It is often called the gateway to the Annapurna region. You have the option of traveling either by plane or by bus. The bus takes 7-8 hours whereas, by flight, it takes about 40 minutes. Spend a night in Pokhara by strolling in Lakeside and do enjoy the delightful Pokhreli cuisine. Overnight in Pokhara.
Meditation in evening.
Day 04: Head to Phedi and trek to Deurali (2100m)
To accentuate your performance during the trek, you'll take part in a yoga asana class in the morning and a meditation class in the evening. Drive away from the urban metropolis and into the forested landscape in Phedi. From here, you will cordially commence the trek. Navigate along the quaint settlements and villages to reach Dhampus. Admire the beauty of nature and head to Deurali which will be your resting spot for the day. Overnight in Deurali.
Meditation in evening
Day 05: Trek from Deurali to Forest Camp (2520m)
Once you complete the morning yoga asana session, you will head to Forest Camp. You will observe that we are heading deeper and deeper into unmanned areas. Walk through the forested landscapes that are intricately decorated with rhododendron. You can even observe wild animals living in these parts. Forest Camp is a small resting spot in the wilderness. The evening meditation session will help you to soothe your senses. Overnight in Forest Camp.
Meditation in evening
Day 06: Trek from Forest Camp to Low Camp (2970m)
It is a great experience to practice morning asana sessions in the soothing ambiance of nature. Once it is done, venture further through green forests to reach Low Camp. You will get the opportunity to witness dazzling views of Macchapucchre, Annapurna, and other snowy mountains. Arrive at Low Camp after conquering the rocky terrain. Indulge in the evening meditation session to call it a day. Overnight in Low Camp.
Day 07: Trek from Low Camp to High Camp (3540m)
The asana session can be a bit difficult today as the elevation is comparatively higher. Take it easy and have an energetic breakfast. Move on to higher grounds by crossing slippery and rocky terrain. In these parts, you can see Daphne (national bird of Nepal). At high camp, you can see fellow campers like yourself. If possible, do take part in the meditation session. Overnight in High Camp.
Meditation in evening
Day 08: Trek to the Upper viewpoint and return to high camp. (4250m)
Once we wrap the morning yoga session, we will head out to the Upper Viewpoint. It also goes by the name of Mardi Himal Base Camp. It takes roughly 3 hours to arrive at the viewpoint. From here, one can catch the breathtaking pictures of the snow-crusted mountains like the Mardi Himal, Annapurna, Himchuli and Tent Peak. Once you relish the sight of these mountains, head back to the high camp. Take the meditation class and enjoy a much-deserved rest. Overnight in High Camp.
Meditation in evening
Day 09: Head down to Sidhing village (1700m)
We shall begin our journey back to Pokhara from today. Once the yoga session and breakfast are completed, we shall commence the descent. We shall take a different trail to head down. The elevation drops heavily so be careful. Sidhing village is the resting spot for today. It is inhabited by the people of Tamang and Gurung community. Be sure to learn about their culture and way of life. Enjoy the local cuisine after completing the meditation session. Overnight in Sidhing.
Meditation in evening
Day 10: Hike to Lumre and drive to Pokhara (827m)
Our return journey takes us to Lumre. It is a relatively new resting spot in this Mardi himal yoga trekking route. To reach here, walk along small streams and forested terrains. Be sure to complete the morning yoga asana sessions too. You will meet our representative at Lumre and he will arrange a vehicle that will take you to Pokhara. Celebrate after completing the trek and do finish the final meditation session as well. Overnight in Pokhara.
Day 11: Fly to Kathmandu and head to your home
After having breakfast, catch a flight that takes you back to Kathmandu. The flight will provide you astonishing views of the mountains decorating the Annapurna region. Upon landing in Kathmandu, have your lunch and get on another flight that takes you home. We hope that you had a wonderful time with us and we look forward to seeing you again.
We provide you the bed and breakfast. Accommodation will be shared by two people. However, you can book for the single room with extra charge.
The overland transport will be held on tourist coach as per the itinerary and size of the group.
The applicable fee for the Trekking, National Park and Conservation center will be covered.
We offer you a welcome group dinner
The wages, meals, and transportation of our trekking staff (guide) will be arranged.
We also have included a comprehensive medical kit and service of guide.
Pick-up/Drop from/to the airport.
The visa fee you would have to pay for travel, medical insurance and airport tax.
The meals of your personal interest will not be offered in our expense.
We would also not provide personal sleeping bags and bags.
The charge applied in case of emergency evacuation by any means of transport would not be included.
The charge for accommodation in Kathamndu in you early arrival before the trip will not be included and also the late departure. Moreover, the early departure from trek will also not included in our expense.
We also don't include the cost of international flights.
The trip doesn't offer the travel and rescue insurance.
We also don't include the phone calls, laundry, bar bills, battery recharge, extra poter etc.
We also don't offer tips for guides and porters, you can give them yourself if you like to give.
1st Group: 1st of every month
2nd group: 15th of every month
Importance of Yoga while trekking
Yoga is the medium of entering the self and it helps us to find out the meaning of life. We trek for refreshment and to entertain. In surface, it seems that both can satisfy us for our desire to be happy. But in higher level, yoga has its own purpose to purify our body, mind and spirit. Trekking can be one part of yoga but it is not complete medium to get purified. If we combine both in one place then the purpose of yoga may be met in some aspect.
It is not only the process to connect our body with our mind but it can connect us with the higher self. meditation and yoga can make us physically, mentally, spiritually and socially healthy. In addition, yoga increase the memory power of the person who does it regularly. also, it helps us to get free from all types of stress and tension. continuous practice of yoga increases the personal power in every field of human life and build up the self-awareness of the person. Further, it can remove the negative toxins from our body which is the cause of every disease.
Yoga has a connection with our Mind and Immune System
Perfect harmony in our mind and exact decision power cab be developed through yoga. Meditation is the medium to increase the inner peace in our mind. Develops the power to create a better relationship with the people. Plus, yoga meditation abolishes all the negativity, which reside in our mind from many years.
When we add yoga with our walking, it can help us to remove all the pains that we have during trekking. If we add Pranayama and meditation with walking, that helps us to be free from all the aches on our body. Yoga trekking is the combination of yoga with trekking, and it can play very important role in our life. Trekking can be the beauty in yoga and yoga can complete the purpose of our desire to trek. Both give us full of relax and refreshment in our life.
Mardi Himal Yoga Trek
Trip Cost
Terrain type: Hills and mountains
Location: Lamjung and Kaski
Difficulty level: moderate
Min-pax: 1-15
Accommodation: 2 or 3 star level
Duration: 11 days
Max altitude: 4250m
Religions:Hinduism and Buddhism
Local Residents: Gurung, Brahmin, Chhetri
Transportations: Bus and airplane
4.6 Star Out of 5
"Best Trek of my life; out of the world experience."
Fill the form  for more details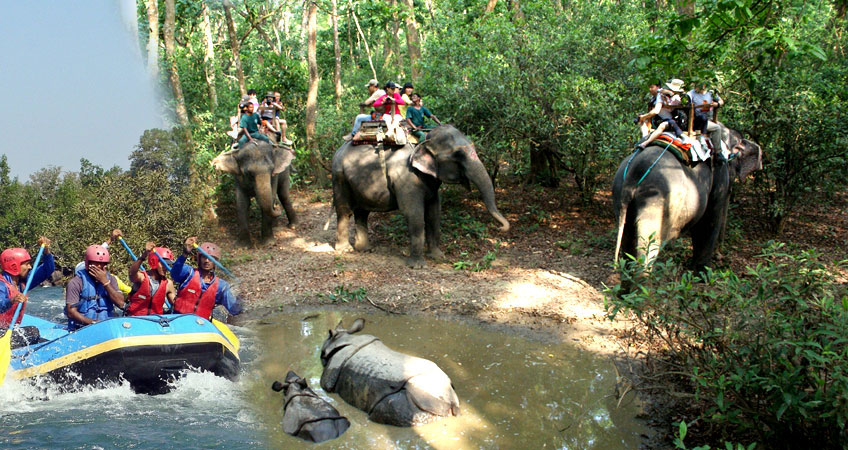 Chitwan Jungle safari in Nepal Chitwan is one of the 77 districts of Nepal and one of the top tourism destinations of the country. It is not wrong to say that Chitwan is the capital of the Jungle safari in Nepal. The country in the Himalayas is covered in forest in...