18 Days Everest Base Camp Yoga Trek | Everest Yoga Trek
Mount Everest has a reputation in the world for being the highest peak. Over time, numerous adventurers and travel fanatics have dared to scale this frosty behemoth. Not only the peak, but the route leading to the base camp is also laded with uncountable thrill and adventure. This 18-day Everest base camp yoga trek designed by Trek Nepal will take you on a journey that will explore the many delights of the Everest region.
In this Everest Yoga Trek, you will get to witness enthralling pictures and experience that is simply impossible for words to explain. For starters, the flight leading to Lukla provides cinematic views of the Everest region. You will walk past ancient settlements found in Tengboche and Dingboche.
The religious monasteries here are holy hubs for practicing Buddhism. Witness cinematic views of mountains like Ama Dablam, Thamserku, Everest, and Nuptse from the vantage point at Kalapathhar and finally, the surreal mountain view at the Everest Base Camp.
If you are in search of an adventure of a lifetime, then this is the trek to take.
During this 18-days Everest yoga trek ordeal, you will be residing in hotels, lodges, and teahouses. Teahouses are the only option in rural parts. The cost of accommodation in rural parts tend to be a bit expensive as well. You shall dine on food like dhido and dal bhat. Fancy food is not available in the rural parts and can be pretty expensive too. So, it is advised that you carry some with you.
Exploring the culturally rich Tengboche and Dingboche monastery
Observing the surreal sunrise from Kalapatthar
Visiting the base of the world, Everest Base Camp
Observing the religious Khumjung monastery
Cultural awakening in the major UNESCO World Heritage Sites in Kathmandu
Walking on the frosty, prayer flag laded terrain
Ready-to-book adventures, personalized
Personal
Make your adventure more youMake your adventure more you - Self join
Group
Enjoy a tour with like minded people - Anyone can join
Private Group
Travel with your group - Only your circle join
Day 01: Arrival in Nepal
Your marvelous journey initiates with a quick arrival to the Tribhuvan International Airport. You will be greeted by our representative who will make sure that you are transferred to the hotel properly. Interact with the hotel staff and tour guides before feasting on the welcome dinner. Overnight in Kathmandu.
Day 02: Sightseeing in Kathmandu (1300m)- Everest Base Camp Yoga Trek
An expedition into the Himalayas requires preparations and mental and physical stability. You shall get all your paperwork right and after that head out to explore the many mysteries of Kathmandu.
The valley is rich in culture and traditions as it houses the famed UNESCO World Heritage Sites like Pashupatinath, Swoyambhunath, and Kathmandu Durbar Square. After exploring, head to the hotel for a much-needed rest. Overnight in Kathmandu.
Day 03: Fly to Lukla and then trek to Phakding (2651m)
From today onwards, we shall incorporate morning yoga sessions and evening meditation classes in our itinerary. This is done with the motive of increasing our performance and eliminating any sort of weakness during the trek.
we head to Lukla via an airplane after the yoga class. The journey takes about 45 minutes and provides amazing glimpses of the iconic Himalayas and we Shall  take a walk on the marked trails to reach Phakding. Take Overnight in Phakding.
Day 04: Trek from Phakding to Namche Bazar (3438m)
Indulge in the blissful yoga session and find your way to the biggest Sherpa settlement of the Everest region, Namche Bazar. Walk past the soothing Dudh Koshi river to arrive at this quaint settlement.
After permit, checked at Jorsale, you will officially enter the Sagarmatha National Park premises. Namche has modern lodges too so it will be a bit easier. Finish the evening meditation session and rest. Sleep in Namche Bazar.
Day 05: Acclimatization day at Namche Bazar- Everest Yoga Trek
To prepare ourselves for the demanding roads that lie ahead, it is crucial to rest and recuperate. Today, we shall do just that. Conclude the yoga session and then head out to explore this beautiful Sherpa oasis.
Visit the Khumjung monastery and the Hotel Everest view, which is hailed as the only hotel to lie in such an elevation. At night, interact with the Sherpa locals and inculcate in the fine art of meditation. Night stay in Namche Bazar.
Day 06: Trek from Namche Bazar to Tengboche (3870m)
Practice yoga by observing the gorgeous display of mountains like Everest, Ama Dablam, and Thamserku. Feast on a healthy breakfast and proceed to Tengboche. The trek sees you walk through Phunki and later on uphill roads.
You can observe yaks and mules along the way. Tengboche house the famed Tengboche monastery which is a residence of nuns and holy to those that practice Buddhism. Indulge in meditation beneath the starry sky. stay in Tengboche.
Day 07: Trek from Tengboche to Dingboche (4360m)
The morning yoga helps to make the day wonderful and after breakfast, find yourself walking through forests of conifer and birch. Trail is initially uphill to Pangboche and from there, it takes you downhill to Dingboche.
Roads on the way provides an amazing view of snow-crusted mountains that envelop the Everest region. Dingboche monastery is also situated here and has religious importance. After finishing the meditation, have a healthy dinner. our whole night stay at in Dingboche.
Day 08: Trek from Dingboche to Duglha (4600m)- Everest Yoga Trek
The road that leads to Dulgha is comparatively shorter than the ones we walked previously. Wrap up the yoga session and head out to Dughla. Walk on the snowy trails and observe the campsite which hosted the first Everest expedition.
As you witness Mount Pumori, you can even see Duglha village too. This small village is decorated with prayer flags. Complete the meditation session and rest for the day. Night stay in Duglha.
Day 09: Trek from Duglha to Lobuche (4940m)
Take part in the yoga session. It is better to do it outside while observing the beautiful environment. Interact with the locals and then head out to Lobuche. You shall walk on the moraine of the Khumbu glacier.
The road is difficult but is beautifully decorated with prayer flags. Proceed carefully and finally arrive at Lobuche. Conclude the day by taking part in the meditation class and healthy dinner. Sleep in Lobuche.
Day 10: Trek from Lobuche to Gorakshep (5170m)
In these high elevations, practicing yoga can be a bit difficult but it must be done. Once it is sorted, we shall head out to Gorakshep. Road is difficult as it goes through slippery and frigid tracks.
Observe delightful views of the snowy mountains and finally arrive at Gorakshep. You need to finish the meditation class to call it a day. Overnight in Gorakshep.
Day 11: Trek from Gorakshep to Everest Base Camp (5364m)
We shall wake up early today and then head out to the major highlight of this trek, which is the Everest Base Camp. Way to the base camp is mostly uphill and involves walking on steep tracks. Reached the Everest base camp and we can see numerous camps here.
These people here are on the road to scaling this peak. After observing this beautiful landmark, we shall head back to Gorakshep and complete the yoga session. Finish the meditation session at night and finally rest. Gorakshep is the place where we stay that night.
Day 12: Trek from Gorakshep to Kala Patthar and head to Pheriche (4288m)
You need to wake up early today and then head out the Kala Patthar. This is a major part of this Everest Base Camp yoga trek and is a great place to witness the glorious sunrise that envelops the Everest region.
We can witness enigmatic views of mountains like Everest, Ama Dablam, Thamserku, and Nuptse. From here, we head to Pheriche. pathway is downhill and it is our resting point. Complete the meditation session and take a much-deserved rest. In Pheriche, we stay that night.
Day 13: Trek from Pheriche to Namche Bazar- Everest Yoga Trek
Today, we shall begin our descent back to Kathmandu after completing the yoga session. The road takes us through the lush forests decorated with rhododendron and juniper. On the road, you will be accompanied by the gushing Dudh Koshi river.
We shall take a quick break at Sansa and finally reach Namche Bazar. Enjoy the delightful dinner and take part in meditation class.
Day 14: Rest day at Namche Bazar
Take part in the yoga session by observing the glorious view of mountains enveloping the Everest region. As soon as you finish your breakfast, we shall head out to do some shopping and further explore this beautiful town.
Visit the Khumjung monastery and interact with the locals to learn about their way of life. After the meditation class, enjoy the surreal night view of Namche Bazar. At Namche Bazar we spent our whole night .
Day 15: Trek from Namche Bazar to Lukla
soon after completing the yoga session, we shall head out to Lukla airport. Gather your bags and walk out of Jorsale which signals your exit from the Sagarmatha National Park.
Walk along the Dudh Koshi river and through small suspension bridges and beautiful monasteries. We arrive at Lukla in the evening. After a brief rest, we conclude the meditation session. Night stay  at Lukla.
Day 16: Fly to Kathmandu
Enjoy a delightful breakfast in Lukla and then head out to Kathmandu. The timing of the flight may not be always accurate so consider it. Flight to Kathmandu lasts for 45 minutes and provides amazing glimpses of the snowy mountains.
Overnight in Kathmandu in Hotel.
Day 17: Sightseeing in Kathmandu
Today, we shall further explore the Kathmandu valley. Our sightseeing trip takes us to UNESCO World Heritage Sites like the Patan Durbar Square, Bhaktapur Durbar Square, and the Changunarayan temple. Once the trip is completed, head to your hotel and take part in a farewell dinner.
Day 18: Departure from Nepal
As it is your final day in Nepal, our representative will make sure that you reach the airport on time and safely. We hope that you had a wonderful time with us and we hope to see you again.
We provide you the bed and breakfast. Accommodation will be shared by two people. However, you can book for the single room with extra charge.
The overland transport will be held on tourist coach as per the itinerary and size of the group.
The applicable fee for the Trekking, National Park and Conservation center will be covered.
We offer you a welcome group dinner
The wages, meals, and transportation of our trekking staff (guide) will be arranged.
We also have included a comprehensive medical kit and service of guide.
Pick-up/Drop from/to the airport.
The visa fee you would have to pay for travel, medical insurance and airport tax.
The meals of your personal interest will not be offered in our expense.
We would also not provide personal sleeping bags and bags.
The charge applied in case of emergency evacuation by any means of transport would not be included.
The charge for accommodation in Kathamndu in you early arrival before the trip will not be included and also the late departure. Moreover, the early departure from trek will also not included in our expense.
We also don't include the cost of international flights.
The trip doesn't offer the travel and rescue insurance.
We also don't include the phone calls, laundry, bar bills, battery recharge, extra poter etc.
We also don't offer tips for guides and porters, you can give them yourself if you like to give.
1st Group: 1st of every month
2nd group: 15th of every month
Importance of Yoga while trekking
Yoga is the medium of entering the self and it helps us to find out the meaning of life. We trek for refreshment and to entertain. In surface, it seems that both can satisfy us for our desire to be happy. But in higher level, yoga has its own purpose to purify our body, mind and spirit. Trekking can be one part of yoga but it is not complete medium to get purified. If we combine both in one place then the purpose of yoga may be met in some aspect.
It is not only the process to connect our body with our mind but it can connect us with the higher self. meditation and yoga can make us physically, mentally, spiritually and socially healthy. In addition, yoga increase the memory power of the person who does it regularly. also, it helps us to get free from all types of stress and tension. continuous practice of yoga increases the personal power in every field of human life and build up the self-awareness of the person. Further, it can remove the negative toxins from our body which is the cause of every disease.
Yoga has a connection with our Mind and Immune System
Perfect harmony in our mind and exact decision power cab be developed through yoga. Meditation is the medium to increase the inner peace in our mind. Develops the power to create a better relationship with the people. Plus, yoga meditation abolishes all the negativity, which reside in our mind from many years.
When we add yoga with our walking, it can help us to remove all the pains that we have during trekking. If we add Pranayama and meditation with walking, that helps us to be free from all the aches on our body. Yoga trekking is the combination of yoga with trekking, and it can play very important role in our life. Trekking can be the beauty in yoga and yoga can complete the purpose of our desire to trek. Both give us full of relax and refreshment in our life.
Everest Yoga Trek
Trip Cost
Trek: Everest Yoga Trek
Terrain type: Hills and mountains
Location: Solukhumbu, Sankhuwasabha
Difficulty level: Difficult
Min-pax: 1-15
Accommodation: 2 or 3 star level
Duration: 18 days
Max altitude: 5545m
Religions:Hinduism and Buddhism
Local Residents: Sherpa, Brahmin, Chhetri
Transportations: Bus and airplane
4.6 Star Out of 5
"Best Trek of my life; out of the world experience."
Fill the form  for more details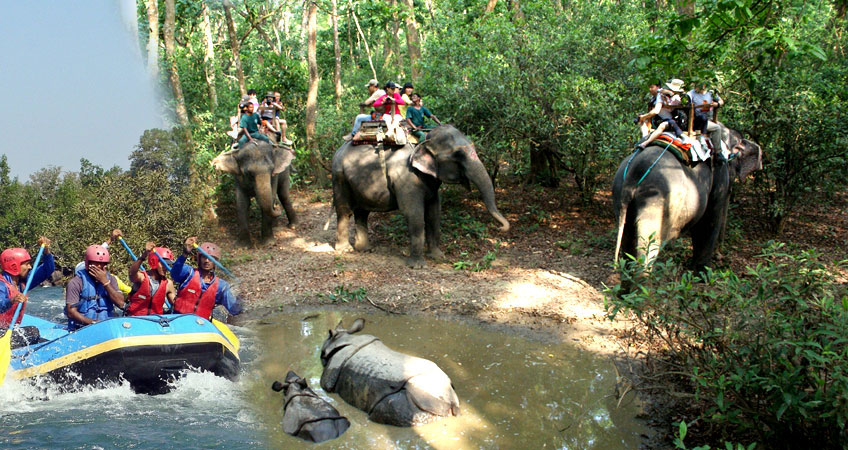 Chitwan Jungle safari in Nepal Chitwan is one of the 77 districts of Nepal and one of the top tourism destinations of the country. It is not wrong to say that Chitwan is the capital of the Jungle safari in Nepal. The country in the Himalayas is covered in forest in...