10 Days Best Hiking in Nepal Around Annapurna
There are many hikes out there that claim to provide the best hiking experience. However, all of them pale in comparison to the Annapurna base camp hike. This 10-days hike will provide you an unblemished hiking experience that goes along hills, rivers, and mountains. A sprinkle of culture accentuates this trek even more and once you complete it, you can call it the best hiking in Nepal.
During this trip, you will get an opportunity to take part in Kathmandu's cultural melodrama and Pokhara's natural wonders. Find yourself rejoicing in nature's lap while you stroll past the Chhomrong Khola and Modi Khola. Also, relish in the vicinity of the Macchapucchre and Annapurna mountain while visiting the base camp. To top it off, soothe your senses while relaxing in the hot springs near Jhinu Danda.
If you are looking to participate in the best hiking in Nepal, then feel free to contact us!
Welcome to 'Hiking in Nepal'! If you are one of the hikers in Nepal, then you are surely a nature lover. This trip will remain forever in your memory pages. When you take part in this best hike in Nepal, you will be booked in the city's leading hotels and lodges to stay. But during the hike you will stay in 'tea houses' and small lodges. But there is no need to fear. These lodges have basic amenities. They may not have internet. But you won't even remember the internet as you get lost in the beauty of nature. This space is good for photos and reels that are popular with today's generation. So, you won't get bored here. As you all know that, it is a hilly area so availability of hot water is not so easy. In some cases you may have to pay extra for hot water shower facilities. Good hotels or restaurants for food can be found here and there. You can choose them.
Sightseeing around the major landmarks of Pokhara like Fewa Lake and Rupa Lake
Understanding Gurung culture and tradition during the visit in Ghandruk
Relaxing in the hot springs near jhinu Danda while enjoying a soft drink
Ready-to-book adventures, personalized
Personal
Make your adventure more youMake your adventure more you - Self join
Group
Enjoy a tour with like minded people - Anyone can join
Private Group
Travel with your group - Only your circle join
Day 01: Arrival at the Tribhuvan International Airport, Kathmandu
You will arrive at the Tribhuvan International Airport in Kathmandu to take part in the best hiking in Nepal. At the hotel, meet the company representative who will take you to the hotel. At the hotel, meet with the company officials and take part in the welcome dinner. Overnight in Kathmandu.
Day 02: Kathmandu valley sightseeing
The purpose of the day includes a quick visit to the most visited UNESCO World Heritage Sites in the Kathmandu Valley. Our tour takes you to Kathmandu Durbar Square, Patan Durbar Square and Swayambhunath. These sites tell the story of what Kathmandu Valley was in the past and how it is moving forward. Also, it gives travelers much needed cultural and religious awareness. It proves helpful before embarking on the best hiking in Nepal. After visiting these beautiful tourist spots you will spend the night in Kathmandu.
Day 03: Fly to Pokhara and trek to Ghandruk
Today you wake up early and go to the airport to catch your flight. It will take you to Pokhara, the gateway to the Annapurna region. The flight takes about 40 minutes. The flight offers uninterrupted views of the Annapurna range and Machapuchar. From airport we proceed to hotel for breakfast. Then we leave for Nayapul by jeep to start the trek.
The road to Ghandruk Involves passing through dense forests and uphill paths. This place contains amazing natural beauty. And their sight makes hiking in Nepal even more beautiful. Meet fellow mountaineers and locals along the way on this hike in Nepal and share some joy. After hiking for 4-5 hours we finally reach Ghandruk. Overnight stay at Ghandruk.
Day 04: Trek from Ghandruk to Chhomrong
Over breakfast on this morning of hiking in Nepal, take in the surreal view of the Annapurna range and Machapuchhar from Ghandruk. After watching it, we will go to Chomrong. The road takes us through steep trails up to Kimrungdanda. The nature there is pleasing to your eyes. Kimrung Khola requires trekking on a slippery path. After crossing Chere Cave, we reach Chomrang. The natural beauty is the main reason why hiking in Nepal will remain an unforgettable experience in your life. This quaint village is an ideal holiday destination. So, that night you rest in Chomrong itself.
Day 05:of Hiking in Nepal goes a trek from Chhomrong to Deurali
Day 5 of Nepal hiking begins with a beautiful sunrise. Here you finish breakfast first. Walk with us towards Chomrang Khola. The journey includes several natural elements such as crossing long suspension bridges and witnessing spectacular views of the roaring Modi Khola. If you are tired from hiking, take a rest at Kuldi. And climb the treacherous steps to Doban. The final leg of the tour sees us cross the Hinko Cave. Quickly explore the cave and arrive at Durali where we spend the night. Overnight stay at Durali.
Day 06: Trek from Deurali to Annapurna Base Camp
The highlight of this hiking experience in Nepal is the visit to Annapurna Base Camp and today we will do that. The day's trek will see a sudden rise in altitude and you will be involved in steep climbing. One has to cross grasslands and snowy terrain to reach Machapuchar base camp. While having lunch here you will witness the full size beauty of this mountain.
After a short break, we will continue our journey again. The view of Annapurna becomes clearer as we move further. After trekking for 2-3 hours we reach the base camp. Enjoy the splendor of Annapurna mountain and understand the meaning of natural beauty. Overnight stay at Annapurna Base Camp.
Day 07: Trek from Annapurna Base Camp to Bamboo
From today we will start our journey back to Kathmandu. The first step consists of going towards the bamboo. It is a small settlement in the dense forests of the Annapurna region. There are a handful of lodges and teahouses here, so it gets packed easily. So, you are advised to reach here as soon as possible. However, this does not mean that you should continue hiking recklessly. Descending the steep terrain slowly, we reach Bidiri. There is no doubt that hiking in Bidiri will be the best hiking you have done in Nepal. Overnight stay in bamboo.
Day 08: Trek from Bamboo to Jhinu Danda
The trek sees a further decrease in altitude as we move towards Jinu Danda. Pass through dense forests inhabited by exotic creatures. While traveling to Jinu Danda one has to cross Chomrang Khola. There are hot springs near Jinu Danda. Many believe that they have healing properties for skin ailments. Take a dip in these hot springs and relax for a while. And remember your experiences on this best hiking in Nepal.
Day 09: Trek from Jhinu Danda to Nayapul and drive to Pokhara
The road from Jhinu danda to Nayapul is relatively short and comparatively easier. We shall proceed through the Shauli Bazar and enjoy the pleasant walk while admiring the gushing Modi Khola. Once we arrive at ay Nayapul, a private vehicle will take you to Pokhara. In Pokhara, take part in a farewell dinner and celebrate after completing the trek. Overnight in Pokhara.
Day 10: Fly from Pokhara to Kathmandu
Today you have to fly to Kathmandu by plane. Our representative will drop you off at the airport and once you reach Kathmandu, proceed to your hotel and decide your next step.
We provide you the bed and breakfast. Accommodation will be shared by two people. However, you can book for the single room with extra charge.
The overland transport will be held on tourist coach as per the itinerary and size of the group.
The applicable fee for the Trekking, National Park and Conservation center will be covered.
We offer you a welcome group dinner
The wages, meals, and transportation of our trekking staff (guide) will be arranged.
We also have included a comprehensive medical kit and service of guide.
Pick-up/Drop from/to the airport.
The visa fee you would have to pay for travel, medical insurance and airport tax.
The meals of your personal interest will not be offered in our expense.
We would also not provide personal sleeping bags and bags.
The charge applied in case of emergency evacuation by any means of transport would not be included.
The charge for accommodation in Kathamndu in you early arrival before the trip will not be included and also the late departure. Moreover, the early departure from trek will also not included in our expense.
We also don't include the cost of international flights.
The trip doesn't offer the travel and rescue insurance.
We also don't include the phone calls, laundry, bar bills, battery recharge, extra poter etc.
We also don't offer tips for guides and porters, you can give them yourself if you like to give.
1st Group: 1st of every month
2nd group: 15th of every month
Hiking in Nepal Around Annapurna
Trip Cost
Terrain type: Hills and mountains
Location: Kaski, Manang, Mustang
Min-pax: 1-15
Accommodation: 2 or 3 star level
Duration: 10 days
Max altitude: 4130m
Religions:Hinduism and Buddhism
Local Residents: Gurung, Brahmin, Chettri
Transportations: Private jeep and airplane
4.6 Star Out of 5
"Best Trek of my life; out of the world experience."
Fill the form  for more details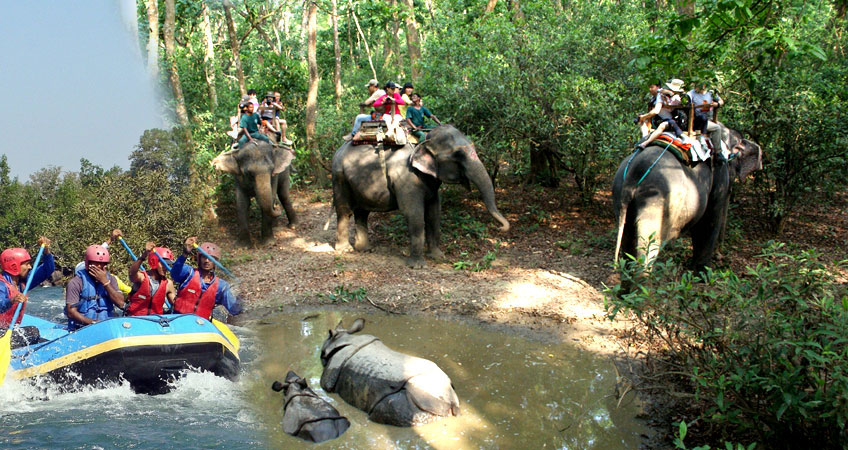 Chitwan Jungle safari in Nepal Chitwan is one of the 77 districts of Nepal and one of the top tourism destinations of the country. It is not wrong to say that Chitwan is the capital of the Jungle safari in Nepal. The country in the Himalayas is covered in forest in...