What is Spiritual Retreat in Nepal?
Nepal is a one-stop destination for a perfect spiritual retreat in the world. Every activity, whether it is practising yoga, going on a mighty trek or just visiting a temple, they all just had a single meaning, is to find yourself. The beautiful old temples and sites of pilgrimage set in between the mountains provide the
best spiritual retreat in Nepal
.
This beautiful country will capture your heart in a way you will not be able to put into words. Nepal has a mysterious atmosphere which makes it a unique travel destination. This mysterious and profoundly spiritual country provides a chance look into history and religion, to learn, discover, explore and perform spiritual mindfulness retreat Nepal.
Why Choose Nepal for Spiritual Exercises

 

Retreats in the World?
---
Nepal derives its energy from the Himalayas and combined with the nations' ancient meditation traditions, and it's the perfect destination for doing yoga meditation trekking in Nepal that is why Nepal is the best spiritual retreat center in world. Tourists come to Nepal for a quick fix of spiritual exercises enlightenment.
The mighty mountain tops of the Himalayas covered in snow in the north tower straight up into the sky. But beyond Nepal's spectacular scenery and nature, there's another aspect that many consider when thinking about Nepal as a tourist destination, it's the more religious and spiritual side. Himalayas, the birthplace of meditation and yoga has a rich spiritual retreat history.
Energy Balance is very Important
Countless and generations of rishis, monks, and sages have taken refuge in the Himalayas to meditate and unravel the mysteries. Nepal, the birthplace of Lord Buddha, is highly spiritually charged. Nepal is a country full of contrast and energy that balances its landscapes and its natural external force with this spirituality of the sacred. Spirituality in Nepal is on that level where you can find comfort, everlasting peace, satisfaction and possibly enlightenment.
There are lots of websites which offers adventure spiritual retreat in Nepal. Our main aim is to provide life time experience by offering you various activities such as mediation, spiritual retreat,  trekking, tours, mountaineering and various adventure activities to make your trip memorable and exciting during your Nepal visit.
Spiritual Retreat in Nepal is a combination of Spiritual tours based on different sects of Buddhism. Hundreds of retreat centres in Nepal, where anyone can stay with great spiritual leaders, chant together, stay with monks and attain meditation. Many monasteries around Kathmandu on peaceful location for retreat and meditation. There are also many yoga centres in Nepal which offer different packages based on spiritual vacations.
Lumbini (Birth Place of Buddha) in Nepal, have hundreds of Monasteries and Historic spiritual sites around including Mayadevi temple, Ashoka Pillar and other religious sites as Tilaurakot, Kudan, Gotiwaha, Aurorakot, Devdaha and Ram gram. After Lumbini spiritual tour, the program extends to Spiritual sites for north India with different spiritual values and holy shrines for both Hindus and Buddhists. Those places are centres on the Buddha's life.
How You Gain Spirituality in Nepal?
Explore the best culture of Nepal and enjoy the spirituality of yoga in every corner of Nepal. Visitors who love to interact with different cultures and religions Nepal is best for them. First of all, you will receive a different type of energy healing to activate your mind and soul. Nourish and develop your mind with a deep spiritual awakening.
The spiritual evacuation in Nepal is a great opportunity to dive into the ultimate spirituality and see the reality in its natural form. Silent meditation is rumoured to be good for the soul. Nepal is famous for these retreats such as yoga, meditation, relaxations, healing just because of beautiful mountains and Buddhist culture.
Meditation
Meditation provides positive vibes that will pound through your entire body. The lightness your body will accomplish after all negative emotions are either dissolved or burnt by a sizzling awareness and the radiance your body will give off after your entire being is purified. It is also said that practising spirituality in Nepal charges the mind and charges the body with positive energy.
As Buddhism is unique in its logical and scientific explanation of life without any outdoor creator, Buddhism tells us that we are entirely responsible for our environment and lives. Buddhism also shows that with the help of practical methods, we can gain the highest enlighten of our life. Nepal has two of the most significant pilgrimage of Buddhist, which is located at the Katmandu Valley.
Yoga
Through yoga, people can invest time to make themselves more attentive towards their feelings and improve their idea patterns. Yoga will help to make you more conscious of your body, making you aware of how the movement of the body affects the mind. Train your brain by attending the spiritual retreat in Nepal, for making the body capable of overcoming its various limitations and of experiencing the true nature of yourself.
A person must try to understand what his expectations are and how do his expectations affect his mindset. Try to train your mind by practising yoga and meditations to enhance your mind and body abilities to eliminate your weakness, know our real personality and excite your body's, eternal energy.
The taught us through the principles of Buddhism to become the right person for the whole life. Particularly, Kathmandu Valley offers various yoga centres with an environment of rich spiritual legacy, enlightenment and landscapes.
Spiritual Retreat: Journey For Your Mind, Body And Soul
It is a place on earth where you can converse with nature, understand the sound of silence and have an excellent connection with your mind, body, and soul. The unparalleled beauty and tranquillity of Nepal will leave you mesmerized for your lifetime. The best aspect and main aim of life are to find peace, relief and to live life with happiness and comfort.
Be religious
The best option to achieve this is by keeping a religious viewpoint, which is beyond all other possible ways, which helps us to save our soul and helps us to live our life more happily. The small country of Nepal is full of Ashrams, Centers where everyone can join the retreats programs after all Nepal is a small country which welcomes anyone who is being sought for peace of mind and searching for institutions and training centres for yoga and meditations.
Goto Yoga Centers
The peaceful environment of the Yoga centres allows you to reconnect and reveal your own more in-depth knowledge making you forget all the absurdities of life. Not only this, but you can also combine your spiritual retreat Nepal with cultural tours visiting spiritual destinations amplifying your spiritual energy in groups with like-minded souls, which is truly magical. It will help you create bonds of friendships that will last a lifetime and help you receive your unique insights and messages from within.
Mediation is highly effective when we perform at the edge of a river or nearby the waterfalls from the hill where natural forces aid your spiritual awakening.
It helps in clean your mind of all the impurities, and also makes you physically healthy also meditation lowers the risk of several cardiovascular diseases, which allows us to stay healthy; it also reduces the blood pressure along with depression and anxiety. These are the main reason why meditation has been gaining popularity from the last few years.
There are plenty of yoga and meditation centers all around the country. Nourishing a rich history, ancient traditions, diverse culture– Nepal enjoys a peaceful atmosphere due to the presence of holy places inviting the souls to experience immersive yoga and meditation lineage of Lord Buddha.
Conclusion,
Whether you are a beginner or a regular practitioner of these spiritual, you will relish energetic energy along with peaceful surroundings. Nepal provides a unique opportunity to retreat spiritually, which will help you to take home a new healthy practice along with a lifelong treasure.
Fill the form  for more details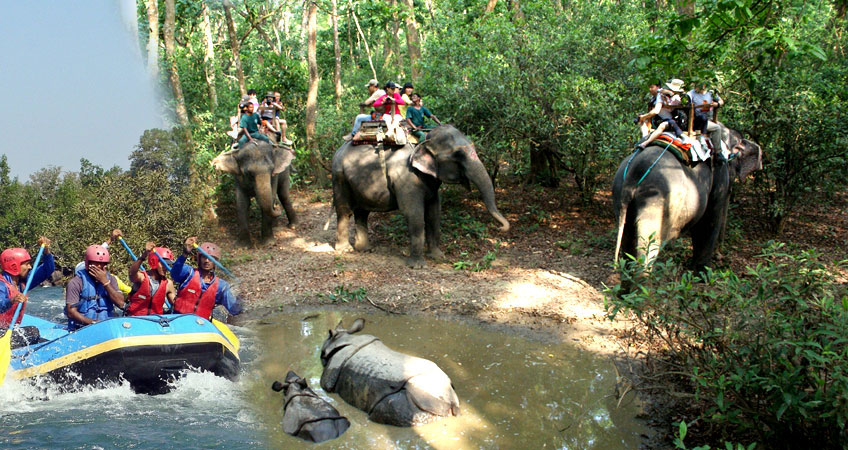 Chitwan Jungle safari in Nepal Chitwan is one of the 77 districts of Nepal and one of the top tourism destinations of the country. It is not wrong to say that Chitwan is the capital of the Jungle safari in Nepal. The country in the Himalayas is covered in forest in...