15 Days Annapurna Base Camp Yoga Trek
15 Days at Annapurna Base Camp Yoga Trek is designed in such a way to help you fully explore the sacred Annapurna region. It also gives you a sense of awareness. From massive mountain peaks to dense forest trails, the Annapurna region has it all. But all it lacks is your arrival. Also a person's willingness to explore it. On this 15-day ordeal, you will scout the most magnificent natural environment that nature has to offer. Navigate through the vast forests from Nayapul to reach the Gurung settlement of Ghandruk. Experience the warm hospitality of the locals while witnessing the jaw-dropping scenery of the Annapurna mountain range. Approach the icy uphill road to Annapurna Base Camp and, along the way, Machapuchre Base Camp as well. Experience the serenity and live in a moment of eternal bliss after surveying the majesty of these mountains. If you incorporate the elements of yoga and meditation, this trip will look even more amazing.
During the majority of this trek, you will be residing in teahouses and lodges. At the Annapurna Base Camp, you will be staying in a tent. The price of accommodation in these teahouses and lodges are comparatively lower. In the case of food, you will dine on local cuisines like dal bhat, dhido, and biscuits. Fancy food is not available in the remote parts. It is recommended that you carry them.
Exploring the premises of the Annapurna Base camp
Visiting the antiquities of the Macchapucchre Base Camp
Relaxing and drinking chilled beer at the hot springs near Jhinu Danda
Understanding Gurung culture and folklore at Ghandruk
Interacting with the locals of different communities in the Annapurna region
Witnessing breathtaking views of mountains like Annapurna, Dhaulagiri, and Macchapucchre
Ready-to-book adventures, personalized
Personal
Make your adventure more you
Personal
Make your adventure more you
Private
Enjoy a tour focused solely on your travel group
Protected
Travel within your own bubble
Day 01: Arrival at the Tribhuvan International Airport, Kathmandu (1300m)
Tribhuvan International Airport in Kathmandu is about 1300 meters away. The Annapurna base camp trek begins on the first morning with the arrival of the pilgrims at the Tribhuvan airport. You will meet our representative on time at the international airport there. Our representatives will ensure that you reach the hotel on time. Our company officials will be in constant communication with you, and you will start the trek on time the next day. You will spend that night in Kathmandu.
Day 02: Drive to Pokhara (824m)
On the second day of the Annapurna base camp trek, after breakfast, you will leave for Pokhara by private vehicle. This road trip goes through the Prithivi Highway and covers a distance of 200 km. On this day, you can see the flowing Trishuli River and green hills. The drive takes around 7-8 hours to complete. After our arrival in Pokhara, we will have time to freshen up at the hotel. And then take a short sightseeing tour of the city. You will spend the night in Pokhara.
Day 03: Drive to Nayapul and then trek to Ghandruk (1940m)
We suggest you indulge in a morning yoga session to boost your performance during the trek. Then drive to Busanneri Nayapul. From there, the real start of our Annapurna base camp trek is for you. Climb your way through green paths. And to reach Ghandruk, one has to cross settlements like Biretanti. This is Gurung Village. And our resting place for that day. Complete an evening meditation class to spend that one day calmly preparing for the journey ahead. And that night, you will stay at Ghandruk.
Day 04: Trek from Ghandruk to Chhomrong (2170m)
This is your fourth day on the Annapurna base camp trek. You will start the day by watching the magnificent sunrise from Gandruk and practicing yoga along with it. The sunrise here beautifully covers the mountains like Annapurna, Dhaulagiri, and Machapuchre. Walk along the Kimrong Khola, traversing the trails of Kimrungdanda. After a steep climb to Chere Danda in today's trek, we descend to arrive at Chomrang. Overnight stay at Chomrong. Also, before going to bed that night, remember to conclude the meditation session.
Day 05: Trek from Chhomrong to Bamboo (2310m)
After finishing the morning yoga, we proceed towards the bamboo. Bamboo is a small colony living in the middle of the forest. To reach here, we have to climb over 2000 stone steps and cross the soothing Chomrong Khola. From here, the trail leads us into a gorgeous forest. And only after crossing Kuldihar do we reach Bhidri. If you practice meditation outside after reaching, then the meditation class will be more enjoyable. This night, you will stay in a bamboo
Day 06: Trek from Bamboo to Himalaya (2975m)
After enjoying a delicious breakfast on our Annapurna base camp trek, you start the morning of Day 6 with a yoga class. Then one has to walk through wet bamboo forests to reach the Himalaya Hotel. This small lodge is a rest stop for many trekkers in the Annapurna region. From there, we will proceed to explore the 'Hinku Cave' and head back to the Himalayas. So, that day, you take a much-needed rest at Hotel Himalaya and conclude today's meditation. Spend that night in the Hotel Himalaya with bliss.
Day 07: Trek from Himalaya to Deurali (3230m)
Roads are a bit difficult in this journey. But morning yoga sessions help us get through it easily. To reach Durali one has to walk down glacial rivers and forest trails. The trail is adorned with waterfalls and you can enjoy surreal views of the Annapurna mountain range. By evening we will reach Daurali. Interact with locals there, then join a meditation class. And this night you will stay at Durali.
Day 08: Trek from Deurali to Annapurna Base Camp (4130m)
This is your amazing 8th day of Annapurna base camp trek. A major highlight of the day is a visit to the venerable Annapurna Base Camp. Before we get there, some yoga session needs to be completed. We will head to Machapuchar Base Camp first this day. After clicking some beautiful photos there we proceed to Annapurna Base Camp. From the base camp, we can witness the surreal images of the entire Annapurna range. On this day you will spend the night at the base camp itself. And interact with other trekkers. Don't forget to eat healthy and also complete a meditation session. Overnight at Annapurna Base Camp.
Day 09: Trek from Annapurna Base Camp to Deurali
From today we will start our return to Kathmandu. The first step involves practicing yoga as usual. And then we retrace our steps to Durali. From here the road is mostly downhill. However, it is definitely easier to travel from there in a controlled manner. Once you reach Durali go to the lodge and take some rest. Then finish the meditation and enjoy a delightful meal. Today you will spend the night at Durali.
Day 10: Trek from Deurali to Bamboo
Once we are all done with the yoga session, we will enjoy a healthy breakfast. Then from there you will walk along a familiar path leading to Bamboo. The road here is forested. And you can see a variety of birds here. On the Annapurna Base camp trek today you can once again witness the mesmerizing views of the mountains adorning the Annapurna region. After arriving at Bamboo, enjoy a meditation class and relax overnight at Bamboo.
Day 11: Trek from Bamboo to Jhinu Danda (1760m)
Once we complete the yoga session at Annapurna base camp trek, from there we proceed to Jinu Danda. To reach here, we have to climb the road leading to Kuldighar. Then walk along Chomrang Khola. There are 'hot springs' located near Jinu Danda to recharge your tired body. After some rest there, you will participate in a meditation session. And enjoy a cold beer and spend the night at Jinu Danda.
Day 12: Trek from Jhinu Danda to Nayapul and then drive to Pokhara
Our descent journey will see us walking to Nayapul, the starting point of this trek. To reach here, we have to navigate through dense forests and small Gurung settlements. Once you reach Nayapul our representative will arrange the vehicle. And from there you will return to Pokhara. Complete meditation first in Pokhara. And proceed to finish the trek. You will spend this night in Pokhara.
Day 13: Drive back to Kathmandu
As you will be leaving for Kathmandu today, enjoy a healthy breakfast first. Then say goodbye to Pokhara. The return journey takes around 7-8 hours. And offers a wonderful view of green hills and flowing rivers. We take a short break from mugging. And then move on. Today in Kathmandu you can take a short stroll in the nearby areas. And can enjoy the view of that environment. Tonight you will spend in Kathmandu.
Day 14: Kathmandu Valley Sightseeing
Kathmandu Valley has a lot to offer. So today we take you to explore this amazing city. We will visit UNESCO World Heritage Sites such as Kathmandu Durbar Square, Patan Durbar Square and Swayambhunath. After visiting these sites check into the hotel and relax. and attend a farewell dinner. You will happily spend the night in Kathmandu.
Day 15: Departure from Nepal
Today is your last day in Nepal with us. And our representative will ensure that you reach the airport on time. We hope you had a wonderful time with us these 15 days. And surely you will get that feeling of satisfaction. Also, because of this beautiful experience, we hope you will definitely come again in your life to see our Annapurna base camp trek again.
We provide you the bed and breakfast. Accommodation will be shared by two people. However, you can book for the single room with extra charge.
The overland transport will be held on tourist coach as per the itinerary and size of the group.
The applicable fee for the Trekking, National Park and Conservation center will be covered.
We offer you a welcome group dinner
The wages, meals, and transportation of our trekking staff (guide) will be arranged.
We also have included a comprehensive medical kit and service of guide.
Pick-up/Drop from/to the airport.
The visa fee you would have to pay for travel, medical insurance and airport tax.
The meals of your personal interest will not be offered in our expense.
We would also not provide personal sleeping bags and bags.
The charge applied in case of emergency evacuation by any means of transport would not be included.
The charge for accommodation in Kathamndu in you early arrival before the trip will not be included and also the late departure. Moreover, the early departure from trek will also not included in our expense.
We also don't include the cost of international flights.
The trip doesn't offer the travel and rescue insurance.
We also don't include the phone calls, laundry, bar bills, battery recharge, extra poter etc.
We also don't offer tips for guides and porters, you can give them yourself if you like to give.
1st Group: 1st of every month
2nd group: 15th of every month
Why Yoga in Trek in Nepal?
Annapurna Base Camp Yoga Trek  has comprised the practice of yoga and trek together. It's like one journey two benefits. Even though the trek has fairly been targeted to visit some incredible and awe-inspiring scenario of the Himalayan range as well as experiencing the cultural affluence of the region, Annapurna Base Camp Yoga Trek also intends to offer you some relaxing and gentle yoga practice twice in a day as its exclusive program. The day begins with some asana practice in the morning and ends with pranayama or the breathing techniques along with some meditation in the evening. In between two session of yoga, the trekkers follows the trekking route and enjoy the delightful time. In order to cope with the high altitude and cold climate, Annapurna Base Camp Yoga Trek has come up with an interesting idea of yoga with trek. During those challenging and adventurous journey to the high mountains ranges of the world, one may definitely get excited and thoroughly enjoyed. On the other, there is always a chance of being fatigued and exhausted by the everyday trek. With the sincere hope and intention, Yoga has been tried to incorporate in the trekking to address the issue of physical exhaustion and mental determination. More than anything else, the yoga has a target to explore and indulge into one's self. The self-inquiry and world-exploration go simultaneously. Annapurna Base Camp Yoga Trek offers many relaxing and stretching asana practices to the body which has been tired. To accelerate and energize the stamina of the physical body and willpower and intension of the mental body, both asana and pranayama along with meditation can be comprised during the Annapurna Base Camp Yoga Trek.
Yoga practice has been one of the most amazing art and science practiced since thousands years. Interesting to say that the origin of Yoga is this holy Himalayan range. The first yogi of the world called Lord Shiv is believed to have abode in the Himalayan range. The same yoga which was practiced for generation to generation has been tried to combine with some explorative trek. In spite of its global expansion and recognition, Yoga still has been the part of hidden practice coming to this time in many parts of the world. One of those places is the Himalayan range of Nepal where Buddhist Yoga and many other spiritual practices are conducted solely for their own sake which has been confined to them only. Keeping the very fact in mind, the yoga which was incepted in this part of the world has now never been common practice and rather it has been very secret one. Considering the essentiality and importance of yoga in life for all the people and for the wellness and awareness of many trekkers and for their physical health, The Trek, Tour and Travel Nepal has designed the Annapurna Base Camp Yoga Trek to serve our valued trekkers with yoga and trek.
The most wonderful reason to practice yoga is its integral nature to our life. The existence of life is possible because of the union of vital force or the Prana Shakti with the physical body. Once the life energy leaves the physical body, there is no longer the existence of our life. The yoga teaches us to play and practice with the vital force and enjoy the beauty of life without being frustrated because of the past and being anxious for the future. Yoga is the union of body, mind, and soul at its optimum level. While trailing the risky and rocky trails of the mystic mountains of the Himalayan range of Nepal, one would definitely feel some sort of sublimity and ecstasy. Moreover, during the trek, one also may get feel sore and pain in the physical body. In Annapurna Base Camp Yoga Trek which continues for ten days one may also need some relaxation and treatment to the body. In such high altitude, there may not have lot of luxurious options to get relief from the sore of the body. There is definitely one system which can be incorporated in the range of mighty mountains i.e. yoga. Because of being the origin place of Yoga and meditation, the Himalayan range would always be welcoming and receptive to the practice of such even though it has been secret practice in this part of the world. Therefore, The Trek Tour and Travel Nepal believes yoga can be a wonderful combination to adopt with the trek in the vast and magnificent trek to the mountains of the Nepal.
The trek to Nepal in itself is an adventurous and life-exploring journey. When yoga is added in the precious recipe of tasting the delicious dishes of heavenly Himalayas and its grandeur and sumptuousness, it can be the best experience which is only possible in very few places among them Nepal can be one such place. The interrelationship of yoga with trek in the context of Nepal has not only been constrained to the practice for physical fitness. As a matter of fact, yoga while trekking in Nepal can be a spiritual journey to follow exploring the inner awareness and experiencing the elixir of Himalayas.
Annapurna Base Camp Yoga Trek
Trip Cost
Terrain type: Hills and mountains
Location: Kaski, Manang, Mustang
Difficulty level: moderate to difficult
Min-pax: 1-15
Accommodation: 2 or 3 star level
Duration: 15 days
Max altitude: 4130m
Religions:Hinduism and Buddhism
Local Residents: Thakali, Gurung, Brahmin, Chhetri
Transportations: Bus
4.6 Star Out of 5
"Best Trek of my life; out of the world experience."
Fill the form  for more details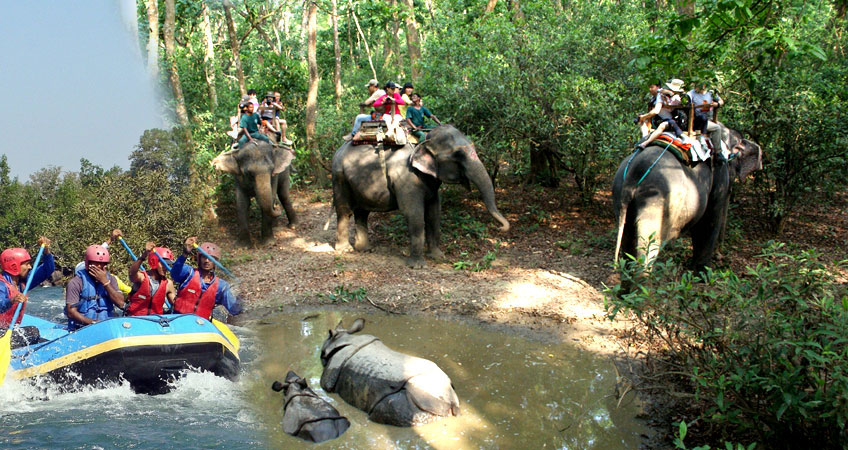 Chitwan Jungle safari in Nepal Chitwan is one of the 77 districts of Nepal and one of the top tourism destinations of the country. It is not wrong to say that Chitwan is the capital of the Jungle safari in Nepal. The country in the Himalayas is covered in forest in...