Upper Dolpo Trek is another most sought trek with lots of ecology, remoteness and biodiversity left to be explored. Located in the North-Western territory of Nepalese Territory this region is unexposed to the outer world till this day. Geographical conditions and accessibility still keep Dolpo region untouched from modern civilization and hindrance.
Inhabiting the Tibetans, this regions culture and lifestyle matches with what you find in mainland Tibet. The Upper Dolpo Trek begins in the northern face of Dhaulagiri Massif and is rich in ecological resources. The region is full of wildlife such as Musk Deer, Himalayan Sheep and Snow Leopard. Ecological Trek is a perfect terminology to precise term this trek.
Owing to its remoteness, lots of cinematography and literary works have been built based on this very region. Also popularly known as the " Forbidden Kingdom", Dolpa has a lot to offer to its seekers. This region was restricted to foreigner until some years back. It is now that the government has seen its potential in tourism and opened the gates to foreign nationals with an expensive permit to be granted after the strict screening.
Upper Dolpo trek begins from Juphal (2,285 meters). The trail then passes through rugged mountain roads, crossing through Numa La Pass(5190 meters), until you reach Phoksundo Lake, another touristic landmark, known for its alpine freshwater coloured blue. Surrounded by 20 stupas in the southern belt this lake has one gompa in the eastern side where annual prayers and worship are carried out.
Then we make our way to Ringmo village, typical Tibetan style village, with a seasonal population of about 200. The trek then crosses through Phoksundo National Park and ends in Jumla after days of a trek through Kagmara La, Hurikot, Chaurikot and Gothi Chaur Villages.
Save Now, Travel Later with Unlimited Date Changes
Amazing Itinerary with all activities included
Discover Ancient Temples and fascinating culture
Sleep overnight on Floating Bungalows
Explore tropical islands and party on the beach!
Awesome Group Leader
Ready-to-book adventures, personalized
Personal
Make your adventure more youMake your adventure more you - Self join
Group
Enjoy a tour with like minded people - Anyone can join
Private Group
Travel with your group - Only your circle join
Day 01:
Namaste Kathmandu! Welcome to the nation of faiths and beauty.
Day 02 :
A charismatic day started with the hot Nepali tea. A day full of sightseeing and visit heritages inside Kathmandu Valley.
Day 03 :
3rd day of Upper Dolpo trek start the real adventure. The 50-minute flight from the Tribhuvan airport would take you to the terai face of Nepal. The hottest place crowded with Tharu culture; Nepalgunj (165 m).
Day 04:
Early morning flight to Juphal port will provide you with the glimpse of Dolpo region. The flight is of 20 minutes long. After lunch in Juphal, a short hike of 3 hours would take you to Dunai (2110 m).
Day 05 :
A day to start the real trek. 6-7 hours trek from Dunai would lead you to next station, Chepka (2670 m).
Day 06 :
Renje (3010 m) is our next stop 5 to 6 hours trek from Chepka.
Day 07 :
A 7 hours long trek through the steep hill would take us to Ringmo (3735 m) from Renje.
Day 08 :
The mandatory walk through the hills have been addicted to this day. A trek from Ringmo to Chunemba (3630 m) takes us 5/6 hours on this 8th day of Upper Dolpo trekking.
Day 09 :
The first slice of Dolponian culture can be experienced here at Chunemba. The 6-hour hike would lead us to Lar Tsa (4120 m).
Day 10 :
Next sunrise to explore a new place would take us to Mendok Ding (4610 m). It takes us about 3/4 hours to reach the next stop.
Day 11 :
A 8 hours long trek from Mendok Ding leads you to Shey Gompa (4310 m) to explore the typical Buddhist culture of higher Himalayas.
Day 12 :
Namgung (4430 m) is the next destination from Shey Gompa, which takes 6 to 7 walking hours.
Day 13 :
The 5-hour long eco-hike takes you to Karang (4230 m) from Namgung.
Day 14 :
The 7-hour trek to Mugaon (4100 m) from Kurang.
Day 15 :
Nearly half of our journey but still left to trek more. The trek from Mugaon to Shimen (4010 m) takes about 7/8 hours.
Day 16 :
Tinje (4150 m) our next destination fulfils our hunger to explore. The 7 to 8 hours trek would take us there.
Day 17 :
The 8-hour trek from Tinje to Rakpa (4530 m).
Day 18 :
 Chharka (4120 m) is our next destination from Rakpa which takes about 7/8 hours of extreme trek.
Day 19 :
The 6-hour trek to Norbulung (4750 m) from Chharka.
Day 20 :
The 8 hours long trek to Sangda Phedi (5460 m) from Norbulung.
Day 21 :
On day 21 of Upper Dolpo Trek our destination is Sangda (3700 m) from Sangda Phedi, which takes about 7 to 8 walking hours.
Day 22 :
Dhagarjun (3200 m), the place to seek Gurung culture is our next destination from Sangda. It takes about 7 to 8 hours trek to reach there.
Day 23 :
The last day of our trek leads us to the Annapurna trail, Jomsom (2710 m), which takes about 5/6 hours to reach Jomsom.
Day 24 :
Flight to Pokhara (830 m) from Jomsom which takes about 20 minutes.
Day 25 :
A bus ride from Pokhara to Kathmandu (1350 m). the final ride of our trip. It takes about 7 hours by bus.
Day 25 :
Departure to Tribhuban International Airport
We provide you the bed and breakfast. Accommodation will be shared by two people. However, you can book for the single room with extra charge.
The overland transport will be held on tourist coach as per the itinerary and size of the group.
The applicable fee for the Trekking, National Park and Conservation center will be covered.
We offer you a welcome group dinner
The wages, meals, and transportation of our trekking staff (guide) will be arranged.
We also have included a comprehensive medical kit and service of guide.
Pick-up/Drop from/to the airport.
The visa fee you would have to pay for travel, medical insurance and airport tax.
The meals of your personal interest will not be offered in our expense.
We would also not provide personal sleeping bags and bags.
The charge applied in case of emergency evacuation by any means of transport would not be included.
The charge for accommodation in Kathamndu in you early arrival before the trip will not be included and also the late departure. Moreover, the early departure from trek will also not included in our expense.
We also don't include the cost of international flights.
The trip doesn't offer the travel and rescue insurance.
We also don't include the phone calls, laundry, bar bills, battery recharge, extra poter etc.
We also don't offer tips for guides and porters, you can give them yourself if you like to give.
Fill the form  for more details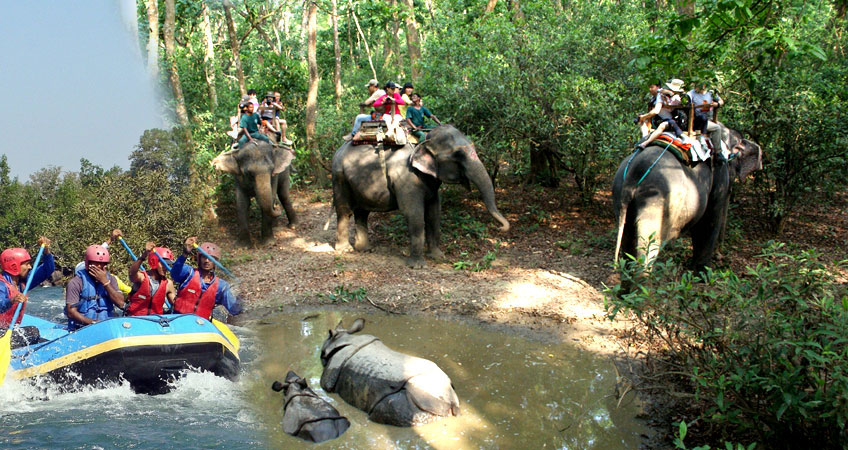 Chitwan Jungle safari in Nepal Chitwan is one of the 77 districts of Nepal and one of the top tourism destinations of the country. It is not wrong to say that Chitwan is the capital of the Jungle safari in Nepal. The country in the Himalayas is covered in forest in...