4 night 5 days fitness yoga tour in Kathmandu
Duration
4 Night & 5 Days
Become a part of the unforgettable fitness yoga tour in Nepal to feel authentic yoga class. In addition with yoga meditation class in morning and evening session, we also add tour program in the day time to the most important places of Kathmandu valley. Almost all of them are UNESCO heritage sites.
Our 4 nights 5 days fitness yoga tour to Kathmandu valley, the capital city of Nepal help you to recharge, connect & explore some important UNESCO heritage sites of Nepal. A variety of Yoga meditation styles helps you to connect with your supreme source.
This Fitness yoga tour is the combination of an active tour program and relaxing yoga meditation program which leads you towards ultimate peace and bliss. Yoga meditation helps us in physical, mental and spiritual level. We provide the yoga class which integrates yoga aasana, breathing, meditation, and yoga philosophy so it is one of the high standard yoga programs.
Treat yourself to a much-needed break from your daily grind to immerse yourself in a rejuvenating fitness yoga tour. This program is to see the beauty of nature/architecture and ancient arts and relax your mind with the yoga exercises among the fresh and tranquil places of Nepal. Not only those activities,
You will also enjoy visits to historical sites of Kathmandu like Swambhunath– known as monkey temple, Bauddhanath Stupa, Pashupatinath Temple- biggest very old Hindu temple in Nepal, Patan, Bhaktpur, Nagarkot and Buddhanilkhanta temple- statue of lying Vishnu in our yoga tour.
Our motive is to rejuvenate yourself among the beauty of nature and relax your mind with the yoga retreat exercises as well as by showing the historical places of Nepal.
Every Day Yoga and meditation classes
Highly experienced yoga instructor
Kathmandu Valley sightseeing
Hiking activities ( one day)
Entrance fee included
Breakfast, lunch, and dinner during
4 nights' accommodation during our yoga tour
Experience guide
7:30-8:30 – Morning Yoga Sesseion
8:30-9:15- Breakfast
9:15-10:00- rest
10:00- 3:00 pm- Sightseeing/hiking
3:00-4:30- rest
5:00-6:00 pm- Breathing and meditation
7:00- dinner
8:00- bed
Beginner
Intermediate
Advanced
All three levels can join the program.
We provide you the bed and breakfast. Accommodation will be shared by two people. However, you can book for the single room with extra charge.
The overland transport will be held on tourist coach as per the itinerary and size of the group.
The applicable fee for the Trekking, National Park and Conservation center will be covered.
We offer you a welcome group dinner
The wages, meals, and transportation of our trekking staff (guide) will be arranged.
We also have included a comprehensive medical kit and service of guide.
Pick-up/Drop from/to the airport.
The visa fee you would have to pay for travel, medical insurance and airport tax.
The meals of your personal interest will not be offered in our expense.
We would also not provide personal sleeping bags and bags.
The charge applied in case of emergency evacuation by any means of transport would not be included.
The charge for accommodation in Kathamndu in you early arrival before the trip will not be included and also the late departure. Moreover, the early departure from trek will also not included in our expense.
We also don't include the cost of international flights.
The trip doesn't offer the travel and rescue insurance.
We also don't include the phone calls, laundry, bar bills, battery recharge, extra poter etc.
We also don't offer tips for guides and porters, you can give them yourself if you like to give.
Fitness yoga tour in Kathmandu
Trip Cost
450, 500, 550, 650 USD Depending on Room Type
Fill the form  for more details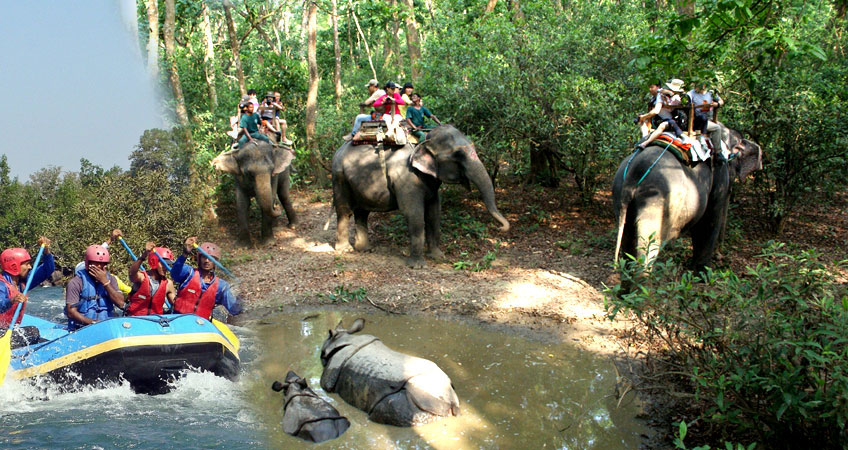 Chitwan Jungle safari in Nepal Chitwan is one of the 77 districts of Nepal and one of the top tourism destinations of the country. It is not wrong to say that Chitwan is the capital of the Jungle safari in Nepal. The country in the Himalayas is covered in forest in...