Bhote Koshi River Rafting
Bhote Koshi River rafting with its white water and exciting location has been one of the suitable destinations for rafters and kayakers in Nepal. It has been close to Kathmandu which occupies less time for the adventure. Travelling along the road for 3 hours, the rafting put in point can be reached. The area is situated about 95 kilometers east of Kathmandu in the hilly region. The river also is the bank of Kathmandu-Lhasa highway.  It can be apposite for both rafters and kayakers as it rolls you in the rapids of class 5+ as well as fittingly followed rapids of class 4. The two days invested in this river will enthrall and submerge you into the real charm and rejuvenation of rafting.
Day 01: Kathmandu to Lomosangu
The drive of about 3 hours along the road mostly hill on the one side and the river on the other will eventually get you to Lomosangu, the put in point for the exploration. As soon as we reach to the put-in point we commence the captivating adventure onwards. Few distance (about 10 kilometers) of rafting experience will be conducted today.
Day 02: Lomosanga to Dolalghat
The whole day until about 2 to 3 pm, we will be having fun and phenomenal time in the rapids of Himalayan river. The put-out point Dolalghat Bazaar will be the place also to get on the bus for returning back to Kathmandu.
Things that will be provided
We provide plentiful, healthy and hygienically prepared food and drinks. High quality self-bailing rafts, helmets, plastic paddles, lifejackets, wetsuits, and first aid kit. Tents and sleeping mats are also provided.  All our equipment is of the highest quality, clean and well maintained.
Bring your shorts, T-shirt for on the river, suitable footwear for wearing in the raft, warm clothing for the evenings, a towel, sun block and your camera and flashlight.
Fill the form  for more details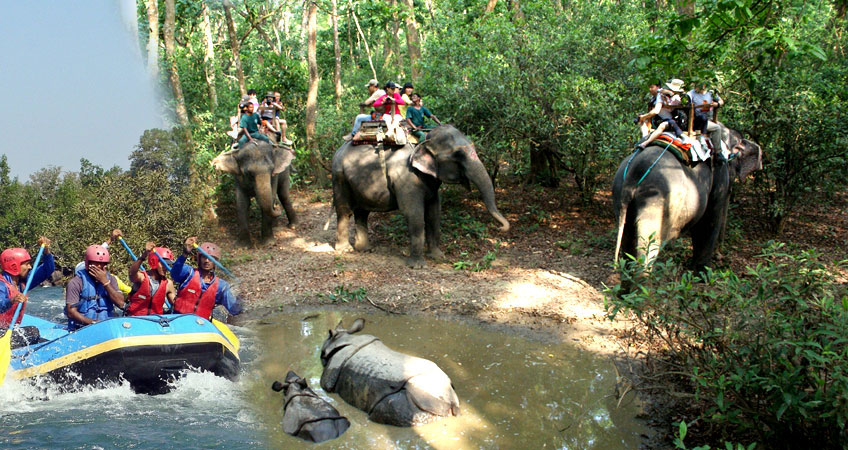 Chitwan Jungle safari in Nepal Chitwan is one of the 77 districts of Nepal and one of the top tourism destinations of the country. It is not wrong to say that Chitwan is the capital of the Jungle safari in Nepal. The country in the Himalayas is covered in forest in...