Everest Base Camp Trekking – Most Popular Trek in Nepal
Probably the most dreamt place in the list of mountains trekking would be Everest Base Camp Trekking for many trekkers. The reason may be numerous. However, in those bucket-list enticement and attractions, the charming to see the tallest peak in the world would be mentioned anyway.
'Everest Base Camp Trekking', which gives you a mesmerizing view of touching the sky. The journey begins with a flight from Kathmandu to Lukma. Then the adventurous climb takes place in the authentic and ethnic Sherpa community that thrives in the Khumbu region. It not only provides you with an insight into the unique Himalayan culture and tradition, but also gives you the exaltation of the nature god worshiped by the white, glittering mountains.
The trek continues to Phakding. From there, you can also reach Namche Bazar, where you can see the 6856-meter-high Ama Dablam peak. Also, Mount Everest is an exciting sight. The trek includes sparkling views of Mt. Lhotse (8501m), Mt. Makalu (8463 m), and Mt. Cho Oyu (8153m). Thus, it enriches your view of the mountains, which will be remembered for a lifetime. Besides, there are many other villages on the way to Everest Base Camp, like Tengboche, Dingboche, Lobuche, and Kala Pattar. You will enjoy many more specials like this on our 'Everest Base Camp Trekking'.
With a height of 5545 meters, 'Kalapathar' is the last destination of Everest Base Camp Trekking. It gives you a closer view of Mount Everest than ever before. This look balances the mind, body, and spirit as it elevates human consciousness. Hence, the mountains provide the perfect environment to practice yoga.
Yoga in Nepal is the best choice when it comes to mountains and hills. Everest Base Camp Yoga Trek is a great way to experience peace and positive vibes in the absence of distraction. You must come once in a lifetime to our 'Everest Base Camp Trekking' to enjoy such a mesmerizing, amazing experience. Come here and enjoy the wonderful experience.
Save Now, Travel Later with Unlimited Date Changes
Amazing Itinerary with all activities included
Discover Ancient Temples and fascinating culture
Sleep overnight on Floating Bungalows
Explore tropical islands and party on the beach!
Awesome Group Leader
Ready-to-book adventures, personalized
Personal
Make your adventure more youMake your adventure more you - Self join
Group
Enjoy a tour with like minded people - Anyone can join
Private Group
Travel with your group - Only your circle join
Day 01: Kathmandu To Lukla Flight
The first day of the 'Everest Base Camp Trekking' starts from Kathmandu to Lukla by flight. This journey takes about 35 minutes. Then you start trekking for four hours to reach Phakding at an altitude of 2,652 meters. This way, you can savor the first day of your trip with us.
Day 02:Hike Phakding To Namche Bazaar
The second day of trekking starts from Phakding to 'Namche Bazaar'. It is a journey of 3,440 m. It takes 5 to 6 hours to hike. From here, the beauty of this journey unfolds in another way. Our 'Everest Base Camp Trek' team will assist you in every way and make your journey easy so you can see that scenic view.
Day 03: Acclimatization Day At Namche Bazaar
You will stay at Namche Bazaar this day for acclimatization. That one day will not pass by like any other day. Because you will see the first sight of Mount Everest with your own eyes in the early morning. Here you can see beautiful panoramic peaks like Lhotse, Aba Dablam, etc. This will surely be a memorable day for you. Even if you see a lot of beauty, you want to see it again and again. And when you leave that place for another place, you will definitely want to come here again.
Day 04: Trek Namche To Tengboche
The fourth-day trek will be from Namche Bazaar to Tengboche. This trek lasts for 5 hours. And has a trek of 3,867 m.
Day 05: Trek Tengboche To Dingboche
Day 5 of 'Everest Base Camp Trek' starts with more excitement. This day's trek will take around 5–6 hours. 4,358 meter trek from Tengboche to Dingboche. The beautiful row of mountains will double your energy for your trek. You will never feel tired as you trek towards the beauty of nature. It's such a wonderful experience.
Day 06: Acclimatization Day At Dingboche
On this sixth-day trek, you will learn more new ideas. This day, you stay at Dingboche for acclimatization. During this time, you will have the opportunity to learn about the culture and customs of the Sherpa village people. The culture and rituals of the people of this village are unique. And such rituals are seen only here. Only our 'Everest Base Camp Trek' offers you this opportunity.
Day 07: Trek Dingboche To Lobuche
In the morning of the 7th day, we eagerly prepare for another trek, which will continue for 5 hours. total of 5 hours of trekking to Lobuche. There will be an approximate trek of 4,928 m. But this trek will definitely be included in the list of best treks.
Day 08: Trek To Gorakhshep
Day 8 of the 'Everest Base Camp Trekking' is the trek to Gorakhshep. This trek covers an area of 5,160 m to 5,320 m. After trekking for 7-8 hours, one gets to see the wonderful paradise of Gorakhshep.
Day 09: Trek To Kalapatthar And Pheriche
On the 9th day, you will visit two nearby trekking points. After completing the trek for a total of 7-8 hours, you will get a beautiful 'Kaala Pattar'. A trek of 5,550 m is required to see the 'Kaala Pattar'. A 4,358-meter trek is required to see 'Feriche'.
Day 10: Trek To Namche Bazaar
The 'Everest Base Camp Trek' has now reached it's 10th day. Today you are going to see Namche Bazaar. You must trek 3,400 meters to see Namche Bazaar. This trek takes about 7-8 hours. And gives a satisfying experience.
Day 11: Trek To Lukla
You have now reached the final stage of the trek. This day, you will only trek 2,652 m. And the trek to Lukla takes 7-8 hours.
Day 12: Flight From Lukla To Kathmandu
This is your last day with our 'Everest Base Camp Trekking' team. On this day, your journey will be completely over. And you will be satisfied with the most unforgettable 12-day trek of your life. This day from Lukla to Kathmandu you will travel 1,300m by plane. That way, this trek will stay in your memory forever.
We provide you the bed and breakfast. Accommodation will be shared by two people. However, you can book for the single room with extra charge.
The overland transport will be held on tourist coach as per the itinerary and size of the group.
The applicable fee for the Trekking, National Park and Conservation center will be covered.
We offer you a welcome group dinner
The wages, meals, and transportation of our trekking staff (guide) will be arranged.
We also have included a comprehensive medical kit and service of guide.
Pick-up/Drop from/to the airport.
The visa fee you would have to pay for travel, medical insurance and airport tax.
The meals of your personal interest will not be offered in our expense.
We would also not provide personal sleeping bags and bags.
The charge applied in case of emergency evacuation by any means of transport would not be included.
The charge for accommodation in Kathamndu in you early arrival before the trip will not be included and also the late departure. Moreover, the early departure from trek will also not included in our expense.
We also don't include the cost of international flights.
The trip doesn't offer the travel and rescue insurance.
We also don't include the phone calls, laundry, bar bills, battery recharge, extra poter etc.
We also don't offer tips for guides and porters, you can give them yourself if you like to give.
1st Group: 1st of every month
2nd group: 15th of every month
Everest Base Camp Trekking
Trip Cost
Destination: Everest Base Camp Trekking
Min-pax: 1-15
Accommodation: 2 or 3 star level
Duration: 12 days
Max altitude: 5545m
4.6 Star Out of 5
"Best Trek of my life; out of the world experience."
Fill the form  for more details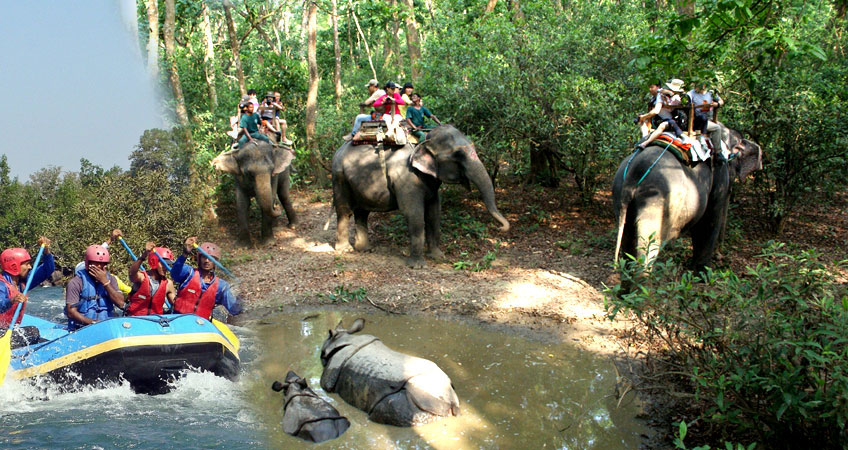 Chitwan Jungle safari in Nepal Chitwan is one of the 77 districts of Nepal and one of the top tourism destinations of the country. It is not wrong to say that Chitwan is the capital of the Jungle safari in Nepal. The country in the Himalayas is covered in forest in...