The Trek Nepal launches yoga trek in Nepal by combining two most distinct traditions of Nepal, Yoga into Trekking. This is different than Yoga Teacher's Training and Yoga retreat but it gives you the total satisfaction what you expect from Yoga. 
Your trekking will be with a very experienced yoga teacher. Yoga during our trekking is beneficial to make trekking meaningful. Yoga gives us the stamina to walk and walking increases our stretch in doing yoga.
Yoga is not only practicing postures sitting in one place but it has its vast meaning. It means to rejoin our self to the higher self. In the deeper level, yoga means to be aware of every action that we do.
In this way, walking can be also yoga. If we can concentrate on our full awareness of our trekking, that will be Yoga. We will do postures in the instruction of our yoga teacher. Our yoga teacher will teach us how to make our every action as Yoga.
Himalayas Nepal Yoga Trek
We target of this yoga trek in Nepal simply for the destination to all over Nepal but mostly it focuses on the Himalayan region of Nepal. Our main aim of this yoga trek is to the Himalayan Region of Nepal because those spots are very popular for trekking.
Another reason for choosing those regions is that those are very special places for yogic practice. The great yogis of all times choose to practice their yoga in those places where the altitude is high.
This package focuses on the retreat more than yoga training but it is not complete retreat. It is the combination of the yoga in trekking. We will practice daily yoga, Pranayama, and meditation during our trekking.
The most popular places for yoga trekking are the Annapurna region, Everest Region, etc. On this yoga trek Nepal, we spend our morning and evening time for doing yoga, pranayama, and meditation.
The yogic process is a way of transformation and is the process to enter into the self rather than outside. Our Yoga trekking in Nepal helps us to be aware and bring harmony between mind, body, and spirit. Yoga includes pranayama and meditation. All three have great value to maintain peace of our mind.
Reasons For Yoga While Trekking in Nepal
Yoga is the systematic way of moving and stretching our body which can open all the blockages of our body. The blockage forms on our body into the nerves by the circulation. Commonly, people think that yoga is only body exercise but yoga includes pranayama and meditation too as an inseparable part of it.
Even our awareness of our action also falls in the category of yoga. By this definition, walking is also a type of yoga. So, in this package of yoga trekking in Nepal, we practice yoga, pranayama, and meditation and apply the broad meaning of yoga.
Pranayam is a breathing exercise that can re-energize our nerve system. It can open the entire blockage on our body and keep our body healthy. It has not only the physical value but also it can maintain the peace of our mind. It can be helpful to regain our mental health when we continue it in our daily life.
If enough oxygen from our nose enters into our body by the breathing exercise, the blood slowly starts to purify and it can eradicate all the diseases from our body.
Breathing is a very effective way to feel the energy of our body. By the breathing exercise, the sufficient oxygen for our body can be taken. It makes our lungs strong and fills the oxygen to each cell of our body and it helps us to be healthy and relaxed.
Breathing exercise can be useful to bring enough oxygen to our brain that can help us to be relieved from all the tensions.
The most important objective of the trekking is to get enough entertainment in our life. If we add yoga with trekking, we will get more and more enjoyable than the trekking alone can give us. Meditation is also the medium of getting self-realized.
It can be the perfect way of taking relax and rest from a physical and mental level. It surely can bring the joy that you have been searching for all your life.
Pranayama Yoga For Trekking Satisfaction
Including yoga, pranayama and meditation can give a higher state of satisfaction from our trekking. We can have the ability to grasp the beauty of the place from our inner level. In the higher level, yoga is not only the exercise but it is a beautiful way of living.
Whatever we do or act in our life, yoga says, we must do skillfully. Such as walking is our task and if we perform our task of trekking skillfully that will be yoga.
When we learn yoga, we can be aware of our walking and all our steps of the trekking and our action will be yoga.
We can understand the purpose of our life. We can learn to be aware of whatever we do and wherever we are. In Buddhist philosophy, the awareness is very important. After practicing the art of awareness, we will be able to get enlightened.
It is the path of our purification. Our spiritual path may be opened by this short experience of Yoga trekking. From yoga, we can control our thoughts and our mind.
In the trek, our body gets tired and at that time meditation can be the best way to relax. Meditation can eliminate all the pains that we get from our trekking. All the uneasiness and all the disappointments can be removed by pranayama and meditation.
This yoga trek is very useful to utilize your holidays by visiting the most beautiful places in Nepal. So, this can be the best way of spending your leisure time for creative use.
There are many incredible things to do in Nepal, which you might have never imagine but are superb in Nepal which you can take part apart from yoga trekking in Nepal.
Yoga Meditation Trekking in Nepal
Trip Cost
4.6 Star Out of 5
"Best Trek of my life; out of the world experience."
Fill the form  for more details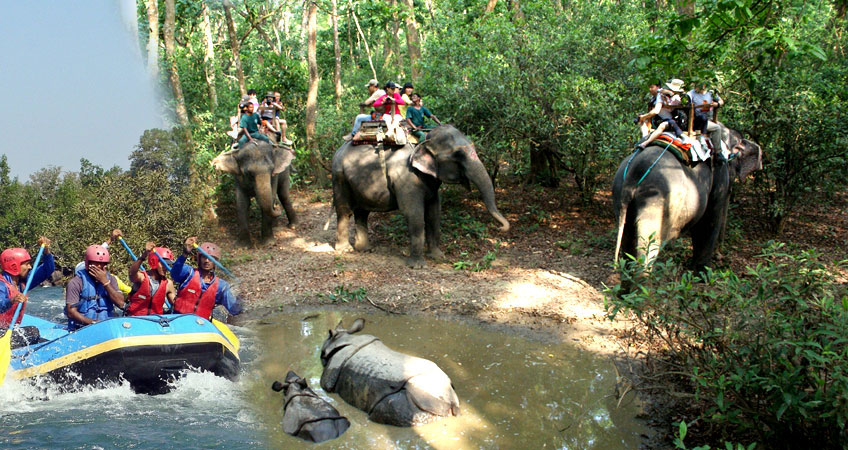 Chitwan Jungle safari in Nepal Chitwan is one of the 77 districts of Nepal and one of the top tourism destinations of the country. It is not wrong to say that Chitwan is the capital of the Jungle safari in Nepal. The country in the Himalayas is covered in forest in...