21 Days Tsume Valley Trekking- Popular for Buddhist culture & tradition
Tsume valley is located in northen Gorkha District, Nepal. This valley has the area of 1663 square kilometers. It lies against the wonderful backdrop of Ganesh, Sringi and Buddha Himal. It is a sacred Buddhist pilgrimage as well as famous for Buddhist culture and tradition. Very popular Buddhist Yogi Chyuchin Milarepa meditated in the mountains here. We can also find many Buddhist temples in this valley. From this place we can see the panoramas of the mountains and beyond.
Terminologically, 'Tsum' comes from Tibetan word Tsombo, which means vivid traditionally, and it becomes Tsume Valley Trekking in the course of time. It is famous for its cultural variation. This is the place which is very rich in ancient art, religion and culture.
The most beautiful part of Tsume Valley Trekking is that we can choose for natural, religious, cultural as well as spiritual purpose to trek here.
Save Now, Travel Later with Unlimited Date Changes
Amazing Itinerary with all activities included
Discover Ancient Temples and fascinating culture
Sleep overnight on Floating Bungalows
Explore tropical islands and party on the beach!
Awesome Group Leader
Ready-to-book adventures, personalized
Personal
Make your adventure more youMake your adventure more you - Self join
Group
Enjoy a tour with like minded people - Anyone can join
Private Group
Travel with your group - Only your circle join
Day 01: Arrival in Kathmandu (1300 m)
This is your first day in Nepal for this trekking. This day, we will accommodate you in the hotel in Kathmandu.
Day 02 : Sightseeing around Kathmandu valley
In this day you will have the opportunity to visit Kathmandu and see the beautiful sights of Kathmandu valley.
Day 03: Kathmandu drive bus to Arughat (535m)
On third day, we will take the bus from Kathmandu to Arughat.
Day 04: Arughat to Liding (860m)
From Arughat we will go to Liding.
Day 05 : Liding to Machhalkola (930m)
We will start to Machhalkola from Liding on this day.
Day 06 : Machhalkola to Jagat (1410m)
On this amazing day we will go to Jagat from Machhalkola.
Day 07: Jagat to Lakpa (2040m)
After trekking to Jagat we will trek to Lakpa.
Day 08:Lakpa to Chumling (2361m)
When we stay in Lakpa at night and another morning we will begin to Chumling.
Day 09 : Chumling to Chhokangparo (3010m)
From Chimling we will go to Chhokagparo.
Day 10 : Chhokangparo to Chhule-Nile (3361m)
This day will be the day when we leave Chhokangparo and reach Chhule-Nile.
Day 11 : Chhule-Nile to Mu Gompa (3700m)
From Chhule-Nile we start to Mu Gompa. This place is the highest place throughout our trekking.
Day 12 : Mu Gompa to RachenGompa (3240m)
We will start to RachenGompa from Mu Gompa on this day.
Day 13 : RachenGompa to Dumje (2440m)
After RachenGompa we will leave to Dumje.
Day 14 : Dumje to GumbaLungdang (3200m)
From dumje we will start to trek to GumbaLungdang.
Day 15 : GumbaLungdang to Ripchet (2468m)
We leave GumbLungdang and begin to Ripchet.
Day 16 : Ripchet to Dobhan (1070m)
When we will spend a night in Ripchet, we will start to trek to Dobhan.
Day 17 : Dobhan to Sotikhola (720m)
We will trek this day from Dobhan to Sotikhola.
Day 18 : Sotikhola to Arughat (535m)
Our trekking continues from Shotikhola to Arughat.
Day 19 : Arughat drive bus to Kathmandu
Form Arughat we will drive to Kathmandu. We will stay in Kathmandu at night.
Day 20 : Free Day in Kathmandu / shopping / Rest etc
On this day you have free time, so you can do anything in your choice, shopping, resting etc.
Day 21 : Day of departure.
We provide you the accommodation which will be shared by two people. However, you can book for a single room with extra charge.
We will also bear the cost of a domestic flight that will be traveled for the trip.
The overland transport will be held on tourist coach as per the itinerary and size of the group.
The applicable fee for the Trekking, National Park and Conservation center will be covered.
Three meals in a day include breakfast, lunch, and dinner which will be provided.
We offer you a welcome group dinner in an authentic Nepali restaurant with cultural show.
The wages, meals, insurance and transport allowance of all trekking staff and porters will be arranged.
We also can arrange the planning for the place of interest in the city accompanied by the city guide.
We also have included the comprehensive medical kit and service of guide and porters.
We also help you to reconfirm your international flight.
Pick-up/Drop from/to the airport.
The visa fee you would have to pay for travel, medical insurance and airport tax.
The meals of your personal interest will not be offered in our expense.
We would also not provide personal sleeping bags and bags.
The charge applied in case of emergency evacuation by any means of transport would not be included.
The charge for accommodation in Kathamndu in you early arrival before the trip will not be included and also the late departure. Moreover, the early departure from trek will also not included in our expense.
We also don't include the cost of international flights.
The trip doesn't offer the travel and rescue insurance.
We also don't include the phone calls, laundry, bar bills, battery recharge, extra poter etc.
We also don't offer tips for guides and porters, you can give them yourself if you like to give.
Tsume Valley Trekking
Trip Cost
Trip Cost
Destination:

Tsume Valley

Min-pax: 1-15
Accommodation: 2 or 3 star level
Duration: 21 days
Max altitude: 3700m
4.6 Star Out of 5
"Best Trek of my life; out of the world experience."
Fill the form  for more details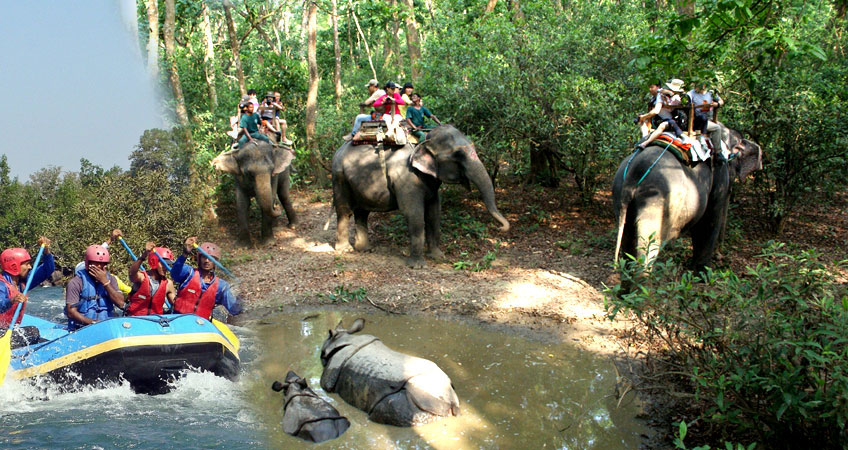 Chitwan Jungle safari in Nepal Chitwan is one of the 77 districts of Nepal and one of the top tourism destinations of the country. It is not wrong to say that Chitwan is the capital of the Jungle safari in Nepal. The country in the Himalayas is covered in forest in...