10 Days Tamang Heritage Trail Trek in Nepal
Langtang is very famous touristic area where many tourists want to visit. It is also the famous place for its natural attraction. The trekking route between Langtang and Ganesh mountains is very amazing destination for Tamang Heritage Trail Trek.
It is in the border between Nepal and China's Tibet province. The route is covered by alpine grassland and beautiful, colorful flowers. There is the settlement of Tamang community whose religion is Buddhism.
In the history, Tibetans from Kerung border came in Nepal and settled in Nepali region. When they wanted to take their citizenship, Nepali government rejected to provide the citizenship to Tibetan people.
So, they changed their ethnicity as Tamang and got Nepali citizenship but their cultural values and customs are as similar as that of Tibetans. They celebrate many festivals and occasions.
Langtang region is very famous for its natural beauty of the snow covered White Mountains. The trail is full of forests and flowers. In March we can see the blossoming red rhododendron on the way. On the other hand, we can experience many traditional and rituals of Tamang ethnicity in Tibetan flavor.
There are a lot of festivals and dances in the culture. Syabru dance is very famous in Tamang culture. We can enjoy the dance during our home stay in countryside of Tamang community.
The hospitality of Tamang community is unforgettable throughout our life. The way they welcome us is stunning and amazing that is to be remembered.
This trekking is helpful for our entertainment and to gain much information about pure heart of the villagers. We can feel deep love from the pure heart of the unspoiled touch of originality. This trekking lasts for 10 days and every day we feel newness and freshness on the route.
Save Now, Travel Later with Unlimited Date Changes
Amazing Itinerary with all activities included
Discover Ancient Temples and fascinating culture
Sleep overnight on Floating Bungalows
Explore tropical islands and party on the beach!
Awesome Group Leader
Ready-to-book adventures, personalized
Personal
Make your adventure more you
Personal
Make your adventure more you
Private
Enjoy a tour focused solely on your travel group
Protected
Travel within your own bubble
Day 01: Tamang Heritage Trail Trek
Arrival at Kathmandu (1338m)
You will arrange your accommodation to the Hotel in Kathmandu. On this day, we will give instruction of the whole trekking.
Day 02 : Kathmandu to Syabrubesi (1460m)
We will start our tour on this day in the morning, by taking bus from Kathmandu to Syabrubesi, which journey will be 7 hours drive normally. Syabrubesi is the starting point of Langtang Valley.
On the way we can see the beautiful scenery of jungles and panorama of the tops of the different mountains. We will continue our trip of the road which follows Trishuli River. We can see the river most of our day journey by the bus. We stay in Syabrubesi at night.
Day 03 : Syabrubesi to Gatlang (2238m)
From Syabrubehi we start our real trekking. It takes an hour and half from Syabrubesi to reach to the place from where we can enjoy amazing view of Ganesh Himal, Gosainkund range and the Goljang valley. We take our lunch in this place.
After three hours walk from Goljang we will reach in Gatlang. In Gatlang, villagers will welcome us with great respect. They will sing the song in their local language and it will be incredible moment in our life.
We will stay in Gatlang at night enjoying the culture from the beautiful Tamang village. We will get the flavor of countryside here.
Day 04 : Gatlang to Tatopani (2380m)
Our trekking will be continued to Tatopani from Gatlang. On the way, we walk by Thangbuchet which is situated near Chilime Village, named by a beautiful and famous river. Thangbuchet is the place where we stop for our lunch. We will begin our trekking again.
We walk through a hanging bridge and after sometime we will be in Tatopani. Tatopani is a Nepali word which means 'Hot Water'. It is believed that hot water has the healing power of many diseases, especially skin related diseases.
We will experience hot water bath in this place and we will be free from our pains and aches.
Our day will be finished and we will stay in this place for the night. On this day we walk about 7 hours.
Day 05: Tatopani to Thuman (2238m)
After enjoying our trekking in Tatopani we will start to trek to Thuman. On the way, we reach in Nagthali Danda (3300m) from where we can see the open grassland and awesome views of white snow covered mountains from close. At last we will reach in Thuman.
This village is accommodated by Tamang community who are culturally influenced by the Tibetan culture. They are very friendly and they will welcome us by singing and dancing.
Day 06 : Trekking to Tamang Heritage Trail
Thuman to Briddim (2239m)
Our trekking starts from the morning on this day. From Thuman we will reach to Timure which is the old trade tour from Nepal to Tibet and Tibet to Nepal. We will stop here for our lunch. Walking 3 hours from Timure we will reach to Rasuwagadi which lies in the border of Nepal and China.
After walking from Rasuwagadhi, we will reach to Briddim, where we will find Tamang people welcoming us. This village is also influenced by Tibetan culture. Here we will stay in local home.
We experience new kind of uniqueness in our life. We eat there; we stay there by enjoying our trip with the villagers. Villagers provide all foods and lodging.
Day 07 : Briddim to Syabrubesi
This is the last point during our trekking. We will return to Syabrubesi from where our real trekking started. When we reach to Syabrubesi by walking we will eat and take rest there because we will be tired by our walking. On this day we will rest calmly in the hotel.
Day 08 : Syabrubesi to Kathmandu
On this day we will head to Kathmandu by bus after finishing our trekking from Syabrubesi. We will arrive at Kathmandu, the capital city of Nepal and stay there peacefully.
Day 09 : Day of Resting and Shopping
On this day, you will have free time in Kathmandu. You may rest or shop as your desire.
Day 10 : Day of departure
On this day we will say good bye to Nepal because you will fly to your country from Tribhuvan International Airport.
We provide you the bed and breakfast. Accommodation will be shared by two people. However, you can book for the single room with extra charge.
The overland transport will be held on tourist coach as per the itinerary and size of the group.
The applicable fee for the Trekking, National Park and Conservation center will be covered.
We offer you a welcome group dinner
The wages, meals, and transportation of our trekking staff (guide) will be arranged.
We also have included a comprehensive medical kit and service of guide.
Pick-up/Drop from/to the airport.
The visa fee you would have to pay for travel, medical insurance and airport tax.
The meals of your personal interest will not be offered in our expense.
We would also not provide personal sleeping bags and bags.
The charge applied in case of emergency evacuation by any means of transport would not be included.
The charge for accommodation in Kathamndu in you early arrival before the trip will not be included and also the late departure. Moreover, the early departure from trek will also not included in our expense.
We also don't include the cost of international flights.
The trip doesn't offer the travel and rescue insurance.
We also don't include the phone calls, laundry, bar bills, battery recharge, extra poter etc.
We also don't offer tips for guides and porters, you can give them yourself if you like to give.
Tamang Heritage Trail Trek
Trip Cost
Trip Cost
Destination: Tamang Heritage Trail Trek
Trip Cost
Min-pax: 1-15
Accommodation: 2 or 3 star level
Duration: 10 days
Max altitude: 2380m
4.6 Star Out of 5
"Best Trek of my life; out of the world experience."
Fill the form  for more details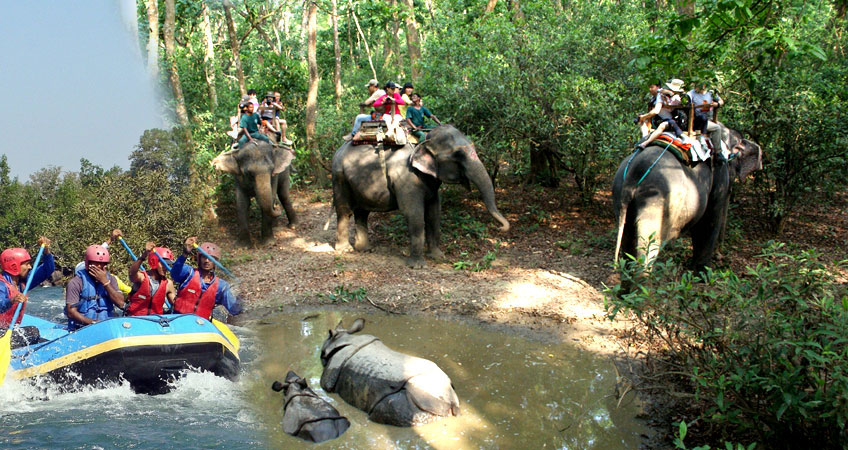 Chitwan Jungle safari in Nepal Chitwan is one of the 77 districts of Nepal and one of the top tourism destinations of the country. It is not wrong to say that Chitwan is the capital of the Jungle safari in Nepal. The country in the Himalayas is covered in forest in...