Kanchenjunga Circuit Trek 
Kanchenjunga measures an altitude of 8586 ranking as the third highest peak in the earth planet. The word Kanchenjunga has Tibetan root which means five snow treasures. These five treasures of snow are Gold, Silver, Precious Stones, Grain and Holy Scriptures.
Since the time immemorial, Local people have been worshipping these holy mountains of Kanchenjunga Himalayan Range. Situated in the north eastern district of Nepal named of Taplejung, it serves as the border of Sikkim, the Indian state as well as the border of Tibet to the north.
In spite of being the third tallest summit of the world, the flow of the mountaineer as well as the trekkers numbers very low in comparison to other Mountain Range of Nepal. However, it has stupendous and awe-struck magnitude to offer the trekkers. Because of being less visited Mountain range of Nepal, it has kept a lot of treatise and qualities to explore for the world. Kanchenjunga Circuit Trek includes the trek to both South and North Base Camp.
Kanchenjunga Circuit incurs you to the typical ethnic groups of Nepal such as Rai, Limbu and Sherpa while your trekking. Moreover, Tibetan villages can be seen on this trial. In addition to the hospitality, the locals extend you, you would also experience the magnificent landscape and natural beauty.
The forest of pine trees, chest nut trees, rhododendron and cardamom planted on the terraced field would resemble the environment of northern part of Nepal ranging from east to west. With your ascending to the high land, you would also see the alpine trees.
Anyway, caste and ethnicity vary in different places of Himalayan Range. Recent years, the expansion of tourism has brought some establishment and running tea house along the trek.
The spell-binding scenic charisma of Kanchenjunga Mountain appeared during your trek would engross your heart and mind. In the Kanchenjunga Circuit trek astounding stand of the mountain can be viewed while your trek keeps going on. Kanchenjunga Circuit Trek has been perceived as the strenuous and rigorous trek because of its remoteness and altitude.
Nevertheless, it has mesmerizing marvels to offer the world yet.  Still being less-discovered and explored land of the nature, it has million gems to offer the trekkers who are in longing for natural prosperity and familiarity.
Save Now, Travel Later with Unlimited Date Changes
Amazing Itinerary with all activities included
Discover Ancient Temples and fascinating culture
Sleep overnight on Floating Bungalows
Explore tropical islands and party on the beach!
Awesome Group Leader
Ready-to-book adventures, personalized
Personal
Make your adventure more youMake your adventure more you - Self join
Group
Enjoy a tour with like minded people - Anyone can join
Private Group
Travel with your group - Only your circle join
Day 01: Arrival to Kathmandu
Day 02 : For permit for the trek
Day 03 : Kanchenjunga Circuit Trek
Fly to Bhadrapur alos drive to Ilam
Day 04:
Drive to Taplejung, trek to Mitlung (921 meter)
Day 05:
Trek to Chirwa (1270 meter)
Day 06:
Trek to Sekathum (1660 meter)
Day 07 :
Trek to Amjilosa (2510 meter)
Day 08:
Trek to Gybala (2730 meter)
Day 09:
Trek to Ghunsa (3595 meter)
Day 10:
Rest  for  acclimatization at Ghunsa.
Day 11:
Trek to Ghambachen (4100 meter)
Day 12
Rest for acclimatization at Ghamabachen.
Day 13
Trek to Lhonak (4785 meters)
Day 14
Trek to Pangepema (5143 meter), the same day returning to Lhonak.
Day 15 :
Returning trek to Ghunsa.
Day 16 :
Trek to high Camp before Mirgin La
Day 17 :
Cross the Mirgin La (4663 meter) and trek to Tseram ( 3870 meter).
Day 18 :
Trek to Oktang and Ramche
Day 26 : Last day of Kanchenjunga Circuit Trek
Bhadrapur to Kathmandu via fight
We provide you the bed and breakfast. Accommodation will be shared by two people. However, you can book for the single room with extra charge.
The overland transport will be held on tourist coach as per the itinerary and size of the group.
The applicable fee for the Trekking, National Park and Conservation center will be covered.
We offer you a welcome group dinner
The wages, meals, and transportation of our trekking staff (guide) will be arranged.
We also have included a comprehensive medical kit and service of guide.
Pick-up/Drop from/to the airport.
The visa fee you would have to pay for travel, medical insurance and airport tax.
The meals of your personal interest will not be offered in our expense.
We would also not provide personal sleeping bags and bags.
The charge applied in case of emergency evacuation by any means of transport would not be included.
The charge for accommodation in Kathamndu in you early arrival before the trip will not be included and also the late departure. Moreover, the early departure from trek will also not included in our expense.
We also don't include the cost of international flights.
The trip doesn't offer the travel and rescue insurance.
We also don't include the phone calls, laundry, bar bills, battery recharge, extra poter etc.
We also don't offer tips for guides and porters, you can give them yourself if you like to give.
Kanchenjunga Circuit Trek
Trip Cost
Destination:

Kanchenjunga Circuit Trek

Min-pax: 1-15
Accommodation: 2 or 3 star level
Duration: 26 days
Max altitude: 5143m
4.6 Star Out of 5
"Best Trek of my life; out of the world experience."
Fill the form  for more details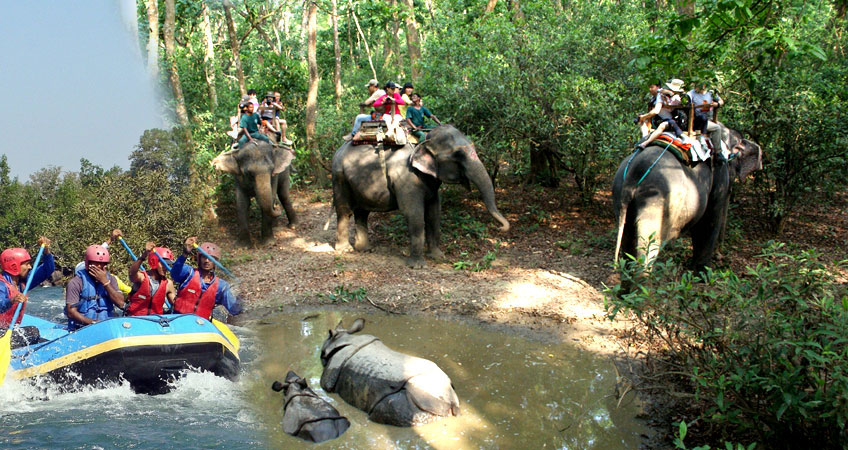 Chitwan Jungle safari in Nepal Chitwan is one of the 77 districts of Nepal and one of the top tourism destinations of the country. It is not wrong to say that Chitwan is the capital of the Jungle safari in Nepal. The country in the Himalayas is covered in forest in...