8 Days Ghorepani Poon Hill Trek- Lower Annapurna Trek
Ghorepani Poon Hill Trek is a small circuit trail in the lower part of the Annapurna region. It is one of the classic trekking trails, north-west of the beautiful town of Pokhara. On the scintillating scenario of Kaski districts lies a culturally flourished community of Gurung, Ghale and Magar to the northern fringe of district. The trek gets started tracing the flat and stepped field, the greenery jungle of rhododendron, pines and oaks trees.
While pacing further with the observation of natural affluence, you come to the courtyard and peripheral of typical and culturally well-rich villages where you can perform yoga meditation trekking. Situated in the proximity of Annapurna Himalayan Range, the trek to this chill and charming Ghorepani, measuring 2870 meter, offers you the experience of prevalent culture and tradition on the one hand.
On the other hand, the close view of snow-capped mountains from this marvelous place can be enjoyed. The closeness and clarity of the view can be further magnified and materialized trailing further to poon Hill  trek which scales 3210 meters of elevation from the sea level.
The Ghorepani Poon hill trek is an immensely popular short trek to the Annapurnas. The  Ghorepani Poon hill trek starts from the beautiful Modi Khola river, after an hour of drive from Pokhara. Crossing the suspension bridge over Modhi Khola river, we ascend through ethnic villages and farm terraces enjoying the views of Machhapuchare peeking between the hills .
On the second day we walk mostly through woods before we reach Ghorepani poon hill. Next morning we make an early climb of one hour to the nearby Poon hill trek for the spectacular view of the Dhaulagiri, Annapurna, Nilgiri, and other famous mountains of the region.
The whole of Ghorepani is densely forested with rhododendron, the national flower of Nepal. Every spring it is tremendous scenery to watch these forests in bloom with the panorama of the high mountains on the skyline.
From the top Ghorepani poon Hill trek, you can enjoy the magnificent and incredible view of Dhaulagiri, Annapurna I, II, III, and Machhapuchhre.
The trek to this splendid poon Hill, the best would be from September to November and March to May. Despite the fact that rest of the years also can be visited, aforementioned seasons of autumn and spring are the friendly and perfect time for the trek. However, the trek can be trailed if you are friendly enough to the winter season.
Indeed, winter season allows you to be in serene and quite away from the crowd and chaos scenario it may see in high seasons because of the large numbers of trekkers in this spectacular place.
The trek to Ghorepani poon Hill will be one of the most amazing experiences not only it is beautiful place to visit but also you can taste the delectable dishes prepared by typical Nepali way. Moreover, the meals you would have would taste delicious by the rustic setting. Besides the Nepali food, you also can have of your choice like Indian, continental, Italian, Spanish, and Chinese etc.
The stay during our trek will be in lodge and small restaurants located on the way which would be an amazing experience of hospitality and mingling of the culture.
We have a government licensed guide and a group of highly experienced and honest porters for your amazing trek to Ghorepani. Our guides speak fluent English with you and are always ready to provide you with the best service and information during your trek.
We have guides who can speak other languages like French, Spanish etc. If you need it, it can be mentioned in advance request. As per your requirement we arrange such guides for easy communication with you. Your belongings and essentials are always secured by humble people who treat them like their own.
Save Now, Travel Later with Unlimited Date Changes
Amazing Itinerary with all activities included
Discover Ancient Temples and fascinating culture
Sleep overnight on Floating Bungalows
Explore tropical islands and party on the beach!
Awesome Group Leader
Ready-to-book adventures, personalized
Personal
Make your adventure more youMake your adventure more you - Self join
Group
Enjoy a tour with like minded people - Anyone can join
Private Group
Travel with your group - Only your circle join
Day 01: Drive to Pokhara
This is your first day at Poonhill Trekking. Today you will drive to Pokhara with us. And since you need some rest on this day, you are advised to stay at the hotel for that night. And the next morning your wonderful trekking will start with our Poonhill Trekking team.
The center of Pokhara Is a beautiful city on the Phewa Lake in Nepal. It is known as the gateway to the Annapurna circuit. It is a popular trail in the Himalayas.
Day 02 : Poon Hill
It's a second day of trekking with our team 'Poonhill Trekking'. This day we reach to Ulleri which is at the height of 2050 meters. On the 2nd day, the trekking starts after breakfast and will continue for 6 to 7 hours. And we stayed that night at the Ulleri. And will see local areas on that day.
Day 03: Trek to Ghorepani
Ghorepani is a village in the Dhaulagiri zone of north-central Nepal. It is 17 kilometers from the capital. It is at an altitude of about 2874 m. Today you will trek to Ghorepani at an altitude of 2874 meters with Poonhill Trekking team.
Day 04: Trek to Poonhill
'Poon Hill' is a hill with a height of 3210 meters. It is the Annapurna Massif range. And Dhaulagiri is a beautiful hill station on top of the mountain range. This place is very famous, with a beautiful sunrise view in the morning. And to the north, one gets to see the glistening, snowy mountains. Getting up early in the morning and leaving for trekking is as much fun as seeing the real heaven before your eyes. Later on the same day, our trek departs for Tadapani at an altitude of 2721 meters.
Day 05: Trek to Ghandruk
Ghandruk is a Village Development Committee in Kaski District, Gandaki Province, Nepal. It is a small village 32 km northwest of Pokhara. The village is easily accessible from the provincial headquarters by public buses and also by private taxis. Day 5 trek departs to Ghandruk, a village of Gurung at an altitude of 1940 meters.
Day 06 : Ghandruk to Pokhara
This is the 6th day you spend with the Poonhill trekking team. Today you are trekking from Ghandrukgam to Pokhara. Ghandruk is situated at an altitude of 2000 meters. Ghandruk is one of the most scenic and popular treks from Pokhara. It gives you a close view of the Annapurna mountain range. And this place is great for watching sunrise and sunset. The trail offers you breathtaking views of Annapurna Dakshina, Gangapurna, Annapurna III, Machhapuchre and Hinchuli. The mountain views here are very beautiful. And the trail is relatively easy. As the highest altitude is only 2000 meters there is no risk of altitude sickness. All these factors definitely make 'Ghandruk Trek' an ideal choice for anyone looking for a short trek in the Annapurna foothills. On this day you will enjoy excellent views of Annapurna South and Fishtail Mountain. A privately run museum can also be visited. And the Gurung community there helps you understand the village life with its unique culture.
Day 07: Pokhara to Kathmandu
Pokhara is definitely a good choice for 1 day trekking and tour for all the travelers who have short vacations. Here one can have wonderful snow capped mountain views of Annapurna, Machhapuchare (Fishtail), Nilgiris. Pokhara is one of the best options to explore the beauty of nature and culture. It includes Himchuli, Barshikha and Dhaulagiri Himalayan ranges. However, our Poonhill trekking team will take you to the top of Sarangkot View Tower. Sarangkot Lakeside, about 40m drive from Pokhara. Sarangkot is 2500 meters above sea level. And gives you an incredibly surprising view of the mesmerizing Himalayan mountains.
Day 08: Departure from Kathmandu to your home country
The Poon Hill Trekking Team will take you from Kathmandu to your country on this day. Our 'Poonhill Trekking team will arrange to get you to the airport on time. We believe that this week has been a valid time for you to reflect on it again and again. We hope that you will share this experience with your friends and family, and they will also contact our 'Poonhill Trekking' team and come for another trek.
We provide you the bed and breakfast. Accommodation will be shared by two people. However, you can book for the single room with extra charge.
The overland transport will be held on tourist coach as per the itinerary and size of the group.
The applicable fee for the Trekking, National Park and Conservation center will be covered.
We offer you a welcome group dinner
The wages, meals, and transportation of our trekking staff (guide) will be arranged.
We also have included a comprehensive medical kit and service of guide.
Pick-up/Drop from/to the airport.
The visa fee you would have to pay for travel, medical insurance and airport tax.
The meals of your personal interest will not be offered in our expense.
We would also not provide personal sleeping bags and bags.
The charge applied in case of emergency evacuation by any means of transport would not be included.
The charge for accommodation in Kathamndu in you early arrival before the trip will not be included and also the late departure. Moreover, the early departure from trek will also not included in our expense.
We also don't include the cost of international flights.
The trip doesn't offer the travel and rescue insurance.
We also don't include the phone calls, laundry, bar bills, battery recharge, extra poter etc.
We also don't offer tips for guides and porters, you can give them yourself if you like to give.
1st Group: 1st of every month
2nd group: 15th of every month
Ghorepani Poon Hill
Trip Cost
Trip Cost
Destination: Annapurna Circuit Trek
Min-pax: 1-15
Accommodation: 2 or 3 star level
Duration: 8 days
Max altitude: 3210m
4.6 Star Out of 5
"Best Trek of my life; out of the world experience."
Fill the form  for more details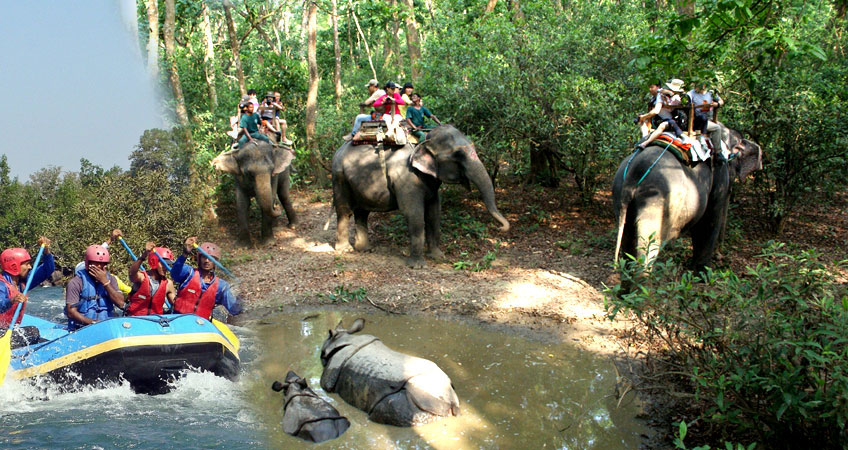 Chitwan Jungle safari in Nepal Chitwan is one of the 77 districts of Nepal and one of the top tourism destinations of the country. It is not wrong to say that Chitwan is the capital of the Jungle safari in Nepal. The country in the Himalayas is covered in forest in...