Annapurna Circuit Trek- Amazing Trek in Nepal
Annapurna Circuit Trek offers the most varied and unbelievable scenic setting ranging from charming fields of paddy and greenery pastures, temples and monasteries, tiny brooks to boisterous snowy rivers, greenery hills to magnanimous mountains, pebbles path to stone steps, pine and oak trees to barren bushes.
Because of its remarkable distinct flavor throughout the trek, it is considered as one of the most strenuous and amazing popular circuit in Nepal. To challenge, it should not be less undertaking than anywhere else in the world.
The trek starts at Besi Sahar of Lamjung. As soon as you get on the public bus or private vehicle from Kathmandu, within 7-8 hours of journey you arrive at Besi Sahar in Lamjung. From this point, the trek to one of the most magnificent trek routes commences further through Bhule Bhule in Marshyangdi river valley.
The trek starts at Besi Sahar of Lamjung. As soon as you get on the public bus or private vehicle from Kathmandu, within 7-8 hours of journey you arrive at Besi Sahar in Lamjung. From this point, the trek to one of the most magnificent trek routes commences further through Bhule Bhule in Marshyangdi river valley.
Once the trade route, and prohibited to foreigners was opened since 1977 to see the thousands of trekkers trailing on this solitude but soul-inspiring circuit. The Annapurna circuit trek measures the distance of 160 to 230 kilometers. The length of the route depends on the use of vehicles and how many places are visited during the trek.
The trek offers the variation of the altitude from 800 meters to the 5416 meters when you ascend the Thorung La Pass. Annapurna Circuit trek takes you to the different districts and circles around the Annapurna Mountain Range. During your trek you would enjoy the glittering gigantic mountains such as Dhaulagiri, Annapurna I-IV, Manaslu, Tilicho Peak and Gangapurna.
Among the ten tallest mountains in the world, Annapurna Base Camp Trek offers you the charismatic panorama of three mountains. Moreover, the Annapurna Circuit Trek also magnifies your astonishment with the glance of the deepest gorge in the world called Kali Gandaki gorge where the trek ends.
Paving on the edges of the paddy fields you would continue your trek upwards trailing through the stone steps and cold climate higher altitude. In the quest of viewing the tantalizing snow-capped mountains you would pace your feet on the shadowy and narrow path where you would never see any scene of snowy mountains. But don't worry, the perseverance pays you off.
Annapurna Circuit trekking is an amazing trekking experience. A special feature here is the Tibetan tradition and culture in Manang and Mustang villages, where you can see Nepalese Buddhists. Also, you can see the culture of the hill Hindus in the foothills of the lowland Terai and Midland hills.
Annapurna Circuit Trekking takes you to visit Muktinath, a mutual Buddhist and Hindu temple at an altitude of 3,800 meters. You can understand and learn more about the culture and customs of this highland region when you visit Kagbeni, a popular Himalayan place in Nepal. In this Annapurna Circuit trekking experience, communities like the Thakali, Gurung, and Sherpa are more predominant.
Culture and traditions are different in every country and every region. This is also the case in Nepal, which is known as a multi-cultural country. As you explore different places along the trek, you will acclimate to the different environments and get a better understanding of the area. Above all, it's an adventure!
Save Now, Travel Later with Unlimited Date Changes
Amazing Itinerary with all activities included
Discover Ancient Temples and fascinating culture
Sleep overnight on Floating Bungalows
Explore tropical islands and party on the beach!
Awesome Group Leader
Ready-to-book adventures, personalized
Personal
Make your adventure more youMake your adventure more you - Self join
Group
Enjoy a tour with like minded people - Anyone can join
Private Group
Travel with your group - Only your circle join
Day 01: Kathmandu to Besi Sahar in Lamjung (830 meters)
As soon as you reach 'Tribhuvan International Airport' on the first day of Annapurna Circuit Trekking, our representative will be waiting at the airport to receive you. From there they will take you to a pre-booked hotel. On that day you will have complete rest at the hotel after lunch and preserve your full energy for the next day's trekking.
Day 02 of Annapurna Circuit Trek: Besi Sahar to Bahundanda (1300 meters)
Day 2 of the Annapurna Circuit Trekking Your trekking experience begins at the edge of a terraced paddy field.
There will be paddy fields on both sides of your path. As the trail climbs over the area and over the lush green forest, you will see a river flowing with the freshest water found in the rivers of Kathmandu city. And swoon with bliss.
This route takes you through a subtropical forest. It gives you a glimpse of small villages and rustic settings. Crossing Sera village and reaching Khudi village, you will see the snowy mountain range.
After some time, the peak will not be visible as you go further. Finally, you will gear up for Bahundanda at an altitude of 1300 meters. Thus, you will complete the trek in around 7 hours on the second day.
Day 03: Bahundanda to Chamje (1410 meters)
Similar to the scenic surroundings of the previous day, this day's trek passes through paddy fields and rivers. The journey of Annapurna Circuit Trekking continues along the river's course. It will take you to a village called Jagat.
While tracing the path, you will also see small cascades in the distance. After crossing Jagat village, your trek goes to Chamje. On this day, you will trek for about 6 hours.
Day 04: Chamje to Bagarchhap (2160 meters)
Annapurna Circuit trekking brings you closer to the sight of rhododendron and bamboo forests. After crossing the Mershangdi River on a suspension bridge, you will find Tibetan culture and customs in the form of stone-built houses and flat roofs.
Bagarchap is the first village to welcome you with its Tibetan influence. Your trekking time on this day will be up to 7 hours.
Day 05: Bagarchhap to Chame (2170meters)
On this day of Annapurna Circuit trekking, we continue your trek to cross 'Sail Khola'. Along the way, you will see huge trees of walnuts and apple orchids. During your trek, you can enjoy the amazing views of Lamjung Himal and Annapurna II and IV.
After acclimatizing to the altitude and environment, you will reach Cham village. The entrance to this village is decorated with several prayer wheels and a long wall. The day ends with a 6-hour trek.
Day 06 : Of Annapurna Circuit Trek: Chamje to Pisang (3190 meters)
Leave Chamje and proceed from there to reach Telekhu. The continuation of the trek involves entering the forest to reach Brathang village. In this area, you will come across a giant rock rising 1500 meters above the river.
The route continues to cross the Marshyandi River again on a suspension bridge. After completing the 5-hour trek, treat your tired legs to a walk through the pine forest before resting for the day at Pisang.
Day 07: Pisang to Manang (3540 meters)
This is your sixth day of Annapurna Circuit trekking. Today we take you to Braga village, giving you a clear and concrete experience of 'Tibetan tradition'. There are houses made of stone with the same stone roofs. Shared its yard with them. During your trek, you can witness the beauty of the village, adorned with a statue on a rocky cliff.
Majestic figure and village after arid landscape and strange rocky cliffs in the scene provide you a glimpse of the upcoming geological formation for the best part of this Annapurna Circuit trek. You are now near Manag village in the Himalayas. You can also buy the things you want there.
Day 08: Rest Day
You are tired from seven consecutive days of Annapurna Circuit trekking. And tired. Above all, you have to get used to the environment and the altitude. Considering the needs of the trekkers, this day is scheduled as a rest day. Today, you will visit a nearby village. And then you do your laundry. Or you can even do laundry.
Day 09: Manag to Letdar (4250 meters)
On the 9th day, a new surprise will open in front of you. The landscape and vegetation here give you a different flavor. You will pass through juniper and alpine grass, big trees, and dense forest. You will see herds of yaks and sheep grazing in the hill pastures, which look very attractive and charming despite the low greenery and tall trees.
The trek gives you a taste of the upper Himalayan land. This day, the trek continues for 4–5 hours to bring us to Letdar.
Day 10: Letdar to Thorang Phedi (4450 meters)
This trail looks relatively easy as we walk along the banks of the Jarang Khola to reach Torang Phedi today. Before climbing to the adventurous highest pass of the trek, you can enjoy the sight of blue sheep, yaks, and snow leopards in the rocky hills and sloping grassland.
You will see the Himalayan vulture soaring above the sky during this trek. Also on this day, you will get a chance to see Himalayan griffons barking and running.
Day 11: Thorang Phedi via Thorang la to Muktinath (5416 meters)
When you reach the summit of the pass during Annapurna Circuit Trekking, you will realize how adventurous Thorang La Pass is. And it will be a very exciting and wonderful moment. Considering the fact that if you start late, you may be disturbed by the strong winds there, it is advised to start the trek before sunrise.
As this has been a traditional route to the locale for hundreds of years, you won't be too desperate for a pass. While following the icy path of the pass, you will be amazed by the joy that the surroundings offer you. At the same time, you will find it difficult to breathe due to the rush of cold air there.
Don't worry; this will be part of the adventure. Surprises don't just happen! For that, you have to see some difficulty. Then, finally, you will enjoy some fruitful and incredible moments in your life. Then you will descend to the area of Muktinath.
This sacred temple for both Hindus and Buddhists is the most famous place in Nepal, where water flows from 108 taps. Jwala Mai Temple is in the adjacent distance. It produces light from natural gas produced underground. Wow, this day consisted of a nine-hour trek.
Day 12: Muktinath to Jomsom (2665 meters)
As soon as you arrive at Muktinath, you won't want to leave this sacred Himalayan hermitage. You will be mesmerized by the serenity and divinity that this place presents to you. Although the feeling of Muktinath's blessings cannot be surpassed by any place on the entire trail, you definitely want to visit a place called Kagbeni.
Due to its ancient connection and relationship with Tibet, it has full cultural influence over Tibet. To enhance your understanding of Tibetan culture, you must visit Kagbeni when you are near it.
The trail goes through Kagbeni to Kali Gandaki Gorge. Make sure you almost fill your collection by capturing the amazing and stunning beauty of nature and the richness of culture, and capture your own adventurous trek in video or photo form.
Finally, further down the hike, you will reach Jamsam, another popular spot on the trek. You will trek for 6 hours this day before arriving at Janara Jamboree Junction.
Day 13: Jomsom to Pokhara
Today is your 14th day with the Annapurna Circuit Trekking Team. Today, you will reach Pokhara. Now we will take you directly to Pokhara by plane.
It may be time to rest your tired legs and body. And social media, giving your fingers time to connect with family and friends. (That is, you can share photos and videos of the train on social media.) Pokhara is the best place for paragliding. Keeping this point in mind, you will enjoy the panoramic view of Pokhara on this day.
Day 14: Last Day of Annapurna Circuit Trek
Coming to Nepal today, you will come back to the place where you first landed. You will finally reach Kathmandu after soaking up and reminiscing about the incredible and unforgettable parts of the trek. Our heartfelt thanks to you for being a part of this awe-inspiring trek with the best hope and happiness.
We are very much looking forward to welcoming you again for the most mind-blowing and majestic trek in the sacred Himalayan land of Nepal.
We provide you the bed and breakfast. Accommodation will be shared by two people. However, you can book for the single room with extra charge.
The overland transport will be held on tourist coach as per the itinerary and size of the group.
The applicable fee for the Trekking, National Park and Conservation center will be covered.
We offer you a welcome group dinner
The wages, meals, and transportation of our trekking staff (guide) will be arranged.
We also have included a comprehensive medical kit and service of guide.
Pick-up/Drop from/to the airport.
The visa fee you would have to pay for travel, medical insurance and airport tax.
The meals of your personal interest will not be offered in our expense.
We would also not provide personal sleeping bags and bags.
The charge applied in case of emergency evacuation by any means of transport would not be included.
The charge for accommodation in Kathamndu in you early arrival before the trip will not be included and also the late departure. Moreover, the early departure from trek will also not included in our expense.
We also don't include the cost of international flights.
The trip doesn't offer the travel and rescue insurance.
We also don't include the phone calls, laundry, bar bills, battery recharge, extra poter etc.
We also don't offer tips for guides and porters, you can give them yourself if you like to give.
1st Group: 1st of every month
2nd group: 15th of every month
Annapurna Circuit Trek
Trip Cost
Destination: Annapurna Circuit Trek
Min-pax: 1-15
Accommodation: 2 or 3 star level
Duration: 14 days
Max altitude: 5416m
4.6 Star Out of 5
"Best Trek of my life; out of the world experience."
Fill the form  for more details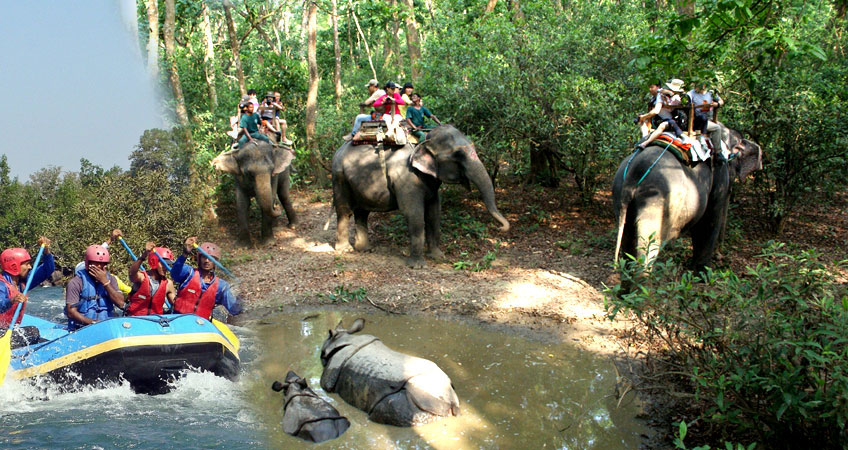 Chitwan Jungle safari in Nepal Chitwan is one of the 77 districts of Nepal and one of the top tourism destinations of the country. It is not wrong to say that Chitwan is the capital of the Jungle safari in Nepal. The country in the Himalayas is covered in forest in...