9 Days VIP Trek to Annapurna
The 9 days 
VIP trek to Annapurna

 

region
 combines two most endearing factors to provide a thrilling trekking experience. This trek incorporates luxury and adventure which gives travelers an ethereal experience. During this trek, find yourself using the best luxury that money can provide and explore the untainted wilderness that money can never buy.
In this 9 days VIP trek to Annapurna region, make your way through the dense rhododendron forests that slowly pave the way to snowy terrain. Enjoy the gorgeous sunrise from the summit of Poon hill and stand in awe at the sheer magnitude of the Annapurna mountain when you reach the Annapurna base camp. Incorporate culture in your trip when you interact with the locals living in Chhomrong and Tadapani.
On this 9-day VIP trek by Annapurna Base Camp Trekking, you will stay in 5-star hotels while in the city. And stay in quality lodges during the trek. Also, you will live in the most comfortable facilities at Annapurna Base Camp Trekking. You will also eat quality food during this trek. You can also choose to eat at your preferred hotel or other restaurants in the city. For all these reasons it will be a VIP trek.
Observing enigmatic views of the Annapurna mountain range from Poonhill
Relaxing at the hot springs near Jhinu Danda
Observing a surreal picture of the Annapurna mountain at the Annapurna Base Camp
Experiencing quality accommodation and facilities during the trek
Interacting with the Gurung people in Tadapani and Chhomrong
Ready-to-book adventures, personalized
Personal
Make your adventure more youMake your adventure more you - Self join
Group
Enjoy a tour with like minded people - Anyone can join
Private Group
Travel with your group - Only your circle join
Day 01: Arrival at the Tribhuvan International Airport, Kathmandu
This 9-day VIP trek to Annapurna begins when you arrive at Kathmandu's Tribhuvan International Airport. In the arrivals section, our staff will be waiting for you. And they will transfer you to the hotel in our private jeep/car. From there they will take you to a five star hotel. You will stay in a five star hotel there today. On arrival at the hotel you will meet our company officials at the five star hotel where you are staying. They will welcome you warmly. Also, you will be briefed about Annapurna Base Camp Trekking and 9 days VIP trek. And take part in a lavish welcome dinner. Tonight you will rest in Kathmandu.
Day 02 : Fly to Pokhara and trek to Ghorepani
This is your 2nd day on Annapurna Base Camp Trekking's VIP trek. On this 2nd morning you wake up early and get ready to catch an early flight. It will take you to Pokhara. The flight takes about half an hour. And it offers stunning views of the Himalayas. After reaching Pokhara, your private jeep will take you to a nice restaurant for breakfast. Accordingly, we drive to the starting point of the "Ulleri" trek. Our team of guides and porters will carry your necessities during Annapurna Base Camp Trekking. You don't have to carry your belongings and trek. Our porters are responsible for your belongings.
Stop for Ghorepani today. To reach here one has to navigate through huge steps and dense forests. The trek usually lasts for 4-6 hours. In the evening we stroll around the village and dine on excellent local cuisine. Overnight stay at Ghorepani.
Day 03: Trek from Ghorepani to Tadapani
Day 3 Wake up early in the morning and head towards Poon Hill to witness the majestic grandeur of the Annapurna range. The bright sunrise and the blue horizon along with the snowy peaks is a beautiful sight to behold. This is the highlight of this 9 day VIP trek to Annapurna region.
After we finish sightseeing, we will make our way to Tadapani. The descending trail takes us through rhododendron forests along pine trees and finally to Tadapani. It is a common rest stop for people exploring the Annapurna region.
For pilgrims of Annapurna Base Camp Trekking, we will arrange for you to stay in the best accommodation this place has to offer. Today you will stay overnight at Tadapani.
Day 04: Trek from Tadapani to Sinuwa
We make sure you get the best breakfast on Annapurna Base Camp Trekking's VIP trek. After you finish breakfast here, we will leave for Sinua. Along the way our companions come along to take care of your needs till you reach Annapurna Dakshina and Hinchuli mountain. Now you proceed along the river Ghurjung and don't forget to click pictures on the suspension bridge!
Find yourself carefully crossing the terraced fields at Chomrong and once you pass the stone steps, we reach Sinua. We are now on the main road to Annapurna Base Camp. You will spend the night at a wonderful lodge in Sinua.
Day 05 : Trek from Sinuwa to Deurali
From today the road will see a sudden increase in elevation. So we advise you to tread carefully. Carefully walk with our guides through rhododendron forests that slowly fade with increasing altitude.
Walk along the Modi river basin. And you will enjoy the stunning view of Annapurna range, Dhaulagiri and Macchapucchre. After 4-5 hours trek we reach Deurali. After reaching Deurali take a much deserved rest. Because, the roads ahead will be even tougher. This is where you will stay tonight.
Day 06 : Trek from Deurali to Annapurna Base Camp
On this 9-day VIP trek to the Annapurna region, which is today the Annapurna Base Camp, we will visit an important landmark. To reach here we have to pass through Machapuchar Base Camp. That itself is a natural phenomenon.
The climb to base camp is cold, frosty and difficult. Once we reach the base camp, we can enjoy the splendor of Annapurna mountain. If you are lucky you can even see helicopters. We will stay at base camp for some time and then we will proceed to Deurali. We will spend the night at Deurali itself.
Day 07: Trek from Deurali to Sinuwa
At Annapurna Base Camp Trekking we have trekked with you for so long. But from today, the 7th day, we begin the journey back with you. The road now sees us walking downhill most of the time. Remember to tread carefully as walking down is comparatively more difficult. Walk past bamboo forests inhabited by exotic creatures. And take rest while descending. After we reach Sinua, we rest at the lodge. And indulge in a delightful meal. You will stay overnight at Sinua.
Day 08:Trek from Sinuwa to Jhinu Danda
Day 8 of this 9 days VIP trek of Annapurna Base Camp Trekking is long and relatively difficult. Today you will walk past terraced farms and hills. As we continue we can view Modi River. After walking for at least a day we reach Jinu Danda. There is a hot spring near Jinu Danda. It is a good place to relax. Enjoy a cold beer while relaxing in the hot spring! Arrangements are made for overnight stay at Jinu Danda.
Day 09 : Trek from Jhinu Danda to Pokhara and fly to Kathmandu
This morning once you have your breakfast, take a short drive to Siwai. Siwai is a bus stand. Our private vehicle will be waiting for you there. This will take you to Pokhara. Enjoy a hearty lunch in Pokhara and catch a flight to Kathmandu. After arrival in Kathmandu transfer to your hotel and decide next step. We believe that after you finish trekking, you will share positive thoughts about Annapurna Base Camp Trekking with your friends.
We provide you the accommodation which will be shared by two people. However, you can book for a single room with extra charge.
We will also bear the cost of a domestic flight that will be traveled for the trip.
The overland transport will be held on tourist coach as per the itinerary and size of the group.
The applicable fee for the Trekking, National Park and Conservation center will be covered.
Three meals in a day include breakfast, lunch, and dinner which will be provided.
We offer you a welcome group dinner in an authentic Nepali restaurant with cultural show.
The wages, meals, insurance and transport allowance of all trekking staff and porters will be arranged.
We also can arrange the planning for the place of interest in the city accompanied by the city guide.
We also have included the comprehensive medical kit and service of guide and porters.
We also help you to reconfirm your international flight.
Pick-up/Drop from/to the airport.
The visa fee you would have to pay for travel, medical insurance and airport tax.
The meals of your personal interest will not be offered in our expense.
We would also not provide personal sleeping bags and bags.
The charge applied in case of emergency evacuation by any means of transport would not be included.
The charge for accommodation in Kathamndu in you early arrival before the trip will not be included and also the late departure. Moreover, the early departure from trek will also not included in our expense.
We also don't include the cost of international flights.
The trip doesn't offer the travel and rescue insurance.
We also don't include the phone calls, laundry, bar bills, battery recharge, extra poter etc.
We also don't offer tips for guides and porters, you can give them yourself if you like to give.
Trek To Annapurna
Trip Cost
Destination:

Kaski, Lamjung, Manang

Min-pax: 1-15
Accommodation: 2 or 3 star level
Duration: 9 days
Difficulty level: moderate
Max altitude: 4200m
Religions: Hinduism and Buddhism
Local residents: Tamang, Brahmin, Chhetri, Gurung
Transportation: Private vehicle and airplane
4.6 Star Out of 5
"Best Trek of my life; out of the world experience."
Fill the form  for more details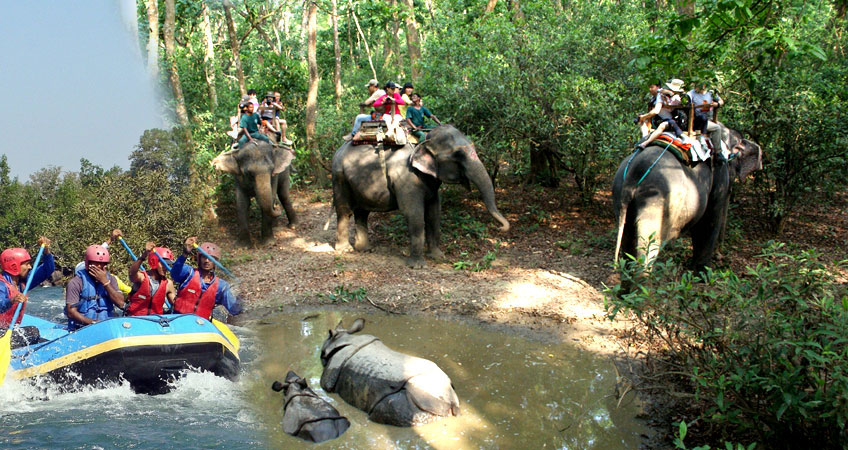 Chitwan Jungle safari in Nepal Chitwan is one of the 77 districts of Nepal and one of the top tourism destinations of the country. It is not wrong to say that Chitwan is the capital of the Jungle safari in Nepal. The country in the Himalayas is covered in forest in...