One Week Sunrise Tour Nepal
Nepal is very rich in natural resources. It has many viewpoints like Mountain View, riverside view, sunrise and sunset view. In sunrise tour Nepal, you are going to take part in sunrise and sunset view of Nepal. You can see close sunrise of the different mountains from these places.
Our sunrise tour Nepal starts from the first day when you arrive at Nepal we will arrange your accommodation.
You can see the sunrise from three different points which are located in different places. Also, you can observe the beauty of more than 10 mountains including Mt. Everest, which is the highest peak of the world, from the most popular view points.
Advantages of Sun Viewing
Sun rising is the sign of the beginning of one more new day so it has a lot of benefits which we ignore every day. First, this is the symbol of awaking from the darkness. viewing of the sun is itself was therapy in ancient times. Viewing the sun when it rises has a lot of advantages but we are informing you here some of them.
Peace
When we see the rising sun deeply we find peace inside. We get rid of every thought that we hold in our minds. We become free from all tensions when we watch the rising sun.
Beauty
Sun is the great source of beauty when it rises on the mountains, trees and grounds. It gives extra brightness in every natural thing.
Gratefulness
When we get up in the morning, we feel such gratefulness that we are alive. We have one more new day to be lived. This is the way to change our perspective into positive from negative. So, the rising sun gives us inspiration.
Healing
Sun gives us vitamin D. Vitamin D is the source of the hormones which increase our happiness and satisfaction. Sunlight is good for our nervous system by which we can be more active and creative. It helps to be strong inside & also helps to prevent depression.
Why is this sunrise tour Nepal for you?
This tour is very effective to enjoy the different beautiful sights in one travel. We have managed this tour for those who want to see the very special part of the natural beauty of Nepal in a short period of time which helps you to have a lot of enjoyment in your life.
Ready-to-book adventures, personalized
Personal
Make your adventure more youMake your adventure more you - Self join
Group
Enjoy a tour with like minded people - Anyone can join
Private Group
Travel with your group - Only your circle join
Day 01: sunrise tour Nepal
We will accommodate you in Kathmandu in any suitable Hotel. You will take information about the whole program of the tour by the management team. On this day you will manage your documents. That day will be your curious day for your tour which will be started after some hours.
Day 02: sunrise tour Nepal
On the second day you will see the sight of Kathmandu and some part of Bhaktapur. 2nd day is a special tour for Nagarkot which is very famous place for Sunrise view of the Himalayas. It is most scenic place of Bhaktapur.
Nagarkot is located 32 km east from Kathmandu, in Bhaktapur District. We can see the sunrise view of Mt. Everest and other peaks of the eastern part of Nepal. We can see the panoramic view of Kathmandu Valley and Shivapuri National Park.
It is at the height about 2000 m from the level of sea. Out of 13 Himalaya ranges we can see 8 ranges from Nagarkot. It is also one of the most popular hiking spot of Nepal.
Day 03: sunrise tour Nepal
We will continue our tour to Bandipur on second day. It takes around 5 hours to reach Bandipur from Kathmandu.
Bandipur is a very beautiful hilly place of Nepal which is situated in Tanahun district. It is 143 km far to the west from Kathmandu & is very rich in cultural heritage and architecture which are in original form. Bandipur was also the trade route of Tibet and India after Prithvi Narayan Shah unified Nepal.
It is the place which is gifted for Natural beauty. From this place we can see many green forests and snow covered White Mountains.
Day 04: sunrise tour Nepal
On fourth day of sunrise tour Nepal, you will move to Pokhara from Bandipur. Pokhara is the city of Lakes, caves and mountains. Pokhara has many lakes but the most famous one is Phewa Lake. From this lake we can see the shadow of Annnapurna and Machhapuchhre mountains.
This is the best place for boating. it is also very famous for caves. There are two famous caves, Mahendra cave and Bat cave. Gupteshwor cave and David's falls are located just opposite direction. Both places are very attractive destination to visit.
Day 05: sunrise tour Nepal
On this day we start to visit Sarangkot which is 10 km far from Pokhara city.  It is the most popular destination of many tourists.
A lot of foreigners visit every year for their repose by viewing the best sight of the mountains with the glowing of the sunshine on the white snow colored peak of Machhapuchhre and Annapurna Mountains.
We can see the sights of many mountains which can hypnotize us.
Day 06: sunrise tour Nepal
in 6th day, we depart from Pokhara to Kathmandu. Your last night in Nepal will be memorable throughout your life.
Day 07: sunrise tour Nepal
On the last day of your sunrise tour in Nepal, You will leave the land of Mountains with hand full of satisfaction.
We provide you the bed and breakfast. Accommodation will be shared by two people. However, you can book for the single room with extra charge.
The overland transport will be held on tourist coach as per the itinerary and size of the group.
The applicable fee for the Trekking, National Park and Conservation center will be covered.
We offer you a welcome group dinner
The wages, meals, and transportation of our trekking staff (guide) will be arranged.
We also have included a comprehensive medical kit and service of guide.
Pick-up/Drop from/to the airport.
The visa fee you would have to pay for travel, medical insurance and airport tax.
The meals of your personal interest will not be offered in our expense.
We would also not provide personal sleeping bags and bags.
The charge applied in case of emergency evacuation by any means of transport would not be included.
The charge for accommodation in Kathamndu in you early arrival before the trip will not be included and also the late departure. Moreover, the early departure from trek will also not included in our expense.
We also don't include the cost of international flights.
The trip doesn't offer the travel and rescue insurance.
We also don't include the phone calls, laundry, bar bills, battery recharge, extra poter etc.
We also don't offer tips for guides and porters, you can give them yourself if you like to give.
1st Group: 1st of every month
2nd group: 15th of every month
Fill the form  for more details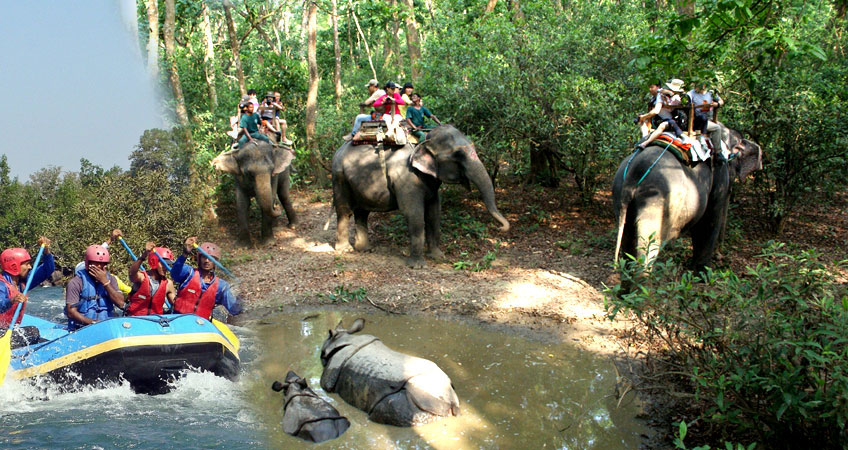 Chitwan Jungle safari in Nepal Chitwan is one of the 77 districts of Nepal and one of the top tourism destinations of the country. It is not wrong to say that Chitwan is the capital of the Jungle safari in Nepal. The country in the Himalayas is covered in forest in...