7 Days Mountain Bike Tour in Nepal
The 7-days mountain bike tour is custom built so that travelers can fully explore the many mysteries that lie hidden in the periphery of Kathmandu valley.
This cycling trip will take you on a roller coaster journey that covers many highs and lows of Kathmandu. Once this trip is completed, you will find yourself craving for more and with a deeper understanding of how nature and culture work.
In this 7-days mountain bike tour, you will head out to explore the periphery of the Kathmandu valley. Find yourself in the vicinity of the Kakani and Palanchok hill admiring the splendor of the frosty mountains.
Embark on a religious awakening at Budhanilkantha temple and Balthali. A complete package of nature, culture, and traditions makes this trip unparalleled and exciting.
For people that need a certain excitement in their life, this 7-days mountain bike tour is the tour to take.
During this 7-days mountain bike tour, you will reside in hotels and lodges. This trip takes place in major cities like Kathmandu, Bhaktapur, and Lalitpur so you won't have any problem in finding suitable accommodation. In the case of food, you can choose to eat either at the hotel or in the many restaurants that the city has.
Cycling through the beautiful countryside till Budhanilkantha
Observing the Ganesh Himal and Langtang mountain range from Kakani
Visiting the Godawari Botanical Garden
Observing Newari architecture, culture, and traditions in Balthali
Visiting the religious Palanchok Bhagwat temple and observing the glorious mountain view from there
Ready-to-book adventures, personalized
Personal
Make your adventure more youMake your adventure more you - Self join
Group
Enjoy a tour with like minded people - Anyone can join
Private Group
Travel with your group - Only your circle join
Day 01: Arrive at the Tribhuvan International Airport, Kathmandu
The 7 days mountain bike tour commences the moment you set foot in the Tribhuvan International Airport in Kathmandu.
Our guide will be waiting for you at the arrivals section and he shall be responsible for transferring you to your hotel.
At the hotel, interact with the company representatives, and take part in welcome dinner. Overnight in Kathmandu.
Day 02: Cycle from Kathmandu to Kakani
The cycling journey or mountain bike tour starts today. You will ride a standard mountain bike and pedal your way through the bustling city to reach Kakani. Kakani is a quaint hill station that sits near Kathmandu.
We shall pedal past the Nagarjun forest and observe a trout farm too. The trip is mostly uphill and takes about 4 hours.
Finally, we reach the summit and observe glorious views of the Ganesh Himal and Langtang mountain range. Overnight in Kakani.
Day 03: Mountain Bike Tour: Cycle from Kakani to Budhanilkantha
Your legs might be sore from yesterday's cycling so be sure to stretch properly. Today, we shall embark on Budhanilkantha. The road takes us along well-paved roads filled with greenery.
We shall pass through the Shivapuri National Park and if we are lucky, we can observe wild animals too. In the afternoon, we finally arrive at the Budhanilkantha temple. It is dedicated to Lord Vishnu.
After having lunch, proceed to your hotel and take a well-deserved rest. Overnight in Kathmandu.
Day 04: Drive to Nagarkot via private vehicle and cycle from there to Palanchok
The 4th day of the Mountain bike tour is divided into two parts. Initially, we head to Nagarkot via a private vehicle.
It takes about 2 hours (depending upon traffic conditions). From there, we begin our cycle ride to Palanchok Bhagwati temple.
We shall cycle through paddy fields and quaint farms to arrive at the base of the Palanchok hill.
From the base, it is 9 km ascent to the summit of the hill where the Palanchok Bhagwati temple sits. Visit the temple, pray, and head down to Dhulikhel where you shall spend the night. Overnight in Dhulikhel.
Day 05: Cycle from Dhulikhel to Balthali
The road to Balthali is mostly flat. As we cycle further, we can observe the amazing architecture of ancient houses and countless temples.
These temples date back to hundreds of years and tell a story about the culture and traditions of the Newari community. Balthali sits behind a small forest in Panauti and provides natural awakening as well.
The 5th day of the Mountain Bike tour is relatively short. Interact with the locals and learn more about their culture. Overnight in Balthali.
Day 06 : of Mountain bike tour: Cycle from Balthali to Lakure Bhanjyang
Lakure Bhanjyang is a quaint picnic destination near Kathmandu. Also, it is a great place to witness amazing views of the mountains and hills.
We shall cycle through the pristine forests of Phulchowki hill to reach Lakure Bhanjyang. This cycle ride encompasses a lot of natural scenery and beauty.
Interact with the locals in the Godavari to understand their way of life and culture. Overnight in Lalitpur.
Day 07: Drive from Lakuri Bhanjyang to your hotel and departure
Wake up early and head to your hotel in Thamel and after collecting your stuff, our representative will drop you off at the Tribhuvan International Airport. We hope that you had a wonderful time with us and we hope to see you again.
We provide you the bed and breakfast. Accommodation will be shared by two people. However, you can book for the single room with extra charge.
The overland transport will be held on tourist coach as per the itinerary and size of the group.
The applicable fee for the Trekking, National Park and Conservation center will be covered.
We offer you a welcome group dinner
The wages, meals, and transportation of our trekking staff (guide) will be arranged.
We also have included a comprehensive medical kit and service of guide.
Pick-up/Drop from/to the airport.
The visa fee you would have to pay for travel, medical insurance and airport tax.
The meals of your personal interest will not be offered in our expense.
We would also not provide personal sleeping bags and bags.
The charge applied in case of emergency evacuation by any means of transport would not be included.
The charge for accommodation in Kathamndu in you early arrival before the trip will not be included and also the late departure. Moreover, the early departure from trek will also not included in our expense.
We also don't include the cost of international flights.
The trip doesn't offer the travel and rescue insurance.
We also don't include the phone calls, laundry, bar bills, battery recharge, extra poter etc.
We also don't offer tips for guides and porters, you can give them yourself if you like to give.
Mountain Biking start dates
Terrain type: Hills
Location: Kathmandu, Lalitpur, Bhaktapur
Difficulty level: moderate to difficult
Time needed: 7 days
Max Altitude: 2100m
Religions: Hinduism and Buddhism
Local residents: Tamang, Newar, Brahmin, Chhetri
Fill the form  for more details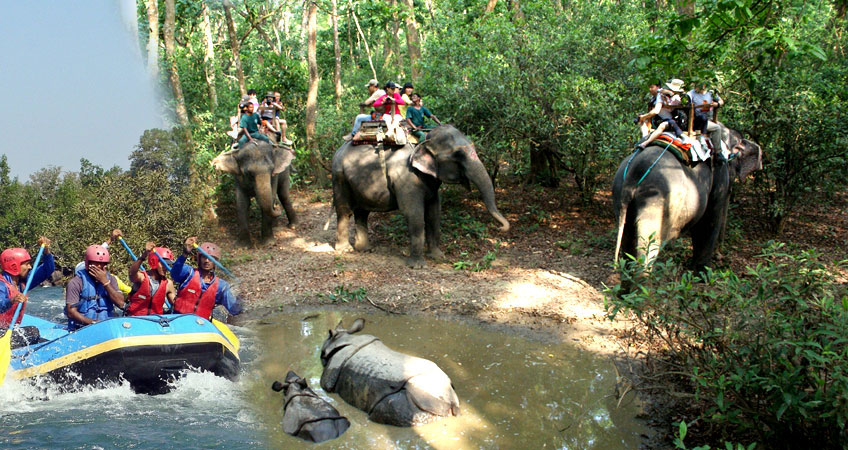 Chitwan Jungle safari in Nepal Chitwan is one of the 77 districts of Nepal and one of the top tourism destinations of the country. It is not wrong to say that Chitwan is the capital of the Jungle safari in Nepal. The country in the Himalayas is covered in forest in...