The 1 week Chitwan tour Nepal will take you to the most beautiful place in the Terai region, Chitwan. This quaint town is home to the exotic Chitwan National Park which houses a plethora of wild animals and birds.
During this tour, you will get an opportunity to interact with nature and witness these animals from a close perspective.
During your time in Chitwan, you will take part in activities like jungle safari, jeep safari, and boating. These activities are a great way to find out the secrets of nature and to be one with them.
It is equally important to learn about the locals too. So, you will take part in a Tharu cultural program too where you will familiarize yourself with the Tharu lifestyle.
The Chitwan tour in Nepal is a great way to spend your holidays and to learn something new about nature, culture, and life.
During this 1-week Chitwan tour Nepal, you will stay in hotels. Chitwan and Kathmandu are equipped with great hotels that have great food services as well. Or, you can choose to eat in the many restaurants that are available.
Visiting the beautiful 20,000 lakes
Walking through the tranquil Chitwan National Park and understanding the beauty of nature
Boating along the Rapti river and observing gharials and fishes
Observing exotic animals like the Royal Bengal tiger and one-horned rhinoceros
Learning about the amazing Tharu culture and traditions by partaking in a cultural program
Other Different Package for Chitwan Tour
In case you don't have 1 week, we also have some shorter programs for the Chitwan tour which you can utilize as short 
wildlife watching holiday in Chitwan, Nepal.

 

We provide all cost details and Itinerary on your inquiry time.
2 nights 3 days Chitwan Tour
3 night 4 days Chitwan Tour
5 nights 6 days Chitwan Tour
Upon your request, we also provide a
yoga retreat
course and
Ayurveda retreat
course in coordination with our sister organization. Let us know if you are interested. We provide all spiritual retreats, healing, and training courses including yoga, Ayurveda,
singing bowl training
, and
reiki healing
.
Ready-to-book adventures, personalized
Personal
Make your adventure more youMake your adventure more you - Self join
Group
Enjoy a tour with like minded people - Anyone can join
Private Group
Travel with your group - Only your circle join
Day 01: Arrival at the Tribhuvan International Airport, Kathmandu
As with all the treks and tours in Nepal, the Chitwan tour Nepal commences once you arrive at the Tribhuvan International Airport, Kathmandu. Our representative will be there at the airport to pick you up and he will transfer you to the hotel.
Take part in a welcome dinner/lunch and meet the company officials to discuss the trip in detail. Overnight in Kathmandu.
Day 02: Transfer to Chitwan via private vehicle
Once you have had breakfast and made your luggage, we shall immediately head out to Chitwan. A private bus will take you to Chitwan via the Prithivi highway and Narayanghat-Mugling highway.
The drive takes about 2-3 hours depending on road conditions. While Kathmandu is cool, Chitwan, on the other hand, is hot and humid.
We shall reside in a hotel in Sauraha and spend the day exploring this beautiful place. For starters, we shall head to the Rapti river and indulge in boating. Sit on a canoe and proceed along the river. Be on the lookout for gharials and other fishes too! Overnight in Chitwan.
Day 03: Visiting the Chitwan National Park
The major activity of this Chitwan tour in Nepal is visiting the revered Chitwan National Park. The park is home to exotic creatures like the Royal Bengal tiger, leopards, elephants, and one-horned rhinoceros.
We shall take a safari walk in the park which lasts for normally half a day. After completing it, we shall have lunch and visit the Tharu community that lives on the outskirts of the park.
Interacting with them provides an amazing opportunity to learn about their culture. Overnight in Chitwan.
Day 04: Exploring the Chitwan National Park
A single day is not enough to fully explore the mysteries of the Chitwan National Park. As a result, we shall explore this park today too. In the morning, we will take a jeep safari and explore the park.
You can observe elephants and even rhinos if you are lucky. Later, we shall head out to the Elephant breeding center and play with elephants. You have the option of washing them but to do it or not totally depends on you.
In the evening, you can observe the Tharu cultural dance and understand more about their culture and way of life. The Tharu culture makes the Chitwan tour Nepal highly appreciative. Overnight in Chitwan.
Day 05: Visit bis Hajar taal and head back to Kathmandu
The bis Hajar taal or twenty thousand lakes is a romantic and delightful getaway in Chitwan. It sits about 30-40 minutes away from Chitwan and we shall head there early in the morning.
Admire the beautiful lakes and you can choose to have your breakfast there. After breakfast, head back to the hotel, collect your stuff and check out of the hotel.
Finally, we head back to Kathmandu. The drive may take somewhere between 2-4 hours. The Chitwan tour Nepal is coming to an end. Overnight in Kathmandu.
Day 06: Kathmandu valley sightseeing
The Kathmandu valley has so much to offer. Today, we shall take it upon ourselves to explore the major landmarks of this city. We shall make a visit to Kathmandu Durbar Square, Patan Durbar Square, and if possible, the Bhaktapur Durbar Square too.
These Durbar Squares were built in ancient times and are a prime example of what Malla architecture looks like. We shall make a visit to Swoyambhunath stupa to comprehend Buddhism. Overnight in Kathmandu.
Day 07: Final departure
Today is the end of the Chitwan tour in Nepal and our representative will drop you off at the Tribhuvan International airport. We hope that you had a wonderful time with us.
We provide you the bed and breakfast. Accommodation will be shared by two people. However, you can book for the single room with extra charge.
The overland transport will be held on tourist coach as per the itinerary and size of the group.
The applicable fee for the Trekking, National Park and Conservation center will be covered.
We offer you a welcome group dinner
The wages, meals, and transportation of our trekking staff (guide) will be arranged.
We also have included a comprehensive medical kit and service of guide.
Pick-up/Drop from/to the airport.
The visa fee you would have to pay for travel, medical insurance and airport tax.
The meals of your personal interest will not be offered in our expense.
We would also not provide personal sleeping bags and bags.
The charge applied in case of emergency evacuation by any means of transport would not be included.
The charge for accommodation in Kathamndu in you early arrival before the trip will not be included and also the late departure. Moreover, the early departure from trek will also not included in our expense.
We also don't include the cost of international flights.
The trip doesn't offer the travel and rescue insurance.
We also don't include the phone calls, laundry, bar bills, battery recharge, extra poter etc.
We also don't offer tips for guides and porters, you can give them yourself if you like to give.
1st Group: 1st of every month
2nd group: 15th of every month
Fill the form  for more details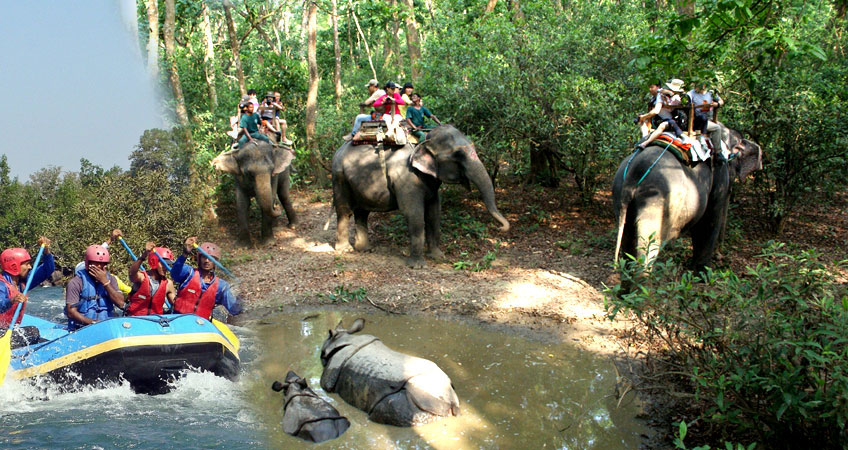 Chitwan Jungle safari in Nepal Chitwan is one of the 77 districts of Nepal and one of the top tourism destinations of the country. It is not wrong to say that Chitwan is the capital of the Jungle safari in Nepal. The country in the Himalayas is covered in forest in...