Arun Valley Yoga Trekking
Nepal is a beautiful country located in South side of Asia. It is a landlock country that lies between the giants, India, and China. Nepal is relatively small in size compared to the largest nation and the number of people living in it are also fairly average. However, despite its size and no asceses to the sea, the country is filled with the beauty no one can compete. Despite being, little is area, it consists of the spectacular range of topography, variety of wild animals and most beautiful natural resources. The country is home to most of the highest peaks in the world. Nepal is also famous for its high-altitude trekking routes. It has many beautiful routes that are the major tourist attraction of the local and foreign tourists. Among, the many trekking routes there is Arun valley trekking, which is unique to all.
The valley lies between the Mount Everest and Mount Makalu. We all know that Mount Everest (8849m) is the highest mountain in the world. However, people may not know Mount Makalu (8463m) is the fifth highest mountain in the world. People sign up for Arun valley trekking for its abundance in the wildlife, flora and fauna and the amazing view of the mountain range.
Arun valley trekking is not as famous as the other commercialized trekking routes of Nepal like that of Annapurna base camp, Macchapuchre base camp, Mardi Himal trekking etc. However, Arun valley trekking in no sense inferior to any of the popular trekking routes of Nepal. Arun valley trekking is becoming increasingly popular in recent days due to its serene environment and magnificent views.
Mount Everest, Mount Makalu, Mount Baruntse, Mount Lhotse, Mount Themserku, Mount Amadblam are some of the Mountain range that can be seen during Arun valley trekking. The area also home to various wild animals and birds. Also, during the Arun valley trekking, if you are lucky enough you can see the rare species of animals and birds. Mountain goats, red panda, snow leopard are some of the rare animals that can be seen.
During the Arun valley trekking, the trekkers go through various settlements. The area is native to Sherpas, limbu and Rai, they have numerous villages in the valley. Their unique way of living, amazing culture, and heart felt hospitality can be felt during Arun valley trekking.
Arun valley is the deepest valley of the world and it is very famous for bird's habitats. We can find 650 species of birds and 800 species of butterflies in this valley. This valley lies between the Sagarmatha National Park (where Mt. Everest stands) and Makalu Barun National Park. This is a very beautiful yoga trekking destination, where we can enjoy the scene of many mountains such as Mt. Everest, Mt. Makalu, Mt. Lhotse, and Mt. Amadablam etc.
This valley is very rich in Bio-diversity. There are a lot of species of trees and the most unavoidable part of this place is that this place is the shelter of rare and endangered animals Red Panda and snow leopard. There are a lot of wildflowers and many medicinal plants.
More on Arun valley Trekking…
Arun valley yoga trekking is like a blessing in our life because we can observe the most beautiful scenes of the world and hundreds of mountains. Grasslands and jungles are followed in our yoga trekking route. There is a deep gorge in Arun Valley where we decent during our yoga trekking. We can see white snow-covered mountains on the way.
We can enjoy the peace and calmness during this Arun Valley Yoga Trekking. For this yoga trekking, we need to have strong stamina for grasping full benefits of this yoga trekking because we have to reach more than 4110m high altitude during our yoga trekking. Really, this is a non-touristic area so it is generally a very calm place comparing to other yoga trekking area.
Arun Valley yoga trekking is also remarkable in the cultural aspect. In this reason, we find the inhabitant of Sherpa, Rai and Limbu etc. ethnic communities. We can see their different traditional and ritual functions. They have many festivals and dances according to their ethnicity.
For Arun Valley yoga trekking, we will start our flight from Kathmandu to Tumlintar Airport which lies east from the Mt. Everest. Tumlingtar is the beginning point of our real trekking.
Exploring the culturally rich Tengboche and Dingboche monastery
Observing the surreal sunrise from Kalapatthar
Visiting the base of the world, Everest Base Camp
Observing the religious Khumjung monastery
Cultural awakening in the major UNESCO World Heritage Sites in Kathmandu
Walking on the frosty, prayer flag laded terrain
Ready-to-book adventures, personalized
Personal
Make your adventure more youMake your adventure more you - Self join
Group
Enjoy a tour with like minded people - Anyone can join
Private Group
Travel with your group - Only your circle join
Day 01:
First day of Arun valley trekking, starts with the flight from Kathmandu to Tumlingtar. The flight time from Kathmandu to Tumlingtar is about one hours.
Day 02:
The goal of day 2 is to reach Chyawabesi from Tumlingtar. The average time to reach the destination is 4 to 6 hours depending on the traveler's ability to hike. The travelers go through eastern bank of arun river, and through Kumal village.
Day 03:
The destination of day 3 is Kothe. The hiking time of day 3 is also about 4 to 6 hours. The trail is through banana farms and rice fields. The night is spent at kothe.
Day 04:
Day 4 is spent by travelling to salpa phedi(1680m) from kothe. It takes the travelers 4 to 7 hours to reach there. The estimated time is calculated with adding frequent resting breaks as well as slow steady walking. Villages like Tendor and tallo phedi, are passed and visited to reach the final destination of day 4.
Day 05:
The final destination of day 5 is sanam (2580m). The path that is taken to rasch sanam is through Guranse. The path goes through dense rhododendron forest with beautiful streams and some villages.
Day 06:
Sanam to Bung is the destination of the sixth day of Arun valley trekking, Bung is situated at the elevation of 1900m. The walk to Bung is almost 4 to 6 years on average. Oak, pine and rhododendron forest is passed during the trek. Gudel, sorug village is passed by the trekkers to reach the village of Bung.
Day 07:
The trekkers wake on day 7 to go to Gaikharka from Bung. The way to gaikharka is filled with fields for grazing the cows. Najindigma is the village that comes on the way to reach Gaikharka. The night is spent at Bung village.
Day 08:
Gaikharka to puyian is the schedule of the 8th day of Arun valley trekking. The hike to puyian takes about 5 to 6 hours from Gaikharka.
Day 09:
The trekkers wake on the 9th day to reach Phakding. Phakding is located at 2830m from the sea level. About 4 to 5 hours walking in the day is required to reach Phakding. Kusum Kangaru, Thamserku are the two amazing views that are seen from Phakding.
Day 10:
The 10th day of Arun valley trekking, start with setting the goal to reach Namche Bazar. Namche bazar is located at the elevation of 3840m. 4 to 6 hours of walk is enough to go to Namche bazar from Phakding.
Day 11:
This day is for resting and visiting Namche Bazar. Namche Bazar is also called as the gate way to Mount Everest. Namche Bazar is popular for many things and is a major tourist destination as every people who go to Everest base camp or Mount Everest must pass from here. Mount Everest, Mount Lhotse, Mount Amadablam, Mount Changaste, Mount Kantega, Mount Thamserku are some of the mountain and mountain range that are visible from Namche Bazar. Mojorly, Namche bajar is famous for Everest view hotels. You can either do shopping in Namche for the entire day and sightseeing or just rest.
Day 12:
The goal of day 12 of Arun valley trekking is to reach Phortse village from Namche Bazar. It is located at the elevation of 3890m with the walk of about five to seven hours. The night is spent at Phortse. 
We will go to Tarke khola from where we can see the beautiful scene of Kusum-Kangru 6,369m. We will enjoy our trip with a lot of scenery on the way. Finally, we will be at Phakding village and we will spend our overnight on the bank of the Dudh Kosi River. Our overnight will be in Phakding.
We will practice Pranayam and Meditation in the evening.
Day 13:
Pheriche is the destination of day 13, from Phortse. The walk takes about 5 to 6 hours. The estimated time also varies from person to person and their travelling ability.The night of day 13 is spent at Pheriche.climb Mount Everest. There are a lot of houses and lodges. Our overnight will be in Namche Bazaar.
We will practice Pranayam and Meditation in the evening.
Day 14:
At day 14 of the Arun valley trekking, the trekkers need to walk about 5 hours to reach Lobuche village. Lobuche is situate at the elevation of 4910m from the sea level. Lobuche is the name of the mountain that is close to the Khumbu glacier and Lobuche village.
Day 15:
The goal of day 15 is to go to Gorakshep. Five six hours of walking is required to reach Gorakshep. Gorakshep is a small settlement in the remarkably high altitude. It consists a frozed lake bed with sand, with the same name Gorakshep. The night is spent on the village. 
Nuptse and Mt. Lhotse are also the attracting scenery which can be seen from this point. We will visit monastery and observe the prayer of the monk which creates perfect harmony and peaceful mind. Our overnight will be in Thyangboche.
We will practice Pranayam and Meditation in the evening.
Day 16:
Day 16 is having much adventures planned for the trekkers. The trekkers wake early in the morning to walk their way to Kala patthar. Kala patthar in english means black rock. It is the View point to watch the mountain ranges up close. Mount Everest, Mount Lhotse, Mount Nuptse, Mount Pumori, Mount Amadablam, Mount Kantega, Mount Kusum Khagaru etc. are some of the mountain and mountain ranges that are visible from Kala patthar. Kala Patthar is not the final destination of the day. After visiting Kala patthar, the trekkers need to go to Dingboche. The time required to reach Dingboche is about four to six hours. The night is spent at Dingboche.
Day 17:
Day 17th of Arun valley trekking, starts and the trekkers set their sight to reach to Tyangboche. Tyangboche is about five to six hours walk from Dingboche. Tyangboche village if famous for a monastery. The monastery is named after the village and is called Tyangboche monastery. The night is spent at Tyangboche.
Day 18:
At day 18 of our Arun valley trekking, we will be returning to Namche Bazar again. The night is spent at Nache Bazar.
Day 19:
This day is the penultimate day of our Arun valley trekking.Namche Bazar to Lukla is the schedule of day 19. It takes about five to eight hours of walk to reach Lukla from Namche Bazar. The night is spent at Lukla.
Day 20:
It is the last day of Arun valley trekking, we will end our journey by returning to Kathmandu from Lukla airport. It takes about half an hour to reach Kathmandu from Lukla.
After arriving to Kathmandu our Arun valley trekking, has officially ended. However, this may not be the end of the journey. If you return to Kathmandu from Lukla in the morning you still have a full day ahead to do many things in Kathmandu. Also, if you are tired from the journey, you can use the remaining time of the day to rest.
If you decided to take your time to visit some places of Kathmandu valley you will be seeing much more. If you have extra days, that you can add to your holidays then you can visit all the places in valley with ease and thoroughly. However, even if only that day is available, you must pick some of the places.
In your 20 days, Arun valley trekking you have seen the nature only. Now, it is your time to see the art and culture of the Kathmandu valley. Kathmandu valley have seven UNESCO world heritage site in its premise alone. Aside from this there are more awesome places to visit. You can use your time for shopping in Thamel or New Road to buy souvenirs to remember Nepal.
How difficult is Arun valley trekking?
Arun valley trekking may be little bit difficult to the people who are just beginning their adventure as the trekkers. The difficulty level is average; however, the length of the trek may make it difficult for some trekkers.
The trekkers who have some experience walking in the mountain paths and have a pleasant experience trekking in such long route will have no problem completing the trek.
Another main thing to notice about Arun valley trekking is that it is not popular as the other trekking routes of Nepal such as Annapurna base camp, Mari Himal trekking, Manaslu circuit trek, Annapurna circuit trek. The natural beauty is on par with them, but it is not as popular as other with tourists.
If you have visited other commercialized trekking routes and expecting that level of service, then Arun valley trekking is not for you. Otherwise, you are good to go.
Best time to go for Arun valley trekking
February to May and September to December are the best time to go for Arun valley trekking. However, if you want to enjoy serenity and more people in the tracks will disturb your goal. If that is the case you can also travel there in off season. Monsoon and winter are the off season of the trekking. There will be little bit difficulty than the season, but if you think you can take it you can go for it.
Why choose Arun valley trekking?
– Arun valley provides the best view of the various mountain ranges including Mount Everest and Mount Makalu. It is the one of the best place in the country to watch the various mountain range in the same place.
– The trekking route is very serene and peaceful and it is not such a popular route. If you want to trek without being disturbed by other trekkers, then this is for you.
– It is one of the long trekking routes, if you want an awesome time with such beautiful route, you definitely should go there.
– The valley is home to the various wildlife, and birds. If you are wildlife and bird lover, you definitely should give Arun valley a try.
– Pine forest, Rhododendron Forest, wild orchids, oak trees, wild flowers are some of the plant lives that you will encounter in your trek. For plant lovers it is a heaven.
– The village people and locals are very welcoming. They are very gentle in nature and make you feel welcome like you belong in that place.
– Arun valley trekking is one of the best trekking routes in the country, but sadly most do not know about it. If you are willing to take a visit it will encourage others to try trekking this awesome place.
We provide you the bed and breakfast. Accommodation will be shared by two people. However, you can book for the single room with extra charge.
The overland transport will be held on tourist coach as per the itinerary and size of the group.
The applicable fee for the Trekking, National Park and Conservation center will be covered.
We offer you a welcome group dinner
The wages, meals, and transportation of our trekking staff (guide) will be arranged.
We also have included a comprehensive medical kit and service of guide.
Pick-up/Drop from/to the airport.
The visa fee you would have to pay for travel, medical insurance and airport tax.
The meals of your personal interest will not be offered in our expense.
We would also not provide personal sleeping bags and bags.
The charge applied in case of emergency evacuation by any means of transport would not be included.
The charge for accommodation in Kathamndu in you early arrival before the trip will not be included and also the late departure. Moreover, the early departure from trek will also not included in our expense.
We also don't include the cost of international flights.
The trip doesn't offer the travel and rescue insurance.
We also don't include the phone calls, laundry, bar bills, battery recharge, extra poter etc.
We also don't offer tips for guides and porters, you can give them yourself if you like to give.
4.8 Star Out of 5
"Best Trek of my life; out of the world experience."
Fill the form  for more details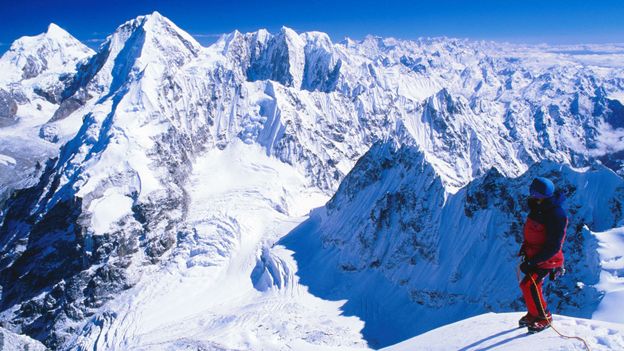 High altitude trekking is one of the most amazing forms of trekking. The trekking takes trekkers to an altitude that is very high from the sea level. In such altitudes, there are very rarely human settlements and pristine nature can be experienced which is hardly...