Best Trekking Season of Nepal
Trekking season plays a great role in your Journey. This will be very interesting trekking if you can choose the best trekking season of Nepal. Nepal has become one of the best destinations to the tourist around the world for its natural beauty, cultural and historical heritages. Most of the people want to come here for their entertainment and spending holidays. The beauty of the Himalayas cannot be ignored because they are so attractive that our heart wants to see them as soon as possible. The cultural aspect is also very different here which always keeps us spell bounded. Anyway, we can say it is one of the best places for trekking. There are many hilly areas which are naturally fresh and organically original. The atmosphere of Nepal is varied that we can find here most of the worlds' temperature, hot and cold. From the altitude of 59 m. to 8848 m., the highest peak of the world, The Mt. Everest, can be found here. By this variation of altitude, natural resources are also varied. We can see the beauty of a sunrise, the Rocky Mountains, green hills, and the White Mountains.
Nepal is very rich in cultural variation. There are 125 ethnic groups in Nepal and most of them have their own culture and tradition. There are different celebrations according to their ethnicity. They have different types of functions, dances, music instruments and rituals. There is a cultural difference between many groups but they all respect to all culture and take part each other's cultural celebrations.
There are many historical places like Durbar Squares, temples, monasteries which were built in different eras. There are 10 UNESCO world heritage sites in Nepal.
In sum, we can say that Nepal is the place where we find all the scenes that we want to see.
Trekking is one of the adventurous activities. It helps us to be healthy mentally and physically. It gives us full refreshment and entertainment. Really, it is the best way of spending our holidays and leisure time. Trekking can give us repose from our day to day continuous working lifestyle. If we trek regularly we will have a more positive perception of our life. In some way, it is effective for spiritual aspect. Trekking into the jungles, temples, monasteries and snow-covered areas can fulfill our inner spiritual passion. 
There are a lot of reasons to trek in Nepal. Nepal is small in size but rich in natural resources and cultural variation. It is the second largest country after Brazil in water resource. About 45% area of this country is covered by forest. It is one of the virgin places for its natural beauty that should be discovered and explored. Nepal is peace and quiet country. People of Nepal are very friendly and they respect their guest warmly. It is written in Hindu scripture that guests are our gods. The Trek Nepal can be our opportunity to feel inner love from people which can be our life-changing experience. Many tourists in the past totally have satisfied with their trekking in this country so we can confidently recommend you to visit Nepal to trek in different places accordance your preference. 
Season plays a very important role in trekking. We should choose the best season for trekking in the Himalayan region, especially snow-covered areas, and windy places. Some natural, cultural and historical places are so flexible to trek because we shouldn't consider about a season for trekking there.
The best trekking season for mountain climbing is autumn (September-November), and in October there are the most number of tourists come to visit Nepal. The spring season (March-May) in also the best season for trekking to the Himalayan area, climbing mountains.
Places of Nepal where we should not trek without caring best trekking season of Nepal:
Mt. Everest base camp
Annapurna base camp
Dhawalagiri base camp
Makalu base camp
Thorang Pass
Langtang base camp
Manaslu base camp
Ghorepani
Jomsom etc.
Places where we can trek without caring the best trekking season:
Hanumandhoka Durbar Square
Bhaktapur Durbar Square
Patan Durbar Square
Temples and monasteries of Kathmandu valley
Lumbini
Chitwan National Park
And other areas which lie in the Terai region and some places of hilly region and Kathmandu valley.
The best trekking season for mountain climbing is autumn (September-November), and in October there are the most number of tourists come to visit Nepal. The spring season (March-May) in also the best season for trekking to the Himalayan area, climbing mountains.
Ready-to-book adventures, personalized
Personal
Make your adventure more youMake your adventure more you - Self join
Group
Enjoy a tour with like minded people - Anyone can join
Private Group
Travel with your group - Only your circle join
Why these seasons are the best for trekking in Nepal?
Because the weather and temperature are moderate in these seasons, the sky is clear and we can see views very nicely. Rainfall doesn't disturb in these seasons. Mountains can be seen white in these seasons because there is no fog and the snow doesn't melt. And the most important reason is that in these seasons the wind blows slowly and the risk of avalanches is less in the mountainous areas for mountain climbers.
In spring season the forests become greener; all the species of trees give their most attractive shape and have developed in their highest form.
If you search the best place for trekking, your best destination can be Nepal for perfect enjoyment in your life. If you miss trekking in Nepal, you cannot recover the loss of it even trekking all over the world throughout your life.
Fill the form  for more details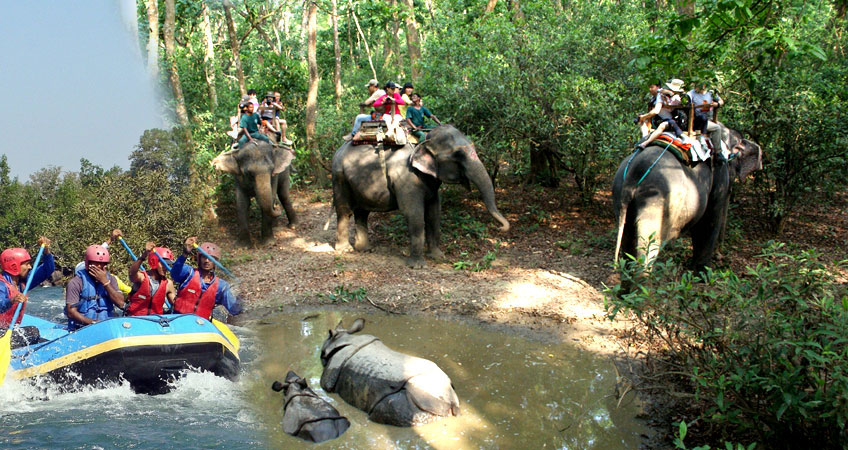 Chitwan Jungle safari in Nepal Chitwan is one of the 77 districts of Nepal and one of the top tourism destinations of the country. It is not wrong to say that Chitwan is the capital of the Jungle safari in Nepal. The country in the Himalayas is covered in forest in...